Toyota's new HiLux-based 2016 Fortuner SUV has been caught completely camouflage-free in Thailand this week, showing the SUV in the flesh for the first time.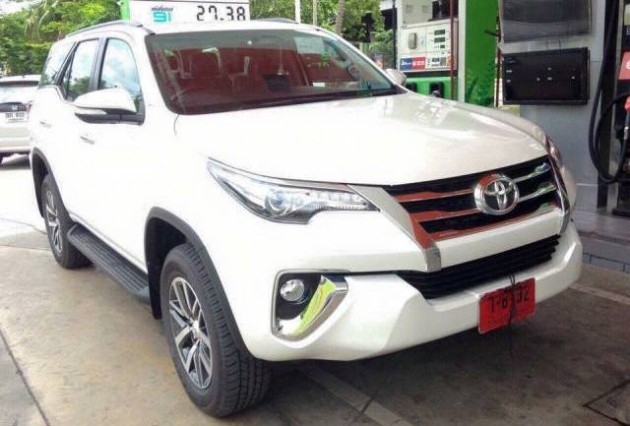 What is evident from the photos, surfacing on Facebook page Ferd, is that the Fortuner features a sharper headlight and more ornate grille treatment than its workhorse cousin.
Like the Ford Everest, the Fortuner features significant Australian engineering input. Toyota Technical Centre Australia president Max Gillard has gone on record in a CarAdvice report, saying:
"We have design [and engineering] responsibilities for the Fortuner, the SUV HiLux. That's a very big project for us because that's for Asia, India, South Africa, South America…"
With the Toyota HiLux being at the top of the ute sales, and sometimes number one in overall Australian vehicle sales, it's easy to see why our local division has given so much input to this vehicle. The Fortuner was launched in Asian and South American markets in 2005.
Toyota has previously sold HiLux-based wagons in Australia. The 4Runner was sold here between 1984 and 1996 and the HiLux Surf has somewhat of a cult following as a grey import. The new Fortuner has been confirmed for the local market. Whether Toyota will seek to dust off those name plates, capitalising on the HiLux's success, or retain 'Fortuner' remains to be seen. The Fortuner will make its world premiere in Thailand next week.