Subaru Australia has launched the 2016 Forester range, introducing updated styling, improved noise and vibration levels, and refined the cabin.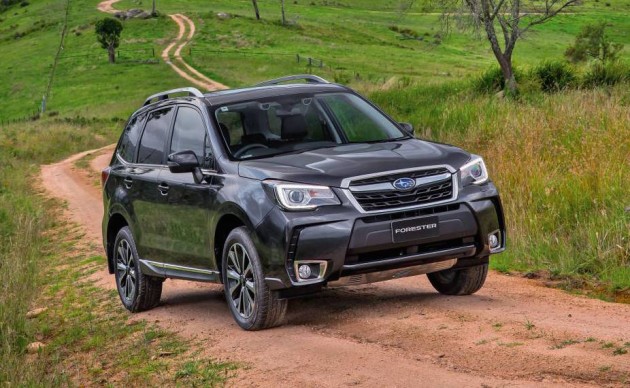 The new lineup is spread across six main variant levels, spanning from the 2.0i-L, 2.5i-L, 2.5i-S, 2.0D-L, 2.0D-S, to the range-topping 2.0XT. These bring four different powertrain options to the popular SUV.
Outputs remain unchanged, with the 2.0i producing 110kW and 198Nm, the 2.5 generating 126kW and 235Nm, the 2.0 turbo-diesel developing 108kW and 350Nm, with the sporty 2.0-litre turbo producing 177kW and 350Nm.
Subaru calls the new styling theme "refined yet robust", featuring a new front grille and bumper bar theme, with new fog light surrounds for some variants. Steering response headlights are introduced for the first time on the 2.5i-S and 2.0XT, while the alloy wheel designs have been updated.
In terms of noise, harshness and vibration, engineers have implemented thicker door window glass to reduce noise, while the body structure has been revised with thicker damping and sound-absorbing materials used. Door seals have also been changed to reduce wind noise.
For the interior Subaru has infused a freshened look with a cleaner dash, silver and gloss black trimmings, while higher grade models get quilted leather sections for the door arm rests, and the seats use thicker cushioning for increased comfort.
The new lineup is on sale now from the following prices (excluding on-road costs). PerformanceDrive is aiming to do a more in-depth review to cover more detail in the near future.
2016 Subaru Forester 2.0i-L manual – $29,990
2016 Subaru Forester 2.5i-L auto – $32,990
2016 Subaru Forester 2.5i-S auto – $39,490
2016 Subaru Forester 2.0D-L manual – $33,490
2016 Subaru Forester 2.0D-L auto – $35,490
2016 Subaru Forester 2.0D-S manual – $39,490
2016 Subaru Forester 2.0D-S auto – $41,490
2016 Subaru Forester 2.0XT auto – $40,990
2016 Subaru Forester 2.0XT Premium auto – $47,990