The 2016 Porsche 911 Carrera 4 range will land in Australia during the second quarter of next year, equipped with new turbocharged engines for all variants.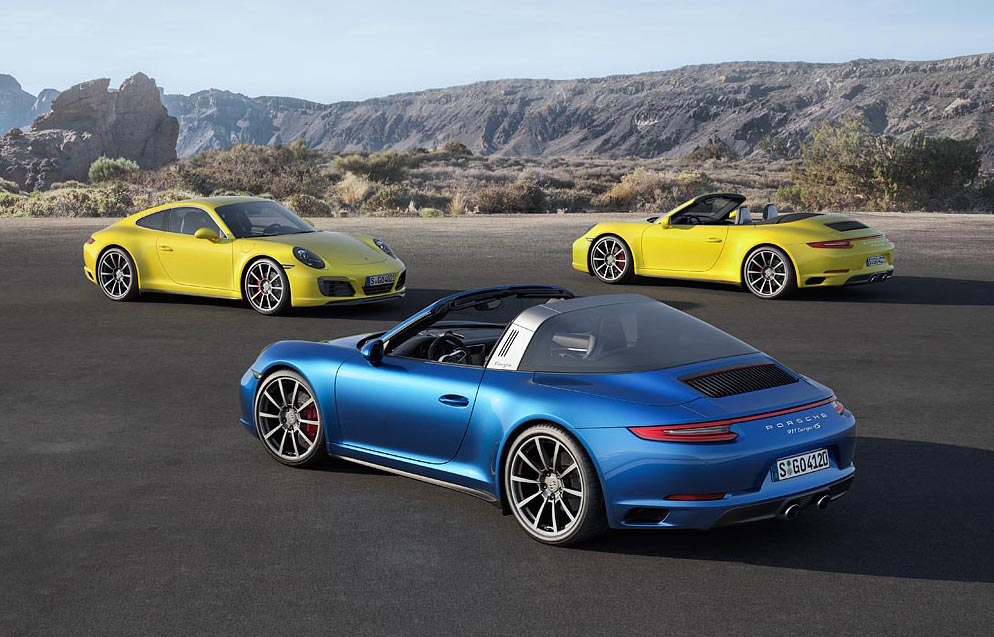 Porsche Australia confirms the local lineup will consist of the Carrera 4 coupe and cabriolet, the 4S coupe and cabriolet, and the Targa 4 and Targa 4S. All come with a fresh 3.0-litre bi-turbo flat-six engine.
Outputs stand at 272kW and 450Nm for the base Carrera 4 versions, while the 4S models churn out 309kW and 500Nm. Fitted with the optional Sport Chrono package, the base model does 0-100km/h in just 4.1 seconds, while the S does it in a phenomenal 3.8 seconds.
Despite the excellent performance – quicker and more powerful than the outgoing model – Porsche engineers have managed to squeeze out more efficiency from the sports car. Average fuel consumption drops by 0.8L/100km to 7.9L/100km for the Carrera 4 PDK auto, while the S drops 1.2L/100km to 8.0L/100km in auto form.
Also new to the 2016 range is a driving mode switch on the steering wheel. It offers Normal, Sport, Sport Plus, and a customisable Individual mode. These all adjust various behaviours of the car, including throttle response, auto shifting character, the PASM suspension, and, where fitted, the sports exhaust system.
All Carrera 4 models come with all-wheel drive and the PASM sports suspension package as standard. Rear axle steering is available as an option on the 4S models. See below for the Australian prices (excluding on-road costs):
2016 Porsche 911 Carrera 4 Coupe – AU$233,900
2016 Porsche 911 Carrera 4S Coupe – AU$269,000
2016 Porsche 911 Carrera 4 Cabriolet – AU$255,400
2016 Porsche 911 Carrera 4S Cabriolet – AU$290,500
2016 Porsche 911 Targa 4 – AU$255,400
2016 Porsche 911 Targa 4S – AU$290,500