As a motoring journalist, sometimes you get the sense that a manufacturer has attempted to create fun purely by adding a shed-load of power. The 2016 Mazda MX-5 is a car that absolutely shatters that paradigm.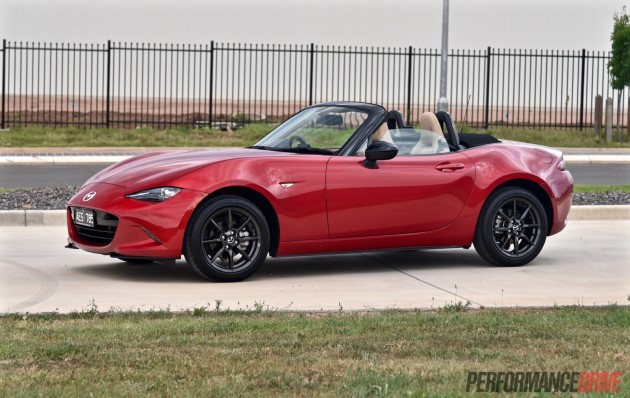 Mazda's minimalist focus on pure driving enjoyment has assured a place for the MX-5 in automotive folklore since its introduction in 1989. We are now in the forth generation. And this, the new ND-gen, has shed 100kgs off its predecessor, weighing nearly as little as the original. It's no surprise it is the smallest MX-5 ever, measuring 3915mm in length, and just 1225mm tall – the original MX-5 was 3975mm and 1230mm, respectively.
The new roadster is offered in Australia with two powertrains; a 96kW 1.5-litre and a 118kW 2.0-litre. The base 1.5 Roadster starts at $31,990, which is only $2000 more than the 1989 starting price. Our review car is the 1.5-litre manual Roadster GT, priced from $37,990 (excluding on-roads).
2016 Mazda MX-5 GT 1.5L – THE SPECS
Engine: 1.5-litre four-cylinder
Output: 96kW@7000rpm / 150Nm@4800rpm
Transmission: Six-speed manual
Drive type: Rear-wheel drive, limited-slip diff
Wheels: F: 16×6.5, 195/50  R: 16×6.5, 195/50
ANCAP: Not tested
Tare weight: 985kg
Power-to-weight: 10.2:1 (kg:kW)
Official fuel economy: 6.1L/100km
Economy during test: 7.1L/100km
Fuel capacity/Type: 45L/95 RON
Power efficiency: 15.7kW:L/100km
0-100km/h as tested: 7.7 seconds
Priced from: $37,990
2016 Mazda MX-5 GT 1.5L – THE PACKAGE
If there was one qualm with Mazda's previous styling it would be the lack of aggression (cue hairdresser car jokes). Not anymore though. Mazda's Kodo design language has been employed to sharpen up the aesthetics, and the end result in our minds at least is a more handsomely bold and audacious design. The traditional low-slung appearance is complimented by a front profile that looks especially focused thanks to muscular bulges above the wheel arches, a hard-hitting angular bonnet, slim headlamps and aggressive new grille.
In GT-spec form the interior is available with a tan leather upholstery, as tested here, which really throws down the gauntlet to cars like the Toyota 86 in terms of class and style. The tan leather is contrasted with black and chrome accents around the cabin, with some nods to the original model like the air vents and stubby gear lever.
Mazda's ethos of an immersing driving experience between car and driver continues inside, with body-coloured plastics that make their way from the A- to B-pillars. It is a small detail but it really brightens up the place and makes the car feel more hardcore; having exterior-like panels inside the car. We're not talking good interior just for this type of car or price point either. If we were to pay $60,000 on a car with this interior, we'd still be chuffed.
It might be the smallest MX-5 to roll out of the factory but it hasn't impacted cabin comfort. Despite its proportions, even taller members of the PD team had no issue with head or legroom. Overall cabin quality is hard to fault too. The switchgear, while carried on from cheaper variants, retains a quality feel and there's very few of those cheap scratchy plastics presented.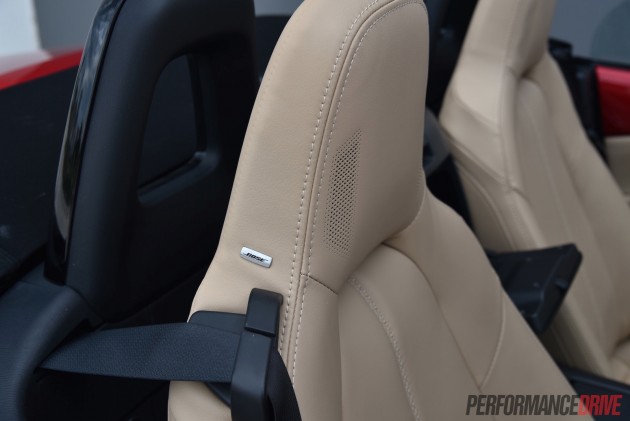 The list of standard equipment on the MX-5 GT is impressive. You get keyless entry, heated seats, climate control, piano-black heated side mirrors, automatic headlights and wipers, as well as a 7.0-inch MZD Connect system with sat-nav, and internet radio applications Pandora, Stitcher and Aha. Of these features, the Bose audio system with nine speakers (including speakers in the seats) takes the cake, offering a powerful and high-quality soundtrack for those Sunday drives.
Mazda has phased out the metal folding roof design in favour of a more traditional folding material roof, which has in turn saved weight. It takes no more than five seconds to one-handedly raise or lower, with one simple lever. The wind buffering is also impressively low. Driving along at 110km/h might mess up your hair slightly but there is no wind thudding your eardrums, and you can carry out a conversation as normal.
While you do feel just a little bit conspicuous driving a bright red convertible around the city, there's something undeniably relaxing about staring up at a big blue sky – or stars at night – while sitting in traffic. The excitement and theatre of it all is addictive.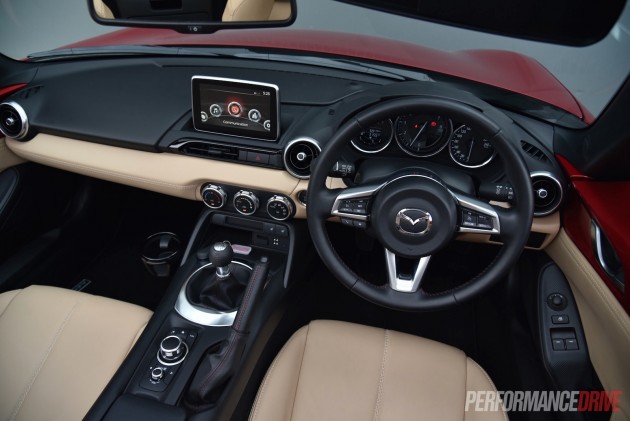 2016 Mazda MX-5 GT 1.5L – THE DRIVE
The driving ergonomics are sublime in the MX-5. There's a stubby gear-lever with short satisfying throws between shifts. The leather-wrapped steering wheel is quite thin, and the low driving position provides a comfortable yet purposeful driving layout. This is a good thing, because how this car handles, you'll be spending a lot of time behind the wheel.
The purpose of this car is less about picking up speed quickly and more about carrying speed through a bend. The 16-valve SkyActiv-G 1.5-litre four-cylinder engine produces 96kW of power at 7000rpm (redlines at 7500rpm), and 150Nm of torque at 4800rpm. The engine is as eager as a young puppy, with a satisfying responsiveness and raspy four-cylinder note from the exhaust. It does run out of puff in the top end, in turn requiring a lot of gear changes. But that's okay, it creates a more involved driving experience.
The 0-100km/h time of 7.7 seconds that we achieved isn't going to light anyone's hair on fire, alas, that's not to say that MX-5 is slow. Kerb weight, even for this luxurious GT-spec variant, is just 1009kg (985kg tare), a good 200kg less than its most fierce rival, the Toyota 86.
Combined with skinny little 195/50 tyres mounted on 16-inch alloys creates quite simply one of the most nimble and entertaining drives on the market. It offers a perfect 50/50 weight distribution, and that comes to the forefront when really pushing the nose into a corner. It rotates around, flat and neutral. Mazda has carried over the double-wishbone suspension at the front and multi-link system at the rear from the previous model, however, both have been calibrated by engineers for increased stiffness.
Mazda's focus on keeping things featherweight has really paid off, especially when you hit the anchors. We've reviewed cars with bigger, more powerful brakes, but thanks to its gentle relationship with gravity, the MX-5 stops on a dime. The brakes will also stand up to some serious punishment before fading. At which point you'll be ready for a breather anyway.
Approaching a bend at speed, the MX-5 feels incredibly stable, even under hard braking. The initial turn in is quick and communicative, and the front axle produces an impressive amount of grip despite its skinny rubber. Passing the apex of a turn, you can jump back onto the throttle nice and early and feel the rear go light as you rocket out of the bend. You can use momentum and enjoy small drifts too.
The MX-5 is a car that almost thanks you for spanking it. The short wheelbase combined with its weight, and distribution of power to the rear wheels, translates to a level of agility and pure fun that is recreated by very, very few cars out there.
With the traction control system switched off you can really make the most of the MX-5's limited-slip differential. Exiting a bend and stepping on the throttle is so manageable, you can't help but drive the MX-5 like a bit of a hoon. After all, it's too much fun not to.
The one aspect of the new MX-5 that may draw some controversy from its fanatical fan-base is Mazda's choice of installing its first dual-pinion electronic power steering, over the traditional hydraulic setup. This revelation drew the ire of enthusiasts worldwide, but we can assure you that it in no way suffers from a lack of feel or engagement. The weighted response echoes back every detail through the steering wheel into your fingertips.
The biggest feather in the MX-5's cap is the way this little roadster makes you feel while you're dancing on the limit, at speeds considerably lower than other performance cars out there. Sure, the feel of a car remains completely subjective, but you can have an adrenaline-pumping ride in a car multiple times more powerful, and come out the end with a rather serious expression that resembles more of a near-death experience. In the MX-5 however, you'll be giggling to yourself as the tail steps out around a hairpin, and you look down at the speedo to see you're only doing 50 or 60.
As an added bonus the economy is superb, as always from Mazda's SkyActiv engine range. This particular powertrain is taken from the Mazda2, with ADR figures stating 6.1L/100km (manual) and 6.4L/100km (automatic) for the combined cycle test. We averaged 7.1L/100km over a cycle that included city and highway driving, and a bit of outright stupidity.
We looked hard for flaws in the new MX-5 and we found just a few. With the top up there are massive blind-spots over your shoulders – you almost feel the need to pop your head out the window before changing lanes. The ride might be a little bit firm for everyday commuting, and there's also a significant amount of road noise that enters the cabin on rough surfaces, partly due to that bareness and rawness personality.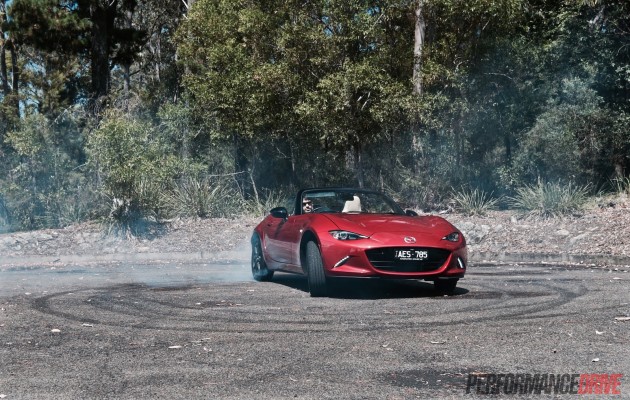 2016 Mazda MX-5 GT 1.5L – THE VIDEO
2016 Mazda MX-5 GT 1.5L – THE VERDICT
2015 marks the 26th anniversary since the introduction of the original 'NA' MX-5. While some of its more traditional fan-base might snub their nose at the changes made to the latest generation, the changes have actually culminated into one of the most entertaining cars currently on sale in our opinion.
Through its development, designer Tsutomu Matano maintained the ethos of Jinba ittai, translated to English as "ride (jin) horse (ba) as one body (ittai)". Twenty-six years and four generations later, we think Mazda has reignited the spark that captured the automotive world's endearment for pure driving thrills. We encourage you take one for a test drive, even if just once in your life.
PROS:
– Handling
– Economy
– Interior quality
– Smile factor 10/10

CONS:
– Firm ride
– Blind-spots with roof on
– Road noise