After being spotted in full about a month ago, Mazda has now jumped on the 'new ute' bandwagon and unveiled the 2016 BT-50. It will go up against the range of new and updated utes that are being launched this year.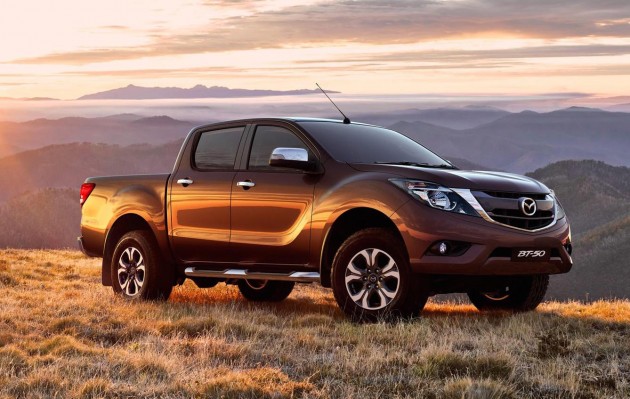 The model refresh is only a mild update, showcasing a revised front end with a new grille that's more in line with Mazda's latest passenger car range, along with updated headlights that get dark surrounds for a sporty look.
Combination taillights have also been updated for a more modern look at the back, while Mazda has also come up with some fresh designs for its alloy wheel range. Unfortunately, only this single image has been released to show these features.
Mazda hasn't said much about the specifics of the update, only saying that it maintains the versatile practicality of the outgoing model only offering a sportier and more powerful presence.
For the interior, the company has refined various bits and pieces for a higher-quality feel. There's also a rear-view camera thrown in for increased safety.
The powertrains and body styles will remain unchanged, with models powered by either a 2.2-litre turbo-diesel producing 110kW (in Australia). Aussie customers are also offered a 3.2-litre turbo-diesel producing 147kW and 470Nm.
Production has just commenced in Thailand, with market entry kicking off in Thailand and Australia during the second half of 2015. Other markets will follow shortly after.