Lexus is planning to unveil the new 2016 RX SUV at the New York Auto Show next week. The company says it will be an all-new model.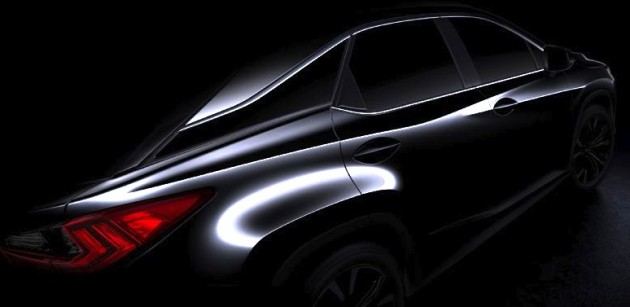 Not many details have been revealed at this stage, other than the fact that it will be the next generation (fourth) model featuring an all-new design inside and out.
The preview video gives us a glimpse of the sharp new taillights, and that's about it. You can also just see some muscular wheel arches, and what looks to be a sportier cabin glasshouse area compared with the current version.
Judging by the company's current design trend, the new RX will probably look similar to the smaller NX which was introduced last year. We can expect to see a large spindle grille layout at the front, and plenty more attitude in stance and presence.
As for the powertrain options, there's reason to believe Lexus will use its new 2.0-litre turbo-petrol for the RX. The 2.0-litre engine was first introduced in the NX, however, it could become the powerplant for the entry-level versions of the RX. This would leave the existing 3.5-litre V6 for the upper variants. A hybrid model is likely to continue on in similar spec to the current RX 450h.
The RX first went on sale some 17 years ago, and the current third-gen model has been around in virtually the same form since 2008. We'll be sure to provide all the details from the show, which starts on April 1.
UPDATE: Lexus has also released a teaser image showing more of the body. (We have placed it at the top of this story.)
https://youtu.be/aspGI20uwrI