Fans of the old Lexus IS F should be gleaming with excitement with the introduction of the Lexus GS F. It steps in as the company's new power sedan. With more interior space, more power, and more technology than the IS F, it has the potential to be one hugely tempting option in the otherwise overpriced market segment.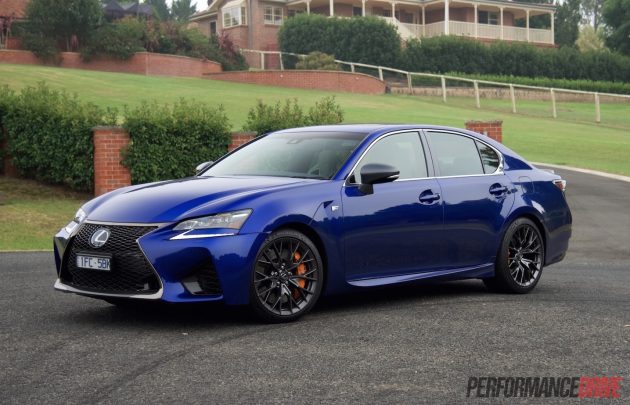 We say overpriced because almost all luxury vehicles in Australia are subject to huge taxes, which send retail prices way higher than they ought to be. But with the GS F, which, categorically, goes up against the likes of the $180k BMW M5 and $250k Mercedes E 63 AMG, it represents somewhat of a bargain with its starting price of just $148,800.
2016 Lexus GS F – THE SPECS
Engine: 5.0-litre V8
Output: 351kW@7100rpm / 530Nm@4800-5600rpm
Transmission: Eight-speed auto
Drive type: Rear-wheel drive, multi-mode torque-vectoring diff
Wheels: F: 19×9.0, 255/35  R: 19×10, 275/35
ANCAP: Not tested
Tare weight: 1825kg
Power-to-weight: 5.19:1 (kg:kW)
Official fuel economy: 11.3L/100km
Economy during test: 14L/100km
Fuel capacity/Type: 66L/98 RON
Power efficiency: 31kW:L/100km
0-60km/h: 2.63 seconds
0-100km/h: 5.08 seconds
1/8 mile: 8.77 seconds at 142.5km/h
1/4 mile: 13.24 seconds at 180.2km/h
100-0km/h braking: 2.95 seconds at 37.49 metres
Decibel at idle: 51
Peak decibel at 60-100km/h: 93
Peak stereo decibel: 108
Priced from: $148,800

2016 Lexus GS F – THE PACKAGE
So, what do you get? You can look at the GS F as the flagship of the regular GS range – a vehicle we already love here at PD. Almost all mod-cons are standard fitment here, however, as a bonus, all of the mechanical stuff has been developed by Lexus's bespoke F Line division.
The 5.0-litre naturally aspirated V8 that thumps out 351kW and 530Nm; the eight-speed sports automatic; the sports suspension and steering; the brakes; and the torque-vectoring differential are all bespoke to the GS F. We'll get to how all these components come together a bit later on.
Almost everything is power-operated/adjustable inside, including the steering column, boot lid, front seats, sunroof, and rear windscreen shade. There's also a high-definition 12.3-inch infotainment display with sat-nav, digital radio, and complete Bluetooth support.
Speaking of audio, Lexus has fit a 17-speaker Mark Levison sound system to the GS F as standard. It uses an 835-Watt digital amplifier with special GreenEdge speakers that produce double the sound output of conventional speakers while consuming similar energy, according to the manufacturer. Our full-blast test speaks for itself, recording a concert-like 107.6dB at default setting. This required the use of industrial-certified ear plugs. It's one thing to be loud but even better if the clarity and balance remains in form, as it does in this. Needless to say, it is one of the best standard automotive sound systems you can experience.
For the passengers there's a set of very cool sports seats with nice big bolsters in the front. We think they look especially tantilising in white as featured on this test car. This brings a certain high-class ambience to the cabin decor. Lexus continues to be one of the only manufacturers to offer heating and cooling functions for the seats, catering for our hot Aussie climate.
Rear passengers are pampered almost more than the front passengers, with two deep semi-individual seats on the sides accompanied by a special flip-down arm rest that houses independent climate controls and buttons for the rear windscreen blind. So long as the driver is operating in 'Normal' mode the GS F could potentially be a great vehicle to be chauffeured around in. There's plenty of legroom and headroom, and while the transmission tunnel is large it doesn't intrude on middle-seat space all that much. All three seats are quite wide too for added comfort.
Every button and every piece of furniture has a quality feel to it, including the machined aluminium control knobs for the audio. You can see some Toyota genes in various parts, such as the cruise control stalk which is shared with the Corolla, however, nothing feels brittle or overly intricate like some areas of the rivals. We're sure the GS F will outlast the German offerings when it comes to the overall ownership experience and longevity, given that Lexus often tops massive customer surveys in the US.

2016 Lexus GS F – THE DRIVE
We're going to compare the GS F drive to the IS F. Why? Because, for us, the IS F is the benchmark in what Lexus can do in terms of performance sedans. In our opinion anyway. So let's get some of the finer details and facts and figures out of the way first.
The engine has been completely redeveloped to the IS F's unit. It features titanium intake and exhaust valves, a larger throttle body, D-4S direct injection, and a higher compression ratio of 12.3:1 compared with 11.4:1. The rev limit has also been lifted from 6800rpm to 7300rpm. Peak torque of 530Nm, up from 505Nm, is also available between a wide rev span, from 4800rpm to 5600rpm (from 5200rpm).
How does this all impact on performance? According to our timer it is a bit slower covering 0-100km/h, achieving a best time of 5.08 seconds. Lexus claims a time of 4.6 seconds though, down from 4.7 seconds in the IS F. We have to keep in mind the GS F is much larger and heavier (1825kg vs 1690kg), resulting in only a fractionally better power-to-weight ratio (5.19kg:1kW vs 5.43kg:1kW). None of this really matters though because it's the cross country performance and driving intelligence that really trumps the IS F.
Old-school analogue drivers won't enjoy the GS F as much, at first. It comes with four different driving modes including three modes for the torque-vectoring differential and then two more modes for the stability/traction control program. In the real world it is fun to try out the various modes, and you can feel the difference with most selections. We couldn't feel much difference between 'Slalom' and 'Track' modes for the diff, but going from 'Eco' to 'Sport Plus' does transform the character, almost giving you an entirely different car. These modes are good because it means you get more cars than one. For those that prefer the old-fashion way (as in the IS F), it can become frustrating and overwhelming, but you do get used to it.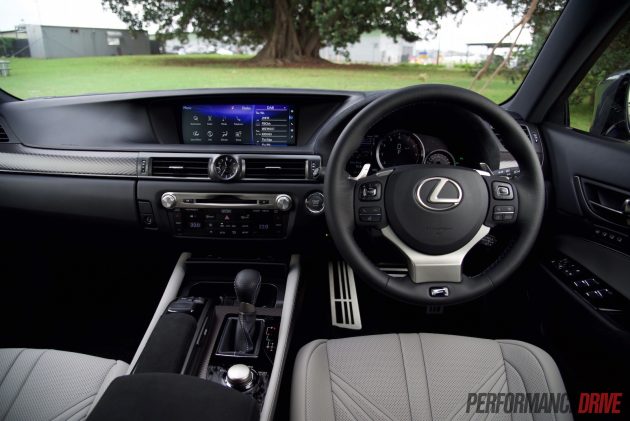 The differential doesn't allow much play in the back end. Instead, the systems would rather just get you into, around, and out of corners as quickly as possible using nothing but sheer intelligence. And it works. You can zoom into a corner, nail the throttle and the car's brain power will sort everything out for you, leaving nothing but pure stability and confidence. If you really try, with the stability control switched off, you can perform light drifts in slower-speed corners, but the diff will let go to inside wheel spinning if the conditions become too demanding.
We've always loved the GS's natural steering and handling feel. So for F Line to extend on these it only becomes more capable and more engaging. Grip is astounding at all speeds, and body roll is kept to a minimum. Thanks to the ZF Sachs monotube dampers and custom coil springs, the ride is surprisingly plush and comfortable too, even on poor roads. Lexus has used mainly forged aluminium control arms and components to keep weight down and rigidity high. It's a superb setup.
Lastly, the eye-popping six-piston front and four-piston rear brakes. These were developed by Brembo and provide enormous stopping power. We performed a 100-0km/h test in just 37.49 metres. You can come very hot into a corner and rely confidently on the brakes. They seem to withstand repeated abuse very well too, with minimal fade and no evident pedal drop after numerous heated drives.
2016 Lexus GS F – THE VIDEO
2016 Lexus GS F – THE VERDICT
As an overall everyday-useable package, the GS F is a great luxury vehicle and a very appealing performance vehicle. Sure, some areas will come across as too 'electronic' and digital for some drivers, but in order to cater for a wide audience these measures do make a great deal of sense. The complete balance of Lexus smarts and brute V8 force makes it a truly impressive drive. And we must remember the GS F comes in at a much more reasonable price than the rivals.
The only criticisms we have are the differential – we're a bit old-school so we'd prefer a mechanical LSD – and the weight. If Lexus could somehow cut 100-200kg, it would have itself a proper M5 contender. Maybe it should reintroduce more of that carbon fibre tech from the LFA supercar project?
PROS:
– Technology
– Design; inside and out
– Clean and crisp V8 engine
– Comfort and space
– Standard 17-speaker sound system
– Price, comparatively

CONS:
– Too many driving modes – almost too digital?
– Doesn't feel as quick as it should