The all-new 2016 Kia Sportage has been revealed online before its big unveiling the the Frankfurt Motor Show next month. It showcases a fresh look for the popular mid-size SUV.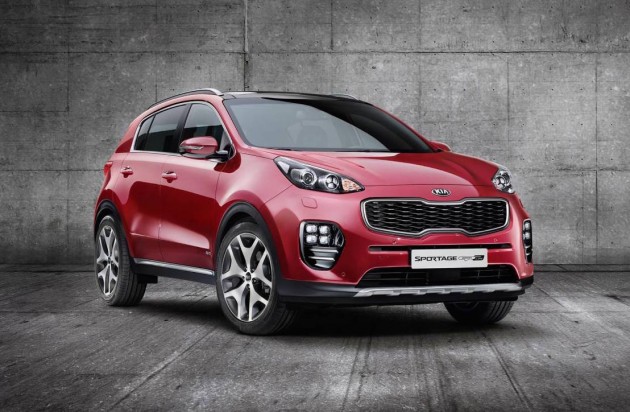 Kia says the face of the vehicle is the biggest change to its overall design, featuring elongated headlights separate from the centre grille, a more defined bonnet, more prominent wheel arches, and a wider 'tiger nose' grille.
Around at the back it's all about boosting its stance via horizontal themes, and an increased surface area. There's also finely detailed combination taillights with lower indicators and reversing lights to give the Sportage more visual height.
The SUV was designed at the company's European design studio in Frankfurt, Germany, with influence from its design centres in Korea and California. In a statement, Kia described the design, saying,
"Echoing the contrast of smooth and sharp shapes found on some of the most iconic modern fighter jets, the Sportage creates visual harmony out of the tension between sharp, defined feature lines and smooth surfacing."
This is now the fourth-generation Sportage and it's expected to be the most advanced yet, offering smart connectivity technology for the passengers, and more economical engines than ever before.
Details regarding the specific powertrain options and trim levels are being reserved for the Frankfurt show, but it is believed it will get a similar variety as seen in the new Hyundai Tucson. Expect a 2.0-litre naturally aspirated petrol and a 1.6 turbo for the higher grade variants, along with a dual-clutch automatic option. It goes on sale next year.