The 2016 Jaguar XJ has been revealed, sporting a facelifted design, more exclusive options, updated powertrains, and more technology. There's also two new variant levels joining the range.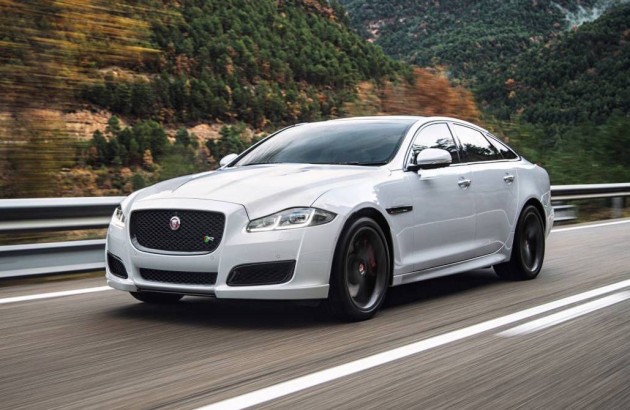 Starting with the design, the 2016 XJ comes with full LED headlights and unique J-Blade daytime running lights, a larger front grille, chrome-trimmed air intakes, and new LED taillights featuring a special J-signature tail and light graphic.
Customers now have more variant levels to choose from, with the range now spanning from XJ Premium Luxury, XJ Portfolio, XJ R-Sport, XKR, to the range-topping Autobiography. The R-Sport and Autobiography are new this time around. These are available with four different options.
Kicking off the lineup is an updated 3.0-litre turbo-diesel V6 now producing 220kW and 700Nm (up from 202kW/600Nm), capable of propelling the big sedan from 0-100km/h in 6.2 seconds.
The range of supercharged V6 and V8 units carry over, with outputs spanning from 250kW and 450Nm, to 375kW and 625Nm, to the snorting 404kW and 680Nm V8. All are equipped with an eight-speed automatic.
Some changes have been made to the steering for a more dynamic driving character. There's now electronic power steering (EPAS) which Jaguar says improves response and driver feedback. It's able to filter out steering disturbances on poor surfaces and compensate for road camber.
Lastly, the 2016 Jaguar XJ interior is updated with a new InControl Touch Pro interface with an LCD display. It's connected up to a 26-speaker 1300W Meridian Digital Reference audio system for clear, crisp tunes.
In the back there's also a pampering entertainment package on offer, comprising of two 10.2-inch high-definition screens with digital TV reception and a 100GB on-board hard drive for media storage. There's two 3.0 USB ports, a HDMI port and MHL port for the ultimate connectivity.
Jaguar will be offering special Black Pack option packs for customers, bringing sporty black highlights to the exterior for an exclusive look.
Full Australian specs and prices are yet to be announced, however, the new model will go on sale on November 1. Prices will start at $199,900.