The 2016 Jaguar F-Type will soon land in Australia, bringing an optional manual transmission, an optional all-wheel drive system, and more standard features across the board.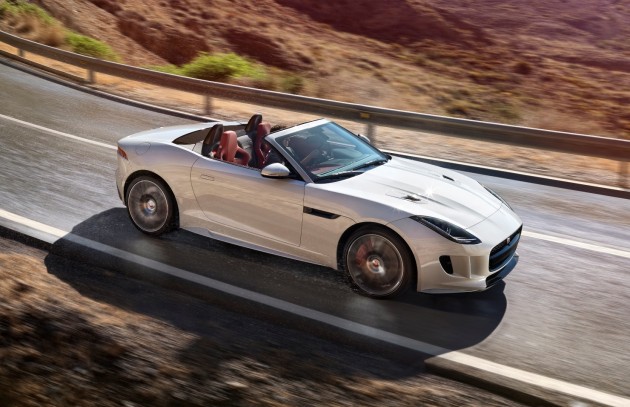 For pure driving enthusiast the manual transmission is getting frighteningly close to becoming extinct. The F-Type was perhaps one car that we least expected to receive a manual option, but now it's here.
New to the MY2016 range is the standard fitment of the otherwise optional active sports exhaust system. This provides the driver with a switch to control a mechanical valve inside the exhaust that opens for a louder and crisper bark.
All V6 S and R models also now come standard with a reverse-parking camera and front parking sensors. These were a costly option on the outgoing version but probably should have been standard all along.
Headlining the update though is the manual offering, which is available only for the 250kW V6 and 280kW V6 S variants. It's a six-speed unit using a semi-dry sump, offering drivers "perfectly weighted" shifts, according to Jaguar.
Similarly interesting, the all-wheel drive option is available for the 280kW V6 S in Coupe form and the V8 R models in Coupe and Convertible format. Manual transmission enthusiasts might be a bit disappointed to hear it is only available with the eight-speed automatic, although, you can imagine the difficulty/fun trying to balance the clutch with up to 404kW on tap.
During normal loads and conditions 100 per cent of the torque is distributed to the rear wheels. When the time calls, or when traction is lost, an electromechanical coupling in the transfer case provides torque to the front axle. Russ Varney, vehicle programme director for sports cars at Jaguar, said,
"What we require of our AWD system in F-TYPE is optimal traction in all weather conditions, but preserving the Jaguar DNA and sports car character – that means rear-drive feel and steering without any corruption."
Other highlights for the updated range include Torque Vectoring by braking for not just the V8 R but all V6 models as well, special Sport Design enhancement packs as options for increase personalisation, and electric power assisted steering (EPAS) as standard on all models.
The MY2016 range lands in Australia in April, with the manual options arriving in July. See below for the price list (excluding on-road costs):
F-Type Manual Coupe -$119,470
F-Type Manual Convertible – $138,170
F-Type Automatic Coupe – $124,470
F-Type Automatic Convertible – $143,170
F-Type S Manual Coupe – $151,770
F-Type S Automatic Coupe-$156,770
F-Type S Automatic Convertible – $175,470
F-Type S AWD Automatic Coupe – $172,470
F-Type R Automatic Coupe – $226,970
F-Type R Automatic Convertible – $245,670
F-Type R AWD Automatic Coupe – $242,670
F-Type R AWD Automatic Convertible – $261,370