It's been confirmed. Infiniti is introducing the awesome new VR30 twin-turbo V6 engine to the 2016 Q50 range. This makes it one of the most powerful sedans in the class.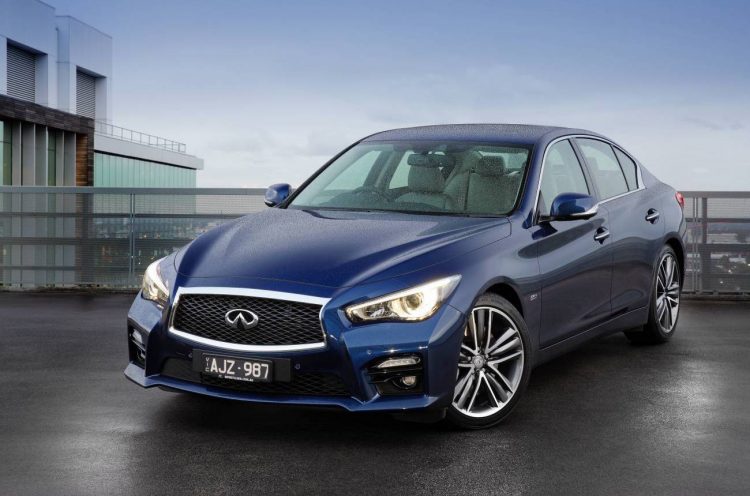 Going up against the sub-performance sports sedans like the 270kW Mercedes C 43 AMG, the 250kW Jaguar XE S, and the 240kW BMW 340i, the 2016 Infiniti Q50 Red Sport promises very exciting performance. Aussie buyers will be offered two tunes, peaking at 224kW and 400Nm for the S Premium, and 298kW and 475Nm for the Red Sport.
For the 224kW tune the 3.0-litre twin-turbo runs at 9.5psi and uses an intercooler with a single water pump, while the 298kW tune runs 14.7psi and uses two water pumps for the intercooler. The final drive ratio is slightly different in both, with the 224kW using a longer-geared 2.9:1 ratio while the 298kW uses a punchier 3.1:1, strangely – you'd think this would be the other way around?
The 2016 Infiniti Q50 will continue to be offered with three other engines, including a 155kW 2.0L turbo, a 125kW 2.2L turbo-diesel, and a 3.5-litre V6 hybrid producing a combined 268kW. Acceleration for 0-100km/h ranges from 7.2 seconds, 8.5 seconds, to 5.1 seconds, respective to these powertrain options. A 0-100km/h time for the 298kW version hasn't been mentioned.
Across all variants, combined cycle fuel consumption spans from (starting with the 2.0L petrol) 7.3L/100km, down to 5.2L/100km for the diesel, 6.8L/100km for the rear-drive hybrid (7.2 for AWD version), and to 9.2L/100km for the new 224kW turbo, up to 9.3L/100km for the 298kW Red Sport.
Aside from the engine changes, the 2016 Q50 now comes with an around-view monitor as standard, moving object detection for reversing, adaptive headlights with auto high-beam, and direct adaptive steering with active lane control, all as standard.
PerformanceDrive is hoping to review the new model as soon as possible so we can go over more of the details. Interested punters can order their new model now, with prices starting from the following (excluding on-road costs – special drive-away pricing is being offered as well [right column]):
Q50  2.0-litre Turbo-Petrol
Q50  2.0t GT
$53,900
$59,351
Q50  2.0t Sport Premium
$61,900
$68,889
Q50  2.2-litre Turbo-Diesel
Q50  2.2d GT
$54,900
$60,381
Q50  2.2d Sport Premium
$62,900
$69,939
Q50  3.5-litre V6 Direct Response Hybrid
Q50  3.5h Sport Premium (RWD)
$72,900
$80,439
Q50  3.5h Sport Premium (AWD, order only)
$74,900
$82,015
Q50  3.0-litre Twin-Turbo Petrol V6
Q50  3.0tt Sport Premium (224kW)
$69,900
$77,439
Q50  3.0tt Red Sport (298kW)
$79,900
$87,790