Hyundai is celebrating the 25th anniversary of its compact family sedan, and to celebrate, it has just launched the all-new sixth-generation Hyundai Elantra in Australia.
Hyundai assures us that it's more than just an aesthetic upgrade. So to find out, we travelled to the stunning mountainous roads of Tasmania to put the Elantra to the test.
The new Elantra range is split into two variants; the baseline Active and the premium Elite. Standard equipment on the manual $21,490 Active variant includes six airbags, 16-inch alloys, a rear-view camera with parking sensors, 7.0-inch touchscreen infotainment system with Bluetooth and Apple CarPlay, dusk-sensing headlamps, cruise control, fog lamps, cloth upholstery and LED running lights.
The $26,490 Elite comes generously equipped with all of the above, adding 17-inch alloys, LED taillights, a chrome grille, leather interior, dual-zone climate control, premium steering wheel and gear knob, stop/start button, and rain-sensing wipers.
2016 Hyundai Elantra – THE PACKAGE
Hyundai has employed its Fluidic Sculpture 2.0 design language on the new Elantra, which adds a more aggressive hexagonal chrome-lined grille, taken from the Veloster and more recently Tucson models. Redesigned three-tier taillights, as well as projector-beam headlamps and fog lamps are flanked by LED daytime running lamps, which add charm to the overall look.
The sixth-generation Elantra is the biggest so far, 20mm longer and 25mm wider than its predecessor, but thanks to clever aerodynamic styling and a new rear-diffuser, it has maintained a streamline aesthetic, and a slippery coefficient of drag of just 0.27.
The appearance of the rear-half of the Elantra is almost coupe-like, thanks to a sloping roof design, complimented by a subtle bulge on the tail. Overall, the new Elantra is, in our minds at least, one of the more stylish offerings within the Hyundai lineup.
Stepping inside, you notice the centre console finished in black gloss is uncluttered, with clear, ergonomically placed buttons. Many of which have been moved to the steering wheel, which is quite busy, but not too distracting. On the Elite variant there is a pleasant blend of leather, chrome accents and gloss black running through the cabin, which add to the premium feel that has been somewhat devoid in past Elantra models.
In addition to this, Hyundai offers a choice of black or beige leather upholstery on the Elite model – beige upholstery being a first for the Elantra.
The baseline Active variant isn't quite as appetising, with a largely grey appearance and soft cloth seats, which prove tiresome on the derrière on longer trips. As always, there's cheap scratchy plastics on the side panels, dash, and behind the wheel, but we doubt there's anyone out there that will feel seriously short-changed from the interior of the Active. It's a hybrid of practicality and utilitarian design, and spot-on for the price point.
The 7.0-inch display is clear but by no means class leading, with the graphics quality still behind some of its rivals. The system functions rapidly, with no major lag between menus or loading maps, for example. It's conveniently angled at seven degrees toward the driver, which is great, however, a considerable amount of glare reflects from the screen, making it difficult as a passenger to navigate the menus.
The infotainment system comes packed with the usual array of AUX, Bluetooth and iPod connectivity, as well as Apple's new CarPlay support which allows the driver to access some of the phone's features like messages, maps and Siri voice commands.
Despite it's almost coupe-like sloping roofline, there's an adequate amount of headroom even for someone at the 6-foot 2 inches mark. However, rear passengers aren't quite as lucky, with a spacious front and large boot, the rear of the cabin is adequate but not exactly spacious. The sloping roofline has also eaten into the rear visibility, which may prove frustrating for smaller drivers when parking. Thankfully however, there's a rear-view camera and parking sensors as standard on both variants.
The Mazda3 has almost always been the benchmark when it comes to practicality in this class, but putting rear-cabin legroom aside, the Elantra has it beat. With nearly 50L more boot space, the Elantra's 458L boot will swallow up bulkier items that most compact sedans would shy away from. There's also a 'smart boot' function that automatically opens if you stand near the boot with the key fob for more three seconds.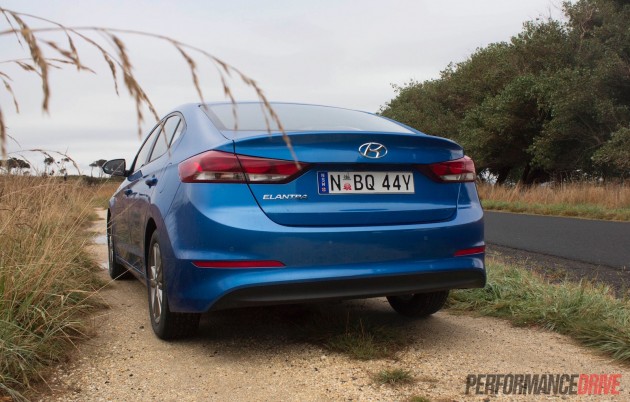 2016 Hyundai Elantra – THE DRIVE
Normally this part of the review on an Elantra would be done and dusted quite quickly; as you can expect, a 2.0-litre four-cylinder driving the front wheels is not what you'd call adrenaline pumping. However, we're afraid it's not that simple.
Both the Active and Elite variants are fitted with Hyundai's 'Nu' 2.0-litre MPi D-CVVT four-cylinder engine, replacing the 1.8-litre unit in the outgoing model. Power and torque are up 2 per cent and 8 per cent, respectively, now at 112kW and 192Nm. This has also given the Elantra a more usable torque curve, with peak torque knocking on the door at just 4000rpm. Down from 4700rpm, in a car like the Elantra, more accessible torque is a welcomed addition.
The Active variant comes as standard with a six-speed manual transmission, with an optional automatic gearbox. The premium Elite variant is offered with the six-speed automatic only, but comes packaged with a lock-up torque converter and sequential shift mode.
Hyundai has invested time and capital into upgrading a considerable amount of tech stuff underneath, so we felt obliged to throw it around and see what difference these upgrades have made.
During development, Hyundai utilised both domestic and Korean engineers to give the car a distinct tune for "Australian conditions"… In other words; make it comfortable on our terrible roads.
In order to achieve this Hyundai updated the front struts and rear torsion beam suspension setup, installing longer dampers which are now mounted at 90 degrees, as opposed to the 64.5 degrees previously. In addition, the torsion beams have been strengthened, from 110Nm to 330Nm, and more than 120 meters of aerospace-derived advanced structural adhesives on high stress-points (as opposed to three meters in the outgoing model) have been used. The end result of all this technical mumbo-jumbo is a 30 per cent increase in body rigidity, and according to Hyundai, the most dynamic Elantra yet.
That's all well and good, but how does it feel on the road?
Around town, where nearly all Elantras will find themselves, it performs just as you'd expect. It's easy to navigate tight spaces thanks to light steering and smaller proportions, and it bumbles about without a fuss from a relatively lackluster four-cylinder powertrain. It feels refined and comfortable around town, with ride quality on the firm side rather than the soft and spongy feel familiar to older Hyundais. The cabin is quiet, with only a moderate amount of tyre roar entering the cabin on a coarse surface.
We're in Tasmania, however, not only that, we're headed from Launceston to Bridport along one of Australia's finest driving roads. A road that winds its way up and down stunning landscapes, throwing fast and slow curves, hairpins and undulating off-camber conditions at the driver. It's the perfect place to put the Elantra through its paces.
The most surprising aspect is the chassis's level of composure through some high speed turns. At first we weren't eager to go crazy, but as we kept pushing a little bit further, we admired the Elantra's ability to turn in and hold its line throughout the turn, with minimal body roll and a composed front end. We won't be putting it against an MX-5 any time soon, but it's a far cry away from the soft, understeery spongecake you might be expecting.
It also illuminates the fact that likes of the Mazda3 may have some trouble sleeping at night knowing the Koreans are hot on their tails, narrowing the gap.
Obviously it lacks power, it's an Elantra, but the power delivery is now more accessible than before. The recalibration of the torque curve gives you more power lower down in the rev range. Unofficially we timed a sub-9-second run to 100km/h, in damp conditions.
If Melbourne can throw four seasons at you in a day, Tasmania can throw a decade's worth before lunch. Halfway through our run the heavens opened and we backed off the throttle a little. Even so, the little Elantra held up to the punishment commendably, leaving us impressed with the stable front end and composed rear through some wet'n'wild cornering.
2016 Hyundai Elantra – THE VERDICT
We've reviewed 'new' cars from numerous manufacturers that barely go beyond a makeover, and to be honest, we wouldn't have been surprised whatsoever if the new Elantra were another addition to that list.
Alas, in reality, Hyundai has been working away at a genuinely impressive replacement to the vehicle that has underpinned the Korean marque for 25 years now. The real achievement for the Elantra is that it has narrowed the gap between some of its rivals like the Mazda3 to the point that a microscope is needed. Looks are subjective – we won't even go there – however the Elantra's value for money, equipment, safety and driving dynamics have ensured us this all-new car is one to be seriously considered if you're in this specific market segment.