Holden has released an updated Captiva for 2016, with a raft of special aesthetic touches and upgrades. Holden received some criticism for its previous Captiva 7, so it intends to win back some good-faith with customers with the latest.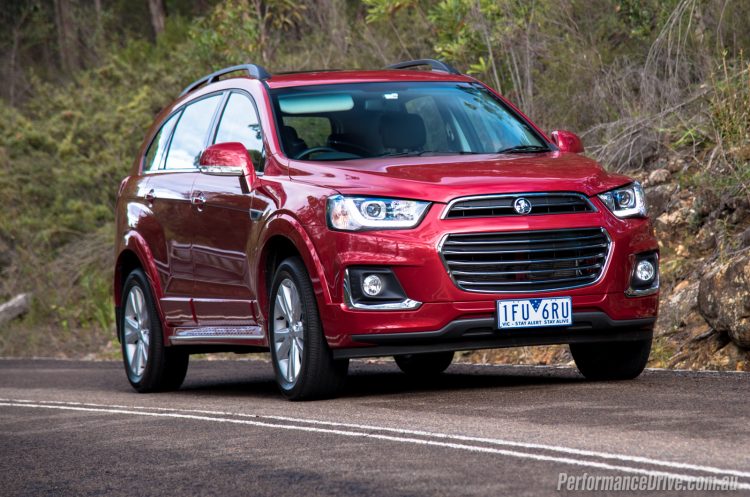 If you want to succeed in the automotive world in 2016, you'd better be making an SUV. The market for big, high-riding, road-hogging SUVs has boomed here in Australia, and abroad. Specifically designed for school runs, supermarket journeys and the Christmas road trips, the large SUV is as much a part of the family as your youngest child; always willing to swallow up the family and their belongings.
As a result, the competition has stiffened, so the Captiva has more work ahead than ever before. Is the update any good? We took the AWD LT diesel variant for a spin to find out.
2016 Holden Captiva LT diesel – THE SPECS
Engine: 2.2-litre turbo-diesel four-cylinder
Output: 135kW@3800rpm / 400Nm@1750-2750rpm
Transmission: Six-speed auto
Drive type: All-wheel drive
Wheels: F: 18×7.0, 235/55  R: 18×7.0, 235/55
ANCAP: Not tested (2006-2011 model 4 stars)
Tare weight: 1975kg
Power-to-weight: 14.6:1 (kg:kW)
Official fuel economy: 8.5L/100km
Economy during test: 8.8L/100km
Fuel capacity/Type: 65L/Diesel
Power efficiency: 15.88kW:L/100km
0-60km/h: 4.14 seconds
0-100km/h: 9.33 seconds
1/8 mile: 10.75 seconds at 108.4km/h
1/4 mile: 16.68 seconds at 134.7km/h
100-0km/h braking: 3.21 seconds at 40.74 metres
Decibel at idle: 51
Peak decibel at 60-100km/h: 77
Peak stereo decibel: 96
Priced from: $38,490

2016 Holden Captiva LT diesel – THE PACKAGE
Approaching the 2016 Captiva, you instantly notice the updated design language employed to modernise the ageing SUV. Now, the Captiva looks as though it could be in the right decade, with a huge twin-split chrome grille sticking to GM theme, new headlights and a sharper design aesthetic overall.
From the side and rear profile it's more or less the same, but there's only so much you can do to the design of a seven-seat SUV. We're just happy the design team has overhauled the front fascia.
Stepping inside the LT, you're presented with comfortable fabric/pleather seats, and a largely generic grey interior. The seven-inch MyLink screen is encased in some boxy plastic, with a simple button layout for the AC and volume control. Despite this being a new element for the 2016 model, it still appears dated and a little cheap in our eyes.
The plastic housing the gear lever appears and feels particularly cheap, as too the mostly cheap plastic used around the cabin. It's not all tacky textiles though, there are some premium touches like the leather-wrapped steering wheel, and some pleather on the outer edges of the seats.
It's something that comes down to the fact that if you haven't seen the interiors on offer from other offerings, you'll most likely be pleased with the Captiva's interior. But if you have sampled key rivals such as the Hyundai Santa Fe and Subaru Outback, you'll probably be expecting a little bit more from the Captiva.
Standard equipment on this mid-spec LT includes a sunroof (no-cost option), automatic headlamps, cruise control, dual-zone climate control, keyless entry, a seven-inch touch-screen with Apple CarPlay, USB and Bluetooth connectivity, 18-inch alloy alloys, roof racks and a reversing camera with parking sensors. On the safety front, the Captiva comes with ISOFIX child restraints and six airbags. ANCAP hasn't tested the current-shape Captiva, but the similar, previous model (2006-2011) scored only four stars.
Small practical additions like the handy cup holders that can be rolled back to open up a deep cubby hole in the centre console, as well as under-floor storage in the cargo area ensure the Captiva is clutter free and family-friendly. A highlight in the rear of the cabin are the two folding third-row seats, which can be pulled up and retracted with little effort. These leave an almost completely floor cargo area when folded too.
Passengers sitting back there will almost certainly have to be in the form of a small child, due purely to the lack of headroom and legroom. We'd say they are slightly below average in terms of space compared with other seven-seat SUVs in this price range. Regardless, this feature is sure to win a lot of good-faith with families.
So too is the amount of space in the cabin. The ceiling in the front and middle of the cabin is far above even the tallest of passengers, and there's ample legroom for passengers in the second row. Unfortunately, there are no rear climate vents.
Moving our attention to the Captiva's boot, with the plus-two rear seats up, there's just 85L of storage. Fold those down however, and you've got 930L of space to accommodate almost anything your family can throw at it; and for the things that can't fit, the Captiva's got roof-racks.
Buyers will be happy to hear all Captiva variants comes with a three-year/100,000km warranty, with one year's roadside assist and capped-priced servicing.

2016 Holden Captiva LT diesel – THE DRIVE
The Captiva LT is fitted with GM's 2.2-litre turbo-diesel four-cylinder, which produces 135kW of power and 400Nm of torque. It's mated to a six-speed automatic transmission, with no manual option available.
While there isn't a massive amount of power lurking beneath the bonnet, 400Nm of torque helps to motivate the Captiva with a smooth, steady surge. As a family car, it's actually just right amount of acceleration potential we think, with a comfortable and torquey shift up to speed. We timed 0-100km/h in 9.33 seconds, which isn't bad for a seven-seat diesel SUV.
A downside to the powertrain is its acoustics. Being a rather old, clattery diesel, it's not the most desirable engine note. On the bright side you'll have a significantly low risk of accidentally filling this thing up with unleaded petrol.
The main reason we've singled out the engine's noise is actually a testament to the Captiva's relatively quiet ride. The sound insulation is adequate, even on coarse surfaces, and the overall ambience in the cabin is that of a quiet, comfortable SUV… until you put your foot down and it starts sounding like a semi-trailer. Our decibel gauge recorded 77dB under acceleration, which isn' that high, however, this doesn't reveal much about the actual noise quality being emitted.
The six-speed transmission feels a little dated in comparison to its rivals, taking on shifts with its own laid-back interpretation of gear shifting. Its brains seem fairly well suited to the engine's unrefined characteristics though.
While the Captiva isn't a segment-leader in terms of ride quality, with the chassis and suspension transferring bumps into the cabin a little more than you'd want, the benefit of this is that the chassis has less body roll than its predecessor. It's hard to argue that more stability is a bad thing in a family car. It's by no means uncomfortable, but the Captiva's suspension fails to iron out bumps that some of its rivals would make to feel like warm butter.
Around the city, arguably the Captiva's home territory, things like its sheer size may prove overwhelming in some tight situations, partially due to a lack of visibility from the thick A- and C-pillars. There is great visibility out the front though thanks to a massive, unobstructed windshield.
In terms of economy, for a vehicle weighing just under two-tonnes (1975kg), the Captiva fairs rather well. Thanks to the efficiency bonus of a diesel powertrain, ADR claims a combined cycle of 8.5L/100km. Around the city, and depending on your driving style, you'll be dancing around the 9L/100km figure. On the highway we returned a figure of around 7.8L/100km.

2016 Holden Captiva LT diesel – THE VIDEO
2016 Holden Captiva LT diesel – THE VERDICT
While there are a few niggles with the Captiva, one aspect that is hard to ignore is the value for money. Our review car here is priced from just $36,000, which is one of the lowest price tags you'll see in this class (spec for spec). You can also step into the base model Captiva for just $26,490.
In reference to our question at the beginning of this article, yes, the latest Captiva is a definite improvement over its predecessor, no doubt. At the same time though, we don't have any doubt in our mind that there's better offerings within this market segment right now.
If you can spend a little more money on a Japanese or even Korean offering, we wouldn't hold it against you. For sheer value for money though, we think the Captiva is at least worth a test drive to see if it suits your needs.
PROS:
– Torquey engine
– Practicality and storage
– Value
– Decent fuel economy

CONS:
– Interior quality
– Been around in virtually the same form since 2006
– Old engine
– Falls behind modern rivals in many areas