Audi has been spotted test driving a prototype version of the 2016 TT RS high-performance coupe out on the Nurburgring in Germany.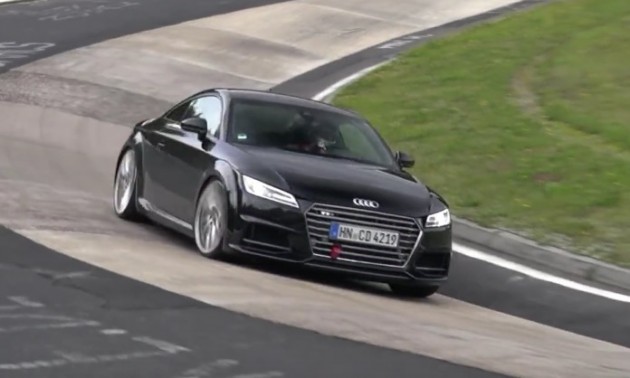 The new-generation TT has been on sale now since late last year, but the company is yet to offer a high performance version. At the moment, the highest-ranked model is the TTS (yet to arrive in Australia).
For the 2016 TT RS, reports say Audi is boosting the famed 2.5-litre turbocharged five-cylinder engine. It is said to produce up to 300kW this time around, well up from the last most-potent version, the 265kW TT RS Plus.
Audi will apparently drop the manual transmission option this time though, and instead equip the model with a seven-speed dual-clutch transmission only. Power will continue to go through a quattro all-wheel drive system.
As for the design, this prototype appears to be wearing a subtle exterior package based on the TTS. However, underneath will be a sportier, lower suspension setup, along with a more aggressive rear diffuser supporting quad-outlet exhausts.
The interior is likely to be a bit more serious too, with chunkier bucket seats, special trimmings and badges, and a unique instrument cluster.
A full debut is expected to take place either later this year at the Los Angeles Auto Show, or at the Geneva Motor Show in March. In the meantime, check out the video below for a preview.