Almost immediately after we published a potential leaked image of the new 2016 Audi R8, Audi has gone ahead and released all details and images. At least now we know the image was real.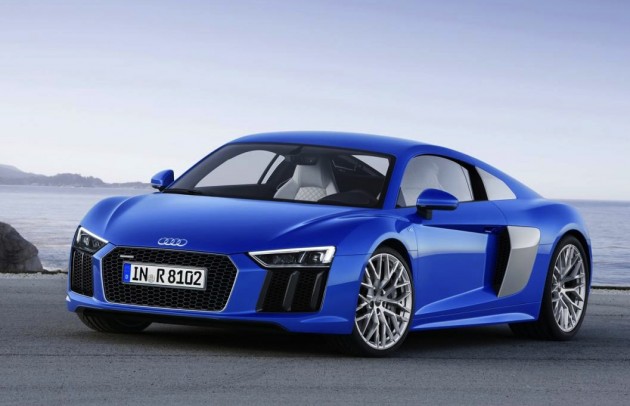 It seems all of the facts were correct with previous reports. The new R8 will come in two different flavours, both featuring a 5.2-litre naturally aspirated V10, and both equipped with a seven-speed dual-clutch auto transmission with all-wheel drive.
Starting out the range, the regular V10 produces 397kW of power and 540Nm of torque. It can sprint from 0-100km/h in just 3.5 seconds, offering a top speed of 323km/h.
Despite the dashing performance, Audi engineers have worked in an additional indirect injection system with the FSI motor, as well as cylinder deactivation technology helping to minimise fuel consumption. It consumes 11.8L/100km on the combined cycle, down from 13.1L/100km in the current 386kW V10.
As for the V10 Plus, it produces 449kW of power and 560Nm of torque, capable of belting the 0-100km/h sprint in just 3.2 seconds. It can also cover 0-200km/h in just 9.9 seconds, and offers a top speed of 330km/h. Fuel economy is rated at 12.4L/100km, down from 12.9L/100km.
In terms of design, well, it only takes one look to be blown away. The new model is undoubtedly sharper and more modern-looking, with a more defined front grille as expected, more aggressive aero features, and a tightened up rear end. The overall width has been increased by about 40mm, providing a fatter stance, while the rest of the dimensions are about the same, Audi says.
Engineers have increased torsional rigidity by around 40 per cent, despite the body shell being around 15 per cent lighter in weight. This, according to the company, helps to provide a more taut, more striking, and more fascinating vehicle on the road and track. Prof. Dr. Ulrich Hackenberg, board member for Technical Development at Audi, said,
"With the new Audi R8, our engineers are bringing accumulated racing expertise from the race track onto the road. No other model of ours evokes more dynamic emotion. The new R8 V10 plus is therefore the most powerful and fastest series-production Audi of all time."
It's not all about the engineering and technical bits and pieces though, Audi has also given the interior a modern makeover. There's a virtual cockpit with full digital displays, with the most important controls grouped together for ease of use. We think, and we're sure you'll agree, the interior almost looks even better than the exterior. It's smart, sophisticated yet definitely sporty with a perfect blend of race-like themes.
The new model will go on sale in Europe during the middle of the year with prices starting at 165,00 euros for the V10 and 187,400 euros for the V10 Plus. Australian market details are yet to be announced, but it's expected to arrive later in the year.