It's what we all know as the world's most popular small car. Here in Australia, the household name, Toyota Corolla, is no different as it heads for the third year in a row as Australia's highest selling vehicle. It's quite remarkable that albeit the fierce and new competition out there, customers keep coming back to what they know best – the safe bet.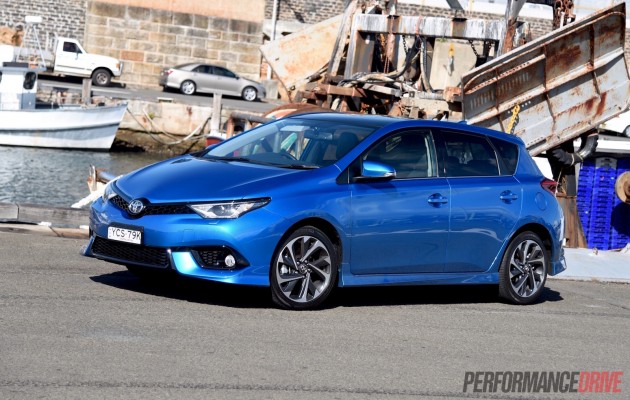 With sales at 25,323 units to the end of July this year, the Corolla is in the lead. And just to ensure continued success, 2015 brings with it a mid-life update for the Corolla hatch. Toyota has revamped the styling and feature list, and improved fuel economy across the range. We see the same model structure as previously, except the word 'Levin' has been dropped from the 'sportier' SX and ZR models.
The range-starting Ascent and Ascent Sport see price increases of $300, which is still comparatively low at just $19,790 and $20,790 (before on-road costs). The SX price remains unchanged at $23,490, and ZR sees a price decrease of $1000 to $28,990. Here, we explore the Ascent Sport manual, and the ZR available in CVT automatic only.
2015 Toyota Corolla ZR – THE SPECS
Engine: 1.8-litre four-cylinder
Output: 103kW@6400rpm / 173Nm@4000rpm
Transmission: CVT automatic
Drive type: Front-wheel drive
Wheels: F: 18×7.0, 215/45  R: 17×7.0, 215/45
ANCAP: Five stars (scored 35.25 out of 37)
Tare weight: 1280kg
Power-to-weight: 12.4:1 (kg:kW)
Official fuel economy: 6.1L/100km
Economy during test: 6.8L/100km
Fuel capacity/Type: 50L/91 RON
Power efficiency: 15.3kW:L/100km
0-100km/h as tested: 9.4 seconds
Priced from: $28,990
2015 Toyota Corolla Ascent Sport – THE SPECS
Engine: 1.8-litre four-cylinder
Output: 103kW@6400rpm / 173Nm@4000rpm
Transmission: Six-speed manual
Drive type: Front-wheel drive
Wheels: F: 16×6.5, 205/55  R: 16×6.5, 205/55
ANCAP: Five stars (scored 35.25 out of 37)
Tare weight: 1260kg
Power-to-weight: 12.2:1 (kg:kW)
Official fuel economy: 6.7L/100km
Economy during test: 7.0L/100km
Fuel capacity/Type: 50L/91 RON
Power efficiency: 15.3kW:L/100km
0-100km/h as tested: 8.6 seconds
Priced from: $20,790
2015 Toyota Corolla hatch – THE PACKAGE
Whichever variant you're eyeing down, all Corollas are well-equipped for their respective prices. Standard features in the Ascent include vehicle stability and traction control, seven airbags, ABS brakes with brake assist and electronic brake distribution, a reversing camera, cruise control, tilt and telescopic steering column, emergency brake lights (flashing), hill-start assist, bi-halogen projector headlamps with manual-electric levelling, a display audio interface with a 6.1-inch touch-screen and Bluetooth connectivity, six speakers, power windows, mirrors and door locks, air-conditioning, and steering-wheel switches.
We vote the Ascent Sport to be the best bang for your buck in terms of packaging. For the extra thousand bucks over the base Ascent, you gain 16-inch alloy wheels, a beautiful seven-inch touch-screen with voice recognition, Toyota Link connected mobility, front fog lights, chrome exterior touches, an upgraded steering wheel and gear knob, and privacy glass.
Revised styling sees two main new looks for the Corolla hatch. Both of which result in a car that is 55mm longer. Longer overhangs (35mm front, 20mm rear) improve the overall balance of the design without steering too far away from the traditional look.
Ascent and Ascent Sport variants feature smoother contours at the front and rear, extra chrome around the front grille, a lower grille that runs the full width of the car, and new headlight and taillight clusters. The adjustments prove to be a real winner, making the car look more European and athletic, while maintaining its conservative appeal.
The SX and ZR models receive a front spoiler, rear bumper skirts, a roof/tailgate-mounted rear spoiler, and side skirts. We think the look of the Ascent and Ascent Sport looks stylish enough; the added bodykit makes the car look a bit goofy and disproportionate in our view.
All grades are now equipped with a fashionable shark-fin antenna, and are available in eight exterior colours. Colour options include a new 'Blue Gem' and 'Citrus', as both featured here.
The Corolla continues a class-rivalling job at accommodating passengers in the cabin. Seating is comfortable for all. The front seats aren't too deeply bucketed, but enough to provide reasonable side support for when you're zipping around the city intersections. Rear seat space is adequate and on par with other hatches in this segment. Headroom is also satisfactory in the front and back.
Fit and finish is excellent, with soft-touch dash plastics and no rattles to speak of. Materials feel tightly crafted together and colour schemes flow throughout the cabin handsomely. The spiced up designs for the 2015 update give the cabin a fresh and energetic feel. For example, the electric blue instrument lighting and the three-gauge instrument cluster with chrome surrounds are a nice touch for the Ascent models. The SX and ZR models receive a sportier two-gauge instrument cluster sitting in two deep tunnels with an LCD readout in the middle. The Ascent and Ascent Sport clusters look more sophisticated, modern, and easier to read in our opinion.
The ageing multimedia system in the base-model Ascent with Bluetooth, USB input, and reversing camera works through a 6.1-inch screen. It gets the job done and is somewhat impressive for a base model. But the 7.0-inch upgraded system in the next three variant levels is much more modern and attractive. Trendy blue touch buttons run down the sides of the screen, making the system more user-friendly. Though, we feel there is a need to have a dedicated volume knob, as turning up or down the sound involves repeated pressing of a button which can distract the driver.
Setting up Bluetooth is ultra speedy and requires minimal fuss. It's worth noting that we had an Android phone connected and experienced periodical phone call crackling in both review cars. Crisp sound is produced from six-speakers, but no upgrade is offered in the high-end models (SX and ZR).
Boot space is unchanged at 280 litres. The space can be expanded to 1120 litres simply by putting the rear seats down. It's not the largest boot, by any means, falling short on a number of rivals in terms of initial and overall volume.
2015 Toyota Corolla hatch – THE DRIVE
On the road, aerodynamic improvements, weight management enhancements, and chassis tuning are noticeable, and have contributed to the lower fuel consumption. When driving, you can feel a low centre of gravity, lightness, and rigidity of the body. It also helps to make the Corolla feel sturdy at high speeds and graceful in cornering ability. It has a sporty feel if you want to get around corners fast, as it doesn't seem to give in to nasty roll or premature understeer. It is genuinely a fun car to steer, especially the ZR with its Michelin tyres.
We found the suspension and brakes to be well up to the task for fairly aggressive and performance-style driving too. The brakes stand out, capable of managing repeated assault on our usual vigorous mountain run, with discs at the front and rear. The suspension seems un-phased by nasty road protrusions and divots, absorbing and withholding potential bump-steer and body shift.
Road noise is low, and the engine is that smooth at idle you can't hear that it's turned on. Up higher in the rev range though the engine does become noisy, and it's obvious that it is not a refined turbocharged unit like in some rivals. Interestingly, both variants tested here come with a sporty stainless steel canon-style muffler, which does provide a slight bassy note.
The close ratio six-speed manual transmission has been modified to bring the final drive ratio down, which makes it more economical to drive at higher speeds. Compared with the previous model, it now revs at 3000rpm at 110km/h instead of at 100km/h. Overall, the manual gearbox and clutch are as easy as they come to throw through, if you don't mind changing frequently. If you do, the smooth 'seven-speed' CVT automatic is on offer for all models for an extra $2000 (remembering the ZR comes in auto form only). This unit surprisingly reduces fuel consumption by 0.6L/100km against the manual – usually it's the other way around.
Using the cruise control in the automatic provides a rather different experience. When rolling down hills with the cruise control set, we encountered a strange characteristic. If the car starts to go over the selected speed, the gearbox isn't scared to downshift by itself, even to the point of making the engine rev up to 5000rpm. We haven't experienced this much intervention from a cruise control system that doesn't connect with the brakes before. It does take some getting used to.
As for performance, once again, it's a real shame the SX and ZR models come with the same engine as the other variants in the 2015 update. As a result, they fall short of being truly sports-oriented models. The Volkswagen Golf GTI or Ford Focus ST for instance, both offer outputs exceeding 150kW. And with the success of these cars, there is definitely a worthwhile market there for Toyota to tap into.
Power outputs remain the same at 103kW at 6400rpm and 173Nm at 4000rpm. The engine feels nippy, and tightly knit. It delivers a free-revving, light on its feet feel. Though, it starts to sound a tad harsh when revved high as mentioned. The fact that it does need a decent revving to utilise the comparatively low maximum torque output only makes matter worse. Acceleration from 0-100 km/h is achieved in a moderate 9.4 seconds in the heavier ZR auto, and 8.6 seconds in the Ascent Sport manual (20kg lighter).
Despite the lack of a sporty engine, the one engine across the range has been made slightly more efficient, especially when coupled with the revised seven-speed continuously variable transmission. Official average fuel consumption figures are 6.7 and 6.1L/100km for manual and automatic, respectively. These have been brought down from 7.1 and 6.6L/100km. Our varied driving style returned 7.0L/100km for the Ascent manual, and 6.8L/100km for the ZR auto.
For a base-model engine, vastly helped along by the close ratio gearboxes, the Corolla hatch gets the job done, even if it requires a few more revs than many other turbo/diesel engines in this class. Going up a hill will almost always require a gear drop or two, but that gives it the raw, interactive and familiar feeling of a car that's down to earth. And maybe this is part of that winning formula of longevity and reliability.
2015 Toyota Corolla ZR – THE VIDEO
2015 Toyota Corolla Ascent Sport – THE VIDEO
2015 Toyota Corolla hatch – THE VERDICT
For the 2015 Corolla hatch, Toyota has tweaked and fine-tuned a winning formula the company has evolved over decades. It's a car that simply gets on with the job, yet it remains relatively modern and very well priced. Although, we still think the strikingly-styled ZR deserves a sportier engine.
PROS:
– Ease of use – driving at its simplest
– Refinement and comfort, for a small car
– European styling – more so with the base model?
– Updated audio and audio display in Ascent Sport models and above
– Price

CONS:
– Needs more torque compared with rivals; only one engine on offer
– Side skirts on the SX and ZR models make the car look boxy?
– No audio volume knob means you have to press the same button a million times