Skoda has finally unveiled the all-new 2015 Skoda Superb after an almost endless number of teasers and previews. The new model is larger, more powerful, and more efficient than its predecessor.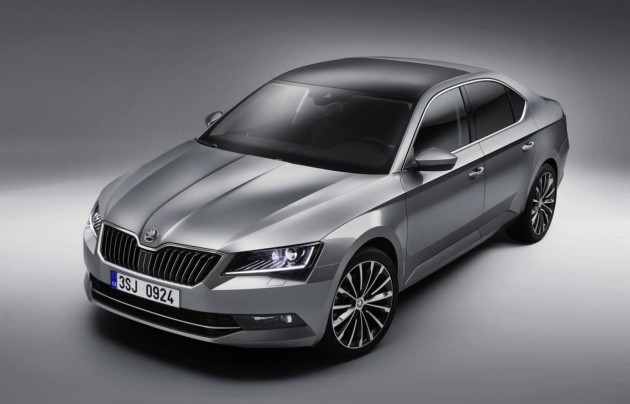 Starting with the engine lineup, the new model will come in eight different engine combinations for various markets. At the start of the range there are five TSI petrol units to select from with power outputs spanning from 92kW and up to 206kW, while three TDI diesels will be offered with an output range of 88kW, up to 140kW.
All but the entry-level TSI come with a dual-clutch auto transmission and some are available with all-wheel drive. Thanks to engine refinements and an overall weight reduction of 75kg, the new model is up to 30 per cent more fuel efficient than the outgoing version.
In terms of body changes, the 2015 Superb takes on a smarter exterior design with sharp and defined panel contours, clear shapes, and plenty of horizontal tones to accentuate the perception of width. There's LED taillights as standard, narrow pillars for optimum visibility, and a gently sloping roofline for that sporty coupe look.
The driver and front passenger can enjoy 39mm more elbow room and more headroom, while rear passengers can relish in the 157mm of legroom. Rear elbow room has also grown by 69mm. In the very back the boot offers 625 litres, which is up 30 litres on the outgoing model.
Aside from the increased cabin space, Skoda says the new Superb is the cleverest Skoda ever made. It offers 29 'simply clever' innovations that make life easier, according to Skoda. The company says,
"23 solutions are new in the Superb, ten of these are completely new for the brand. The new 'Simply Clever' solutions include practical items such as a mechanically retractable towing device, a tablet holder in the rear, a tablet storage compartment in the front Jumbo Box, a USB port and 230 V socket in the rear, single-handed opening for 0.5-litre bottles and an extra high-visibility vest storage compartment in all four doors."
Skoda will launch the new Superb later this year. Australian market details are yet to be confirmed, but we'll keep you updated as soon as we hear more.