Nissan has introduced its all-new NP300 Navara for the Australian market, with all local pricing, specifications and fuel consumption figures released.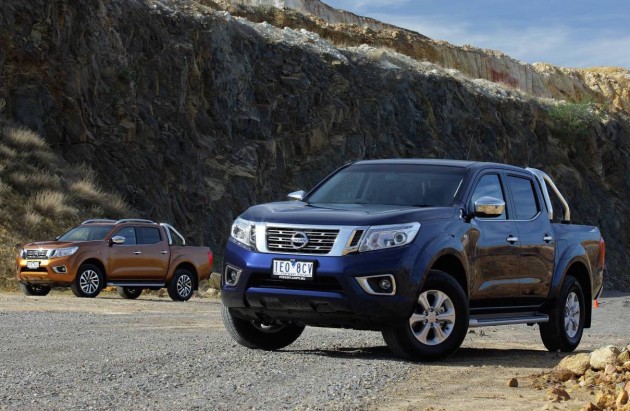 Competition is heating up in the commercial utility segment, with all major players sharpening their tools this year. The Navara will have to fend off the new HiLux, a facelifted version of the Ford Ranger, a freshened Mitsubishi Triton, as well as new players in an ever-expanding market.
To that end, Nissan has beefed up the towing-capacity for its diesel models, to a competitive 3.5 tonnes. This matches the highest capacity offered in the class. The best-in-segment diesel fuel economy is also promised, with figures as low as 6.4L/100km for the combined cycle.
Nissan says the NP300 has been put through over 1,000,000km of real-world torture, including areas of rural and metropolitan Australia to fine-tune the new model. Underneath is a boxed ladder frame chassis design made using high-tensile steel in critical areas, with conceal under-body components for off-road protection.
With 4361 units moved so far this year, Navara enjoys a healthy slice of the pie, but it still trails HiLux, Ranger, Triton and Colorado for volume in Australia. Nissan hopes the NP300 will shake things up. See below for prices (excluding on-road costs) and powertrain details.
| | | | |
| --- | --- | --- | --- |
| Nissan NP300 Navara | kW / Nm | Fuel Economy (L/100km) | CO2 Emissions (g/km) |
| DX 2WD manual petrol dual cab | 122kW / 238Nm | 9.9 | 230 |
| DX 2WD auto petrol dual cab | 122kW / 238Nm | 9.7 | 225 |
| RX 2WD manual diesel dual cab | 120kW / 403Nm | 6.4 | 169 |
| RX 2WD auto diesel dual cab | 120kW / 403Nm | 6.9 | 183 |
| ST 2WD manual diesel dual cab | 140kW / 450Nm | 6.3 | 166 |
| ST 2WD auto diesel dual cab | 140kW / 450Nm | 6.8 | 179 |
| ST-X 2WD manual diesel dual cab | 140kW / 450Nm | 6.3 | 166 |
| ST-X 2WD auto diesel dual cab | 140kW / 450Nm | 6.8 | 179 |
| RX 4WD manual diesel dual cab | 120kW / 403Nm | 6.6 | 174 |
| RX 4WD auto diesel dual cab | 120kW / 403Nm | 7.1 | 187 |
| ST 4WD manual diesel dual cab | 140kW / 450Nm | 6.5 | 172 |
| ST 4WD auto diesel dual cab | 140kW / 450Nm | 7.0 | 186 |
| ST-X 4WD manual diesel dual cab | 140kW / 450Nm | 6.5 | 172 |
| ST-X 4WD auto diesel dual cab | 140kW / 450Nm | 7.0 | 186 |
| | |
| --- | --- |
| Nissan NP300 Navara Dual Cab Pickup | MSRP |
| DX 2WD manual petrol dual cab | $26,490 |
| DX 2WD automatic petrol dual cab | $28,990 |
| RX 2WD manual diesel dual cab | $32,990 |
| RX 2WD automatic diesel dual cab | $35,490 |
| ST 2WD manual diesel dual cab | $38,990 |
| ST 2WD automatic diesel dual cab | $41,490 |
| ST-X 2WD manual diesel dual cab | $44,990 |
| ST-X 2WD automatic diesel dual cab | $47,490 |
| RX 4WD manual diesel dual cab | $39,990 |
| RX 4WD automatic diesel dual cab | $42,490 |
| ST 4WD manual diesel dual cab | $45,990 |
| ST 4WD automatic diesel dual cab | $48,490 |
| ST-X 4WD manual diesel dual cab | $51,990 |
| ST-X 4WD automatic diesel dual cab | $54,490 |