Looking to buy a premium European mid-size coupe? You might want to hold off on putting in an order as Japan has just come up with this striking option. It's called the Lexus RC 350 F Sport. It's designed to be the sharpest, most modern and sportiest non-V8 coupe Lexus currently makes.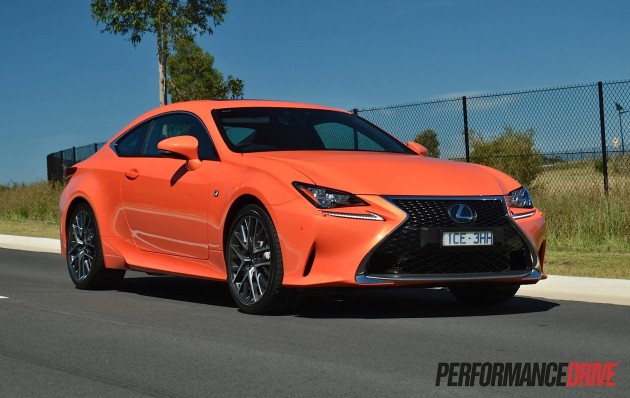 Not to be confused with the Lexus IS sedan, the RC is actually built as a unique model almost completely different from the ground up. The chassis was developed by chief engineer Eiich Kusama, who has spent a lot of time working with Michelin and Lotus to hone handling setups. He says much of the inspiration that he used in coming up with the RC was actually from martial arts. He said,
"I have a black belt in Aikido, where one uses the opponent's force to respond. This is relevant to the development of the RC in terms of handling optimisation and also how we respond to our market rivals, who are undoubtedly formidable."
Lexus hasn't made a mid-size, rear-wheel drive coupe since the Toyota Soarer-based SC 300 and SC 400, so it will be interesting to see if the RC is worthy of a black belt, in automotive terms. Kusama says the RC does not simply use a reconfigured version of the IS sedan platform. Instead, it incorporates a layout which is inspired by the stiff and responsive front end of the GS sedan, the centre of the IS C convertible for strength and rigidity, and the rear end of the sporty IS sedan.
Although this sounds impressive so far, it does come with the same, fairly old 3.5-litre V6 as seen in the IS 350/GS 350, churning out 233kW and 378Nm. It has been revised over the years, but unfortunately it isn't able to keep up with the efficiency of the German rivals, on paper at least. More about the drive below.
Like other new Lexus models, the RC 350 comes in three variant lines starting with the Luxury, and then the F Sport (as tested), and the range-topping, max-lux Sports Luxury. Prices span from $66,000 to $86,000, with the F Sport as you see here kicking off from $74,000.
2015 Lexus RC 350 F Sport – THE SPECS
Engine: 3.5-litre V6
Output: 233kW@6400rpm / 378Nm@4800rpm
Transmission: Eight-speed automatic
Drive type: Rear-wheel drive
Wheels: F: 19×8.0, 235/40  R: 19×9.0, 265/35
ANCAP: Not yet tested
Kerb weight: 1740kg
Power-to-weight: 7.4:1 (kg:kW)
Official fuel economy: 9.4L/100km
Economy during test: 10.2L/100km
Fuel capacity/Type: 66L/95 RON
Power efficiency: 24.7kW:L/100km
0-100km/h as tested: 6.7 seconds
Priced from: $74,000
2015 Lexus RC 350 F Sport – THE PACKAGE
When you sit in the new RC you are immediately reminded of what the Lexus brand stands for; luxury. In fact the word Lexus is derived from Luxury EXport to the US. The company started out making big, comfy cruisers which were designed to eat up mile after mile out on big American roads, in pure comfort.
Times have changed, and so has Lexus. It now exports vehicles to big markets including Australia and more importantly, Europe. To cater for European demands and to meet European standards, cabins are a bit smaller and the whole user-interface is much more intelligent. Designs have also been sharpened up.
As is the case with the RC. It's fantastically modern and crisp in here, which is refreshing in a market dominated by German offerings that all seem to be wearing smart yet boring business suits. There's plenty of exotic tones and unconventional shapes going on, with a cascading centre dash fascia that presents a smorgasbord of interesting switches and controls for you and your companion. Even the switchgear has a design edge over the Germans in our opinion, with cool touch-and-slide temperature controls for the front, soft-turn knobs, and an innovative touch pad for the LCD interface.
We're not particularly a fan of the touch pad system. We liked the joystick-like controller Lexus previously offered. You do get used to the touch pad to some degree and it is certainly a conversation starter for any new passengers or friends that you might show. We don't like the way the whole pad bounces up with each selection you make. Luckily, there is an option to alter the level of feedback and responsiveness.
The cabin isn't as big as the exterior suggests. Although front seat space is cosy, with much of the centre console and dash wrapping you in, the atmosphere quickly becomes your office and your own little timeout zone. Lexus is good at driving positions, and the RC is nothing short of perfect. You can adjust the electric steering column to find the ideal resting place for your hands, while the sporty, soft leather-covered seat can also be electrically adjusted in a number of ways. The lower cushion is long for excellent thigh support, with a broad range of lumbar adjustability for your back, and well-bolstered side sections to hold you in.
Rear seat space isn't as capacious as most of the German rivals, with limited headroom being the main setback. Lexus says it has purposely sculpted the backs of the front seats to provide legroom, but even so the rear chairs are best suited to small adults and children. In the F Sport and Sports Luxury, the front seats can be tilted forward at the touch of a button for easy rear access, reforming to their exact position on return.
If you like taking weekend trips away, the RC can facilitate that quite well, offering a boot space of 423 litres. The cargo area is deep and relatively wide. Compared with the coupe rivals, such as the Audi A5 (455L), BMW 4 Series (445L), and Mercedes-Benz C-Class (450L), the sharp Lex is slightly below par.
You're getting a great overall package with the RC 350. The interior is a real standout in the segment, with more emotional controls and overall personality than the rivals, a good driving position, and an abundance of standard features such as dual-zone climate, sat-nav, heated and cooled front seats, a rear-view camera and rear cross-traffic alert, radar cruise control, digital radio, electric everything, and a clever TFT LCD instrument cluster with configurable displays. Going for the F Sport also gets you special body trimmings, adjustable sports suspension, four driving modes, and dynamic rear-wheel steering.
2015 Lexus RC 350 F Sport – THE DRIVE
To start with, we'll talk about the driving character from a sheer luxury point of view. Once you've selected the 'normal' driving mode (already default if you haven't touched anything), the RC 350 F Sport is a super-relaxing and whisper-quiet drive. You can only just hear the engine, the steering is calm and communicative without being overly fidgety, while the ride irons over creases in the road and gently leans into corners.
With rear-wheel steering, standard on the F Sport and Sports Luxury, the RC 350 is unbelievably smooth around corners. When you first experience the system turning around a roundabout, you'll be blown away. It just glides around effortlessly, like it's rotating on ice. It's incredible, and really enhances or accentuates the pure elegance of the driving character. In this respect, the RC 350 definitely passes as a superb luxury grand touring coupe. So, how does it perform from an 'F Sport' point of view?
The V6 engine does feel a little sluggish at lower revs and only comes alive beyond 4500rpm. Maximum torque isn't available until 4800rpm, which is quite high compared with market standards. At these revs though the engine produces an addictive V6 roar. Lexus says the muffler has been designed to produce quietness at low revs and a more dynamic and exciting note at higher revs. It sounds throaty and convincingly powerful. This is also partly thanks to a system called Lexus Active Generator. Lexus says it works by using "the intake air pulse to raise the sound-pressure level at specific frequencies"… whatever that means.
Basically, you get an enhanced engine note in the cabin. For the more hardcore car enthusiasts, the sound can seem fake if you want to be critical about it. We're more concerned about the engine note coming from the exhaust though, it seems throaty and aggressive inside the cabin but a bit mute outside. Considering this is not the fully fledged RC F V8, it's pretty exciting nonetheless.
With rear-wheel steering the RC 350 F Sport is a super-confident and composed coupe when pushed hard around corners. There is a tiny bit of body roll, even in Sport Plus mode, but once the initial body movement has occurred it won't tip any further; it remains at that stance. You can throw the back end into a tight bend too and it will step out marginally, but once you're on the power the clever limited-slip-type diff focuses on an optimum getaway as opposed to wild oversteer. Proper powersliding or drifting is not really possible in dry conditions, even with the stability systems turned off.
The RC 350 F Sport is a better luxury cruiser than an agile thrill-seeker. Part of this is due to its 1740kg weight, which is heavier than all German rivals, including the all-wheel drive Audi A5. It handles extremely well and always serves up a pampering ride, but when you really get into a tight windy road it does seem out of its comfort zone compared with the BMW 4 Series and Mercedes C-Class coupe. We're confident in saying this is a far better luxury vehicle though compared with those rivals. It's smooth and gentle, and always has one purpose at the top of its priority; to provide you with the most relaxing journey it can.
2015 Lexus RC 350 F Sport – THE VIDEO
2015 Lexus RC 350 F Sport – THE VERDICT
Buying a Lexus not only means you get a luxury car which offers impeccable attention to detail, like an industry-first five-layer paint job (for a mainstream production car), bespoke high quality trim levels for each variant, calm mood lighting, and class-shaking exterior design. You also get plenty of auxiliary benefits, such as Lexus's highly renowned reliability and dependability – has topped J.D. Power Dependability Study survey four years consecutively – as well as a generous aftersales programs such as Lexus Encore Privileges with free pick up and drop of your car or a free loan car during services and a whole lot more (head over to the Lexus website for more about the standard Encore benefits).
The RC 350 is not the sportiest or most agile coupe in this segment, nor is it the most efficient or innovative in terms of its powertrain. However, the RC sits right at the top in terms of luxury in our opinion. It'll sooth your day with every drive like no other offering in this class. We look forward to seeing what can be done for performance enthusiasts with the V8 RC F – review coming soon.
PROS:
– Beautifully smooth and fluid handling; rear-wheel steering helps
– Modern interior design
– Striking exterior
– Comprehensive list of standard features
– Throaty V6 sound (in cabin)
– Price, compared with rivals

CONS:
– Thirsty engine, lacks low-end torque
– Heavy
– A bit soft for our liking (but true to Lexus tradition; sheer comfort)
– Not as sporty or quick as some mid-class rivals
2015 Lexus RC 350 F Sport – THE COMPETITORS
Audi A5 3.0 TFSI
3.0-litre supercharged V6 – 200kW-400Nm – 7.5L/100km – 1715kg – from $99,300
BMW 435i
3.0-litre turbo inline six – 225kW-400Nm – 7.5L/100km – 1585kg – from $108,530
Mercedes-Benz C 350 coupe
3.5-litre V6 – 225kW-370Nm – 7.9L/100km – 1615kg – from $99,430