Honda has finally taken the wraps off the production version, 2015 Honda NSX supercar. The new model is the second generation NSX, after the original debuted some 25 years ago.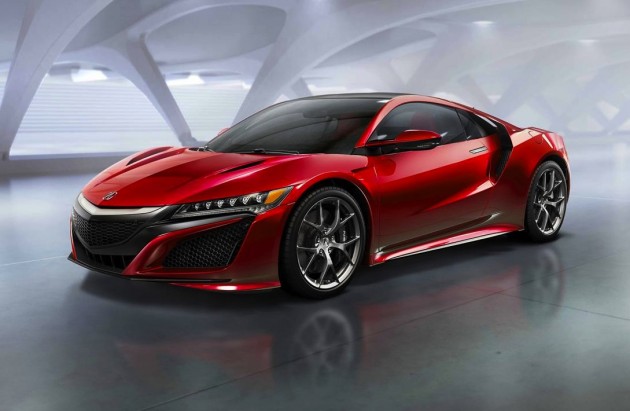 We already know plenty about the new NSX, but some of the finer details including specifications, as well as the exterior and interior design are now finalised and ready to go. It's all been put together to deliver a groundbreaking "New Sports eXperience".
Starting with the engine. It's a mid-mounted, longitudinal twin-turbo DOHC V6 working with three electric motors to develop an overall output of more than 410kW of power. The system is connected up to a constant all-wheel drive system Honda calls Sports Hybrid Super Handling All-Wheel Drive, with a nine-speed dual-clutch automatic transmission.
Honda hasn't revealed performance figures or acceleration times, however, the company says the new model will stay true to the heritage of NSX. This means, according to Honda, offering a new driving experience where every aspect of the car is respectful to the driver.
In terms of exterior design, the production version is 76mm longer than the concept and 25mm wider. Paying tribute to the original are a pair of side air intakes and floating C-pillars that feed air to the engine. Airflow is also directed over the rear deck to assist with downforce.
Inside, drivers get a dynamic TFT LCD display in place of the instrument cluster, capable of changing modes according to the selectable Integrated Dynamics System. On the centre console sits a Power button with a futuristic mid frame inspired by a naked sports bike. Engineers have also allowed for excellent forward visibility, intuitive controls, and an ergonomic seat layout which is easy to get in and out of.
The body is made on a space frame design using an internal frame made from aluminium, braced by a carbon fibre floor. Special aluminium and sheet moulding composites are also used for increased strength and manufacturing flexibility.
Honda will produce the NSX at its Performance Manufacturing Centre in Ohio, USA, with around 100 skilled workers operating production processes for body construction, paint and assembly. It's set to arrive on the market later this year. Honda Australia has confirmed the NSX will be sold locally.
(Acura NSX shown)