Along side the 2015 Territory details, Ford Australia has announced the model lineup for the 2015 Falcon range. It will be available in Falcon, G6E, G6E Turbo, XR6, XR6 Turbo, and XR8 form. This is also the first time we get a quick glimpse and confirmation of the new base model Falcon and the XR6 Turbo.
The 2015 Falcon will be available with a 2.0-litre EcoBoost turbo, a 4.0-litre inline six petrol and EcoLPi LPG, a 4.0-litre turbo, and a supercharged V8 for the XR8. Specifications for the V8 XR8 are yet to be revealed, however, all other engine specs have been confirmed.
The 2.0 EcoBoost will produce 176kW and 340Nm, while the base 4.0 will produce 195kW and 391Nm, with the EcoLPi LPG version developing 198kW and 409Nm. These engines will be available in the base model Falcon.
For the XR6, buyers will be able to select between both versions of the 4.0-litre unit, and a turbocharged 4.0-litre in the case of the XR6 Turbo. The Turbo produces 270kW and 533Nm. A manual transmission is standard for all XR models except the EcoLPi.
In terms of equipment the new Falcon will be more advanced than ever before, showcasing Ford's latest SYNC2 system and Emergency Assistance for all variants. Front and rear parking sensors are also standard, and a rear-view camera.
The SYNC2 interface incorporates an 8.0-inch touch-screen display resting atop the dash, pairing in all connectivity functions including Bluetooth, USB, and SD card compatibility. Passengers will be able to control the system via voice command which is developed with Nuance.
For the firs time for a Holden or Ford the 2015 Falcon will come with DAB+ digital radio with dual antennas and Wi-Fi hotspot capabilities as standard – the Toyota Aurion is available with digital radio.
Ford Australia will launch the 2015 Falcon in November. Prices are yet to be announced.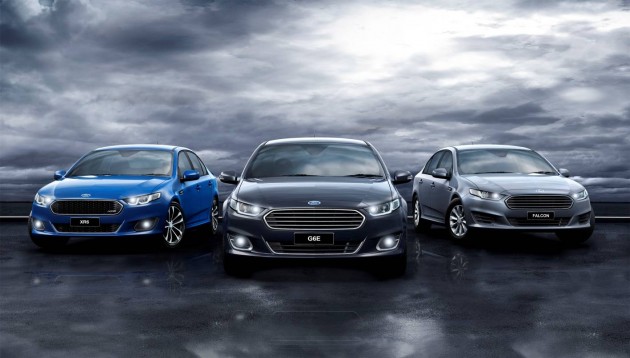 See below for the highlight features and equipment of each respective model (except the XR8):
2015 Ford Falcon sedan
MECHANICAL
Standard engine:
4.0-litre DOHC DI VCT I6 petrol engine (195kW, 391Nm)
Optional engines:
2.0-litre 16V TiVCT EcoBoost petrol engine (176kW, 340Nm)
4.0-litre EcoLPi DOHC DI VCT I6 LPG engine (198kW, 409Nm)
Six-speed automatic transmission with sequential sports shift
Control Blade independent rear suspension
EXTERIOR
Michelin low-rolling resistance tyres with improved fuel economy
16 x 6.5-inch alloy wheels new design
LED taillights
Projector headlamps
Body coloured bumpers, side mirrors and door handles new design bumpers
INTERIOR
Light limestone upper environment
Four-way power adjustable driver's seat
Single zone automatic climate control
Power windows and side mirrors
Cruise control with steering wheel mounted controls
Single CD audio system with 4 speakers
DAB+ radio
Interior Command Centre with 8.0-inch colour touch screen new for Falcon sedan
SYNC 2 with Voice Control and Emergency Assist
iPod integration
Bluetooth mobile phone integration
Two USB music ports additional USB port
SD card slot
3.5mm auxiliary audio jack
Dual antenna system
Wi-Fi hot-spot
SAFETY
Front and rear parking sensors new front sensors
Rear view camera with overlays
Dynamic Stability Control
ABS with electronic brake force distribution (EBD) and Traction Control
Driver and front passenger airbags
Side curtain airbags
Side Thorax airbags
Emergency Brake Assist
Beltminder system (for driver and front passenger)
2015 Ford Falcon G6E sedan
The Falcon G6E sedan includes the following features in addition to those of the Falcon sedan:
MECHANICAL
Standard engine:
4.0-litre DOHC Di VCT I6 petrol engine (195kW, 391Nm)
Optional engines:
2.0-litre 16V TiVCT EcoBoost petrol engine (176kW, 340Nm)
4.0-litre DOHC Di VCT Turbo I6 petrol engine (270kW, 533Nm)
EXTERIOR
18 x 8.0-inch alloy wheels new design for G6E
19 x 8.0-inch alloy wheels new design for G6E Turbo
Unique front LED day time running lamps L shape
Fog lamps
Rain sensing wipers
Front fender badge feature new design
Unique G6E front bumper
Front grille with chrome trim
Power Side Memory mirror with integrated turn indicators
INTERIOR
Light limestone upper environment new on G6E only
Perforated Leather wrapped steering wheel, stitching with new accent colour thread
Black upper environment new on G6E Turbo only
Optional tan interior environment
Electrochromatic rear vision mirror (auto-dimming)
Premium Sound system with 9 speakers including Amplifier and Sub-woofer
Eight-way power adjustable driver's seat with three position memory
Puddle/courtesy lamps on inner door trims
Leather wrapped handbrake handle
Satellite Navigation with Traffic Message Channel
Leather trimmed seats
Cloth Covered Sunvisors
Dual zone climate control
Sunglasses holder incorporating map reading lamps
2015 Ford Falcon XR6 sedan
The Falcon XR6 sedan includes the following features in addition to those of the Falcon sedan:
MECHANICAL
Standard engine:
4.0-litre DOHC Di VCT I6 petrol engine (195kW, 391Nm)
Optional engines:
4.0-litre EcoLPi DOHC Di VCT I6 LPG engine (198kW, 409Nm)
4.0-litre DOHC Di VCT Turbo I6 petrol engine (270kW, 533Nm)
Standard transmission:
Six-speed manual transmission (not available with 4.0-litre EcoLPi engine)
Optional transmission:
Six-speed automatic transmission with sequential sports shift
Sports Suspension
EXTERIOR
18 x 8.0-inch alloy wheels new design for XR6
19 x 8.0-inch alloy wheels new design for XR6 Turbo
Unique front LED day time running lamps W shape
Rain sensing wipers
Unique XR front bumper new design
Unique Sports Grilles with accent colour surrounds new design
Front fog lamps
INTERIOR
Black upper environment
Perforated Leather wrapped steering wheel stitching new colour accent thread
Prestige six-speaker audio sound system
Cloth sports seats
Sports Instrument cluster gauges and blue backlighting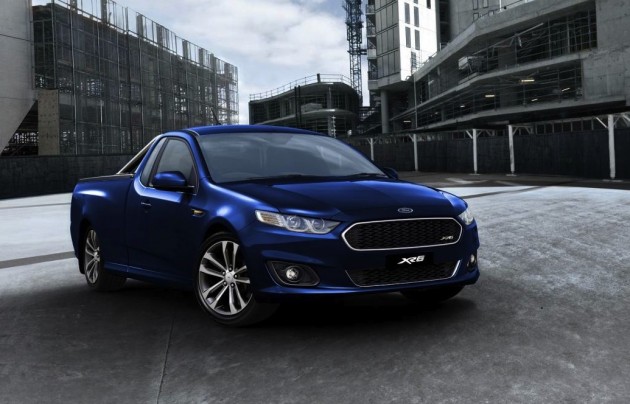 2015 Ford Falcon Utility
MECHANICAL
Standard engine:
4.0-litre DOHC Di VCT I6 petrol engine (195kW, 391Nm)
Optional engines:
4.0-litre EcoLPi DOHC Di VCT I6 LPG engine (198kW, 409Nm)
Six-speed automatic transmission with sequential sports shift (floor or column shift)
Leaf spring rear suspension
EXTERIOR
16 x 6.5-inch steel wheels
Body coloured front bumper and door handles new bumper design
INTERIOR
Single Zone Climate control now standard
Interior Command Centre with 8.0-inch TFT screen
SYNC2 with Voice Control and Emergency Assist
SD card slot
Dual antenna system
Four-way power adjustable driver's seat
Power windows and side mirrors
Single CD audio system with two speakers
Cruise control with steering wheel mounted controls
iPod integration
Bluetooth mobile phone integration
Two USB music ports
3.5mm auxiliary audio jack
SAFETY
Dynamic Stability Control
ABS with Electronic Brakeforce Distribution (EBD) and Traction Control
Driver and front passenger airbags
Side Head/Thorax Airbags
Emergency Brake Assist
Beltminder system (for driver and front passenger)
2015 Ford Falcon XR6 Utility
The Falcon XR6 Utility includes the following features in addition to those of the Falcon Utility:
MECHANICAL
Standard engine:
4.0-litre DOHC Di VCT I6 petrol engine (195kW, 391Nm)
Optional engines:
4.0-litre EcoLPi DOHC Di VCT I6 LPG engine (198kW, 409Nm)
4.0-litre DOHC Di VCT Turbo I6 petrol engine (270kW, 533Nm)
Standard transmission:
Six-speed manual transmission (not available with 4.0-litre EcoLPi engine)
Optional transmission:
Six-speed automatic transmission with sequential sports shift
EXTERIOR
18 x 8.0-inch alloy wheels new design for XR6
19 x 8.0-inch alloy wheels new design for XR6 Turbo
Unique front LED day time running lamps W shape
Rain sensing wipers
Unique XR front bumper new design
Unique Sports Grilles with accent colour surrounds new design
Front fog lamps
INTERIOR
Perforated Leather wrapped steering wheel, stitching with new accent colour thread
Black upper environment
Prestige six-speaker audio sound system
Cloth sports seats
Sports Instrument cluster gauges and blue backlighting
SAFETY