Following yesterday's leak, Audi has now officially unveiled the all-new 2015 Audi Q7. This is the company's new large SUV, promising more technology and efficiency than ever before. It will make its full debut at the Detroit show next month.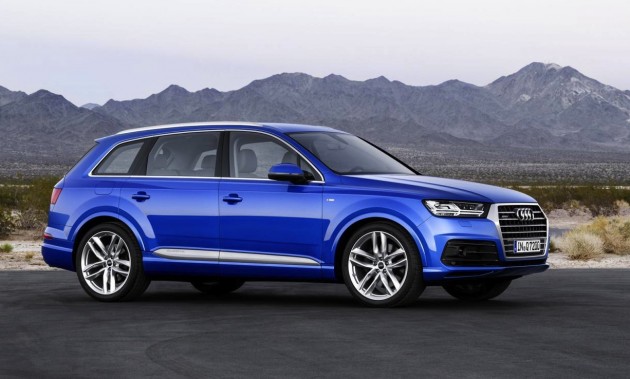 As expected, the new Q7 is a lot lighter in weight compared with the outgoing version. In fact, it is up to 325kg lighter. The new 3.0 TDI variant tips the scales at 1995kg, making it one of the lighter weight large premium SUVs around.
The weight loss has helped the new model become around 26 per cent more efficient than the outgoing model, which has been around now since 2005. Part of the weight savings comes thanks to a fresh chassis which has saved 100kg alone, whole a mostly-aluminium body saves a further 71kg, and the doors cut 24kg.
Despite looking quite large in photos, the 2015 Q7 is actually 37mm shorter than the old version, and 15mm narrower. However, in the cabin there is an extra 42mm of headroom in the front, 23mm more rear headroom, and an additional 21mm in between the front and rear seats for more legroom.
Speaking of the interior, Audi fans will notice the suave new-look dash with its separate MMI multimedia screen sitting atop the dash. There's also clean surfaces with minimal buttons and control knobs for a freer and less-cluttered layout, with a unique three-spoke steering wheel for the driver.
In terms of engine options, the Q7 will be offered with a 3.0 TDI producing 200kW and 600Nm, capable of 0-100km/h in 6.3 seconds and an average economy of just 5.7L/100km, as well as a 3.0 TFSI petrol producing 245kW and 440Nm, capable of 0-100km/h in 6.1 seconds with an average consumption of 7.7L/100km.
Headlining the powertrain lineup is an e-tron 3.0 TDI plug-in hybrid. It produces a combined output of 275kW and 700Nm, capable of 0-100km/h in 6.0 seconds. Remarkably, the average consumption rate is just 1.7L/100km, partly thanks to the fact that it can be driven in electric-only mode for around 56km.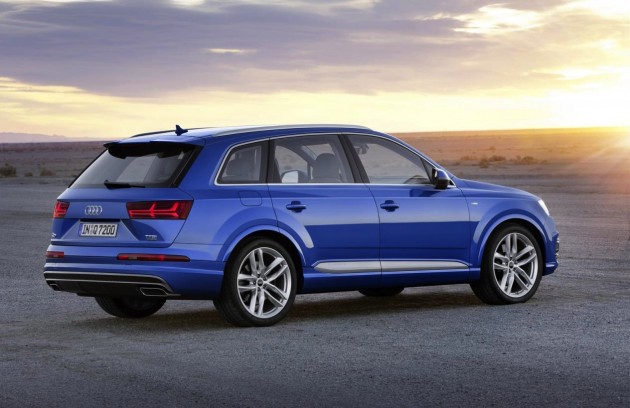 Audi Australia is yet to announce when or even confirm if the new model will arrive locally. Considering the current model is still on sale now, the local arm is likely to bring across the new version. So far this year Audi has sold 1266 Q7s in Australia – it is the least-popular Audi SUV available in Australia; Q3 (2439), and Q5 (3146).