Now that Kia truly is competing in the auto market on an international scale, it's able to expand out and step into niche segments. This is the Kia pro_cee'd GT, the company's first dedicated sports hatch.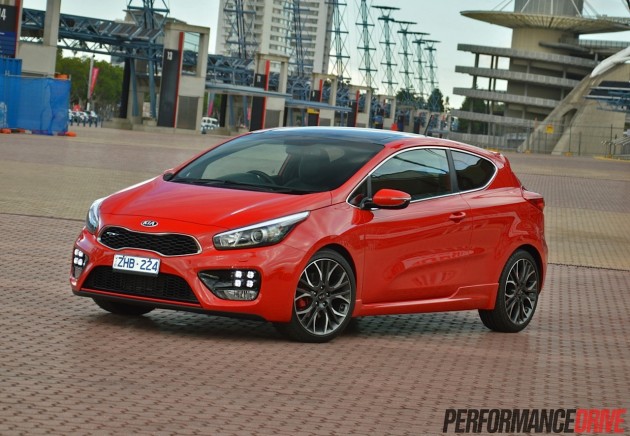 The pro_cee'd GT is a newbie from Kia, aimed to take a stab at sporty hatches like the Toyota 86/Subaru BRZ, the Nissan Pulsar SSS, and the Holden Cruze SRi-V. Initially introduced in Europe in early 2013, it has so far been amiably received.
It shares the same platform as the popular Hyundai Veloster, including the 1.6-litre variable-valve-timing, in-line four turbo petrol engine that Kia complicatedly abbreviates as the "TGDI D-CVVT". It produces the same 150kW and 265Nm output as the Veloster SR Turbo and Kia Cerato Koup Turbo.
Available with only a six-speed manual, prices start at a competitive $29,990 for the GT, and $33,490 for the higher spec GT-Tech as tested here.
2014 Kia pro_cee'd GT-Tech – THE SPECS
Engine: 1.6-litre turbo four-cylinder
Output: 150kW@6000rpm / 265Nm@1750-4500rpm
Transmission: Six-speed manual
Drive type: Front-wheel drive
Wheels: F: 18×7.5, 225/40  R: 18×7.5, 225/40
ANCAP: Five stars (scored 36.19 out of 37)
Kerb weight: 1448kg
Power-to-weight: 9.6:1 (kg:kW)
Official fuel economy: 7.4L/100km
Economy during test: 7.5L/100km
Fuel capacity/Type: 53L/91 RON
Power efficiency: 20.2kW:L/100km
0-100km/h as tested: 8.1 seconds
Priced from: $33,990
2014 Kia pro_cee'd GT-Tech – THE PACKAGE
Right from first glance, you'll be taken away by the modern design of the Kia. From the high-contrast tubed taillights, to the swooping waistline, the acutely rounded rear end, to the jaggedly shaped headlights, you can see a lot of effort has gone into making the pro_cee'd GT possess a real energetic appeal.
Add to that, this is the type of car that doesn't come in standard form; it is built only with a sporty soul in mind. And starting with the external appearance, Kia has got it spot on. We especially love the prominent 'tiger nose' grille, the intense wedge-like profile, and tight hatch proportions of the rear. If the external appearance isn't enough to win you over, let's take a look at the feature list.
Features are aplenty, especially considering its $29,990 starting price. You get six airbags, traction and stability control, five-star ANCAP safety, cruise control, rear parking sensors, a small rear-view camera that is embedded within the rear-view mirror, dual-zone climate control, and Bluetooth connectivity with AUX/USB/IPod inputs.
You also get funky daytime running lights, hill-start assistance, automatically folding side mirrors, and rain-sensing wipers. All very impressive for a standard package. Opt for the GT-Tech for $3500 extra, and you get push button start, chic door handle lamps, HID headlamps with washers, and a cool panoramic glass sunroof.
Regarding the interior, the first item that draws your attention is the semi-digital instrument cluster. The tachometer is a mechanical dial and the speedo and trip computer are all fully digitised, which can be quickly switched between two different layouts. This kind of setup is usually only seen inside much flashier, high-end vehicles. Having the option to change display modes is great as you can view things like boost pressure and economy, or the more traditional rotary speedo gauge.
We find the overall dash design and layout a bit underwhelming, especially after taking in the fabulous exterior. Kia seems to have a great exterior designer but the interior designer perhaps needs to retire. It's very basic and mono-tone, with lots of cheap black plastic and chrome trimming that looks like it comes straight from the 1990s. The striking red-coloured dash lights are a tad overwhelming too. Since there's so much information to relay, the bright red is overpowering at night.
The Recaro half leather/half suede front bucket seats feel ultra-supportive and really strap you in firmly. Some overweight people might find them a little nonnegotiable, particularly on winding or bumpy roads. But that's what a car with a racy charisma is all about. If you've just jumped out of some of the sporty rivals, you might find the driving position a bit unnatural, and the steering wheel is a little bulky and weird at the bottom.
In the rear, room and comfort levels are what you'd expect from a car in this segment. Being a two-door, the extra-long and heavy doors aid the process of climbing in and out of the back, but hinder ease of entry for any occupant when in a tight car park. Ultimately, the Kia pro_cee'd GT is ideal for the accommodation of two passengers only and maybe a couple of kids.
The boot is also in line with what you'd expect from this segment of car. With 380 litres available, you can certainly stow away a load of shopping or a couple of suitcases, for example. Otherwise, you can always drop the 60:40 split-fold rear seats with ease to open up 1225 litres. This is about on par with the Volkswagen Golf (380L/1270L).
2014 Kia pro_cee'd GT-Tech – THE DRIVE
Under the bonnet lies a riveting and exhilarating little performer. The 1.6-litre turbo petrol engine makes for a fun car to drive. With that impressive 150kW on tap, and 265Nm torque starting right down from 1750rpm, you'll never feel short of oomph.
Official tests reveal a 0-100km/h time of 7.7 seconds. We achieved 8.1 seconds, which is shy of the Pulsar SSS's 7.3 seconds, and better than the Cruze SRi-V's 9.9 seconds.
We love how willing the engine feels throughout the entire rev range. It never feels or sounds like you're pushing it too hard. And this is aided by the swift short-ratio six-speed manual transmission.
Furthermore, gear shifting is about as smooth and composed as you can get, and the clutch is light and very difficult to mess up. In fact, it is more than happy to have you throw through those gears hurriedly. The only quirk here is that we find it quite easy to confuse the positioning of first and third gear when taking off from a stop.
Naturally, with a short-ratio gearbox, you find yourself cruising on a little over 3000rpm at 110km/h, which means it's quite effortless to swallow up any hills without the need to downshift.
We noticed that road noise is quite evident, even during low speeds. Either noise dampening materials are lacking or the Michelin Pilot Sport 3 tyres are made only with handling performance in mind. Which is a bit of a shame, because it dulls away the eagerness of that engine and the muscly note of the exhaust.
Speaking of sound, the engine gives off a slightly sportier note in the pro-cee'd GT compared with the Veloster SR and Cerato Koup with the same engine.
So, how does it handle? You won't get tired of threading the pro_cee'd GT down your favourite road. Spring and damper tuning is firmer than the European version, and the sway-bars are thicker. The electric power steering has also been re-calibrated for Australia to improve feel and feedback. It undoubtedly feels 'realistic', as Kia states. We find the steering initially light, and then progressively becomes heavier as the front wheels load up in a corner.
Aussie roads typically bring out the worst in sports cars' composure. But the pro_cee'd GT only has a slight tendency to be challenged by those bumpy country roads. Turn-in is strident and grip around corners from the 225mm Michelin Pilot Sport 3 tyres is fantastic, with no torque-steer. It feels solid. There's commendable tolerance to understeer, and even as a corner tightens, a well-balanced chassis (for a front-wheel drive) is discovered.
Official fuel usage figures are 7.4L/100km. Our driving revealed a similar real-world figure. The Pulsar SSS scores an official 7.7L/100km, and the Toyota 86 returns 7.8L/100km.
We were notably impressed by the fuel usage not sky-rocketing when a more 'sporty' driving style is adopted. So, even though the official figure compares well with the competition, it's always good to know a respectable figure can also be achieved in realistic driving conditions.
2014 Kia pro_cee'd GT-Tech – THE VIDEO
2014 Kia pro_cee'd GT-Tech – THE VERDICT
If you're in the market for a sporty hatch with plenty of grunt, the latest Kia offers handling skills almost as superior as the European counterparts, while sporting an appearance like it's fresh from the designers of Italy. And if your budget is thirty grand, the Kia pro_cee'd GT simply must not be overlooked.
If Kia still resonates in your mind as the uprising cheap and nasty brand of the 90s, the company offers its assurance with a five-year unlimited kilometre warranty and capped price servicing.
Things to consider; smack bang on the same price as the Toyota '86, Nissan Pulsar SSS and the Mitsubishi Lancer VRX Sportback, you get a more powerful and torque-driven engine, but not the benefits of the 86's rear-wheel drive setup or the practicality of the Pulsar and Lancer's five doors.
PROS:
– European-like handling
– Engine is willing and full of punch
– Swift and harmonious gear change
– Expressive exterior design, looks expensive
– Great price even with the long feature list
– Cool digital gauge with boost readouts

CONS:
– Firm ride especially at higher speeds
– Road noise
– Seats are supportive but not negotiable
– More practical five-door not available in Australia
– Interior design and quality, a big contrast against that superb exterior
2014 Kia pro_cee'd GT-Tech – THE COMPETITORS
Ford Focus Sport
2.0-litre turbo four-cylinder, 125kW/202Nm – 6.6L/100km – 1368kg – from $25,890 (manual hatch)
Holden Cruize SRi-V
1.6-litre turbocharged four-cylinder, 132kW/230Nm – 7.4L/100km – 1465kg – from $26,490 (manual hatch)
Hyundai i30 SR
2.0-litre naturally aspirated four-cylinder, 129kW/209Nm – 7.2L/100km – 1356kg – from $27,990 (manual hatch)
Mitsubishi Lancer VRX Sportback
2.4-litre naturally aspirated four, 125kW/226Nm – 8.8L/100km – 1355kg – from $29,990 (manual hatch)
Mazda3 SP25
2.5-litre naturally aspirated four-cylinder, 138kW/250Nm – 6.5L/100km – 1308kg – from $25,890 (manual hatch)
Nissan Pulsar SSS
1.6-litre turbocharged four-cylinder, 140kW/240Nm – 7.7L/100km – 1304kg – from $29,790 (manual hatch)
Toyota 86 GTS
2.0-litre boxer four-cylinder – 147kW-205Nm – 7.8L/100km – 1275kg – from $35,990