There aren't many sub-$50k seven-seat heavy-duty 4x4s on the market at the moment. In fact, the 2014 Isuzu MU-X is part of a rare breed of just two, and it's only rival is its brother.
The Isuzu MU-X, as cryptic as the name sounds, is the twin brother to the humble Holden Colorado 7. It shares the same underpinnings developed in part by parent company GM, and it's made in Thailand just like the Holden.
So, what's the difference between the two? Aside from the badge, the Isuzu's price range is a few steps down. Equipment levels are more to the premium side in the Holden, while the MU-X is more about simplicity and ease of use. The Holden also comes with a more powerful 2.8-litre turbo-diesel.
The MU-X range spans from the LS-M (as tested), the LS-U, to the range-topping and somewhat luxurious LS-T. All models are available with either a heavy-duty four-wheel drive system or a more economical rear-wheel drive setup. All models are also presented with seven seats.
Prices for this automatic 4×4 version kick off at $47,800, with the base model 2WD starting at $40,500.
2014 Isuzu MU-X LS-M – THE SPECS
Engine: 3.0-litre turbo-diesel four-cylinder
Output: 130kW@3600rpm / 380Nm@1800-2800rpm
Transmission: Five-speed auto
Drive type: Part-time four-wheel drive
Wheels: F: 16×7.0, 245/70  R: 16×7.0, 245/70
ANCAP: Five stars (scored 33.58 out of 37)
Kerb weight: 2000kg
Power-to-weight: 15.3:1 (kg:kW)
Official fuel economy: 8.4L/100km
Economy during test: 8.7L/100km
Fuel capacity/Type: 65L/Diesel
Power efficiency: 15.4kW:L/100km
0-100km/h as tested: 10.6 seconds
Priced from: $47,800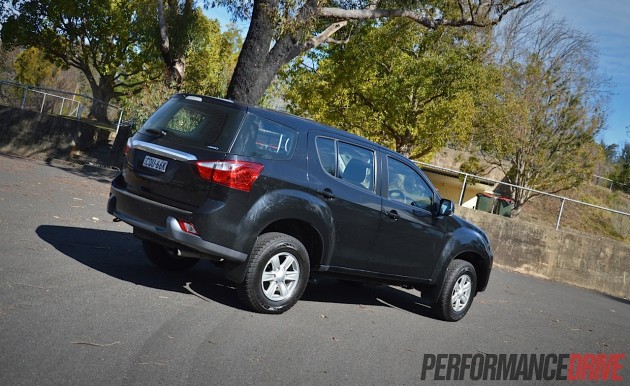 2014 Isuzu MU-X LS-M – THE PACKAGE
You probably know Isuzu as more of a truck brand, but the truth is, Isuzu has been building passenger cars for a long time. Do you remember the old Holden Gemini (rear-wheel drive version) from the 1980s? Well, that was actually an Isuzu underneath.
It comes as no surprise the company knows how to make a user-friendly interior. That's what the MU-X is all about. There is some modern style to the dash fascia and you can get sat-nav and various other technologies when you opt for the LS-T. But here with the base model, it's back-to-basics motoring.
Standard features read like a car advertisement from the late 1990s. The headlines are (in your best radio voice) power windows, power steering, power side mirrors, air-conditioning, and cruise control. You also get cup holders for all three rows, a trip computer, and a six-speaker stereo with MP3 and Bluetooth support.
It's not trying to be better than what it is. It is perhaps the least pompous vehicle on the market. And you tend to warm to it for that reason. The seats are comfortable and simple to adjust. The driving position is near enough to ideal for this segment, and most of the controls are within arm's reach.
We like the big control knobs and manly character of most of the fixtures, and the way most of the dash functions are up high so you don't need to divert your attention too far from the road ahead. However, we're not so much a fan of the thick plastics used for most of dash and door trims. Some of the highlight silver bits are quite tacky as well.
Seating space is excellent, especially in the first two rows. Legroom in the second row is open and free, and the general environment seems airy with good visibility all around.
The third row seat is more confined, as you would expect. Adults can ride back there but legroom is a bit tight due to the lack of a proper foot well. Isuzu says there is 915mm of legroom in the second row and 815mm in the third row. Conveniently, the second row is adjustable for backrest tilt.
In the very back there is 235 litres of cargo space in the seven-seat layout. With all rear seats down there is an impressive 1830 litres.
Now that we've established it can perform quite well as an everyday car, how does it shape up when it comes to heavy-duty performance? After all, that's what the brand is renowned for, right?
All models come with snorkelled differentials to ensure everything stays sealed and dry when fording through deep water crossings. LS-M models feature a 220mm ground clearance too, while the higher spec LS-U and LS-T offer 230mm.
There's a 29.5-degree approach angle at the front and 24.6-degree departure angle at the rear, which means it's ready to climb over some pretty serious ditches and up some seriously steep inclines. All of these specs prepare it for proper off-road use.
2014 Isuzu MU-X LS-M – THE DRIVE
Like the interior, the MU-X is easy to operate. Your grandma could drive this with no major complaint. This is quite a bonus considering how prepared it is for rugged off-road use.
The steering is communicative enough and the transmission, while only a five-speed auto, does well to make use of the 380Nm of torque produced by the engine.
Around tight roundabouts it can be a tad tiring due to the amount of turns from lock to lock from the steering rack, although, the rack gearing isn't as exhaustive as it is in some other ute-based SUVs.
Out on the road the MU-X's turning behaviour is mostly flat with a bit of body wobble and lean – some of which is due to the tall tyres. When you encounter some bumps or corrugations in the road the suspension will shudder, accompanied by some bump-steer. Again though, for this type of vehicle it's nothing out of the ordinary.
As for the engine performance, well, let's just say it leisurely gets up to speed. We timed 0-100km/h in a fairly somber 10.6 seconds. The engine only offers a small optimum-torque window, hitting its peak figure of 380Nm between 1800rpm and 2800rpm. Peak power is just 800rpm away, at 3600rpm. This means the transmission only has a short time to wind out before the revs climb too high. A six-speed auto might improve this if it were offered.
The engine is quiet and fairly relaxing in the way it operates. It doesn't complain about its small torque window, and it seems to communicate well with the transmission to make sure the drive is as effortless as it can be.
Enough of the on-road duties though. The MU-X is built to go off road. And out here it's like a pig rolling in the mud. Even though its 220mm ground clearance is not particularly leading the class, everything under the vehicle is tucked up and kept away from protruding objects. 220mm is the lowest point. This means the diff could be the lowest point while the rest of it could be much higher. And it seems that way.
At Yawal Creek we put the MU-X through some pretty serious tests. None of the terrain was overwhelming for the MU-X. It climbs effortlessly over pointy ridges and clears rocks and logs with ease. We were a bit disappointed not to see a 'diff lock' button in the cabin, but on test, it didn't really need such function.
As a bonus the four-wheel drive system is selectable on the fly at speeds up to 100km/h. You can save a lot of fuel by leaving it in rear-wheel drive mode around town. We averaged 8.7L/100km during our drive, which is not far off the official 8.4L/100km average. There aren't many seven seaters that can offer such economy.
2014 Isuzu MU-X LS-M – THE VIDEO
2014 Isuzu MU-X LS-M – THE VERDICT
So it's a little bit crude and a little bit utilitarian. If you're after an SUV, specifically, a seven-seat SUV that can carry the whole family into some of the most remote regions of Australia, the Isuzu MU-X is simply the best value proposition on the market. Bar none.
It's highly capable, strong, fuel efficient, and it's made by a company that has decades of experience building heavy-duty diesel trucks. Be sure to at least test drive one before signing the dotted line on any other seven-seat reasonably-priced SUV.
PROS:
– Very robust, industrial-strength powertrain
– Surprisingly fuel efficient
– Plenty of room
– Price
– Off-road performance

CONS:
– Crude plastics inside
– No diff lock or limited-slip diff
– A bit slow
2014 Isuzu MU-X LS-M – THE COMPETITORS
Ford Territory TS AWD (seven seats)
2.7-litre turbo-diesel V6 – 140kW-440Nm – 8.8L/100km – 2144kg – from $55,990
Holden Colorado 7 (seven seats)
2.8-litre turbo-diesel four-cylinder – 147kW-500Nm – 9.2L/100km – 2170kg – from $47,490
Jeep Grand Cherokee Laredo (five seats)
3.0-litre turbo-diesel V6 – 184kW-570Nm – 7.5L/100km – 2267kg – from $53,000
Mitsubishi Challenger (five seats)
2.5-litre turbo-diesel four-cylinder – 131kW-400Nm – 8.3L/100km – 1990kg – from $42,490
Mitsubishi Pajero (seven seats)
3.2-litre turbo-diesel four-cylinder – 147kW-441Nm – 8.4L/100km – 2347kg – from $55,990
Toyota Prado GXL (seven seats)
3.0-litre turbo-diesel four-cylinder – 127kW-410Nm – 8.5L/100km – 2320kg – from $63,720 (auto)