Okay, so it's no performance car. However, vans are a big part of motoring in Australia and all around the world. We thought we'd test out the 2014 Hyundai iLoad CRDi for you to see what kind of performance it offers.
The iLoad is the second-best selling van in the country, behind the Toyota HiAce. So far this year (as of April), 1469 examples have been sold, putting it just behind the HiAce (2110) which has been around for a lot longer. Interestingly, the iLoad is more popular than the sporty Hyundai Veloster (1112).
Aside from its popularity, the iLoad is perhaps one of the most car-like, 'driver's vans' around. It has a bonnet, for starters, and the front seats don't sit directly on top of the front wheels. It's also quite wide and sturdy, and it's rear-wheel drive.
It's available in a single model line with two main configurations. You can get auto and manual versions in three-seat and six-seat 'crew' layouts.
There are two engine options as well, including a 2.4-litre naturally aspirated petrol, and this, the 2.5-litre CRDi turbo-diesel four-cylinder. For some reason the auto version produces 125kW and an impressive 441Nm, while the manual develops just 100kW and 360Nm.
Prices kick off at $30,990 for the manual-only petrol three-seater, and $38,990 for the automatic diesel three-seater (as tested).
2014 Hyundai iLoad – THE SPECS
Engine: 2.5-litre turbo-diesel four-cylinder
Output: 125kW@3800rpm / 441Nm@2000-2250rpm
Transmission: Five-speed auto
Drive type: Rear-wheel drive
Wheels: F: 16×6.5 steel, 215/70  R: 16×6.5, 215/70
ANCAP: Four stars (scored 25.81 out of 37)
Kerb weight: 2062kg
Power-to-weight: 16.4:1 (kg:kW)
Official fuel economy: 8.8L/100km
Economy during test: 9.7L/100km
Fuel capacity/Type: 75L/Diesel
Power efficiency: 14.2kW:L/100km
0-100km/h as tested: 9.1 seconds
Priced from: $38,990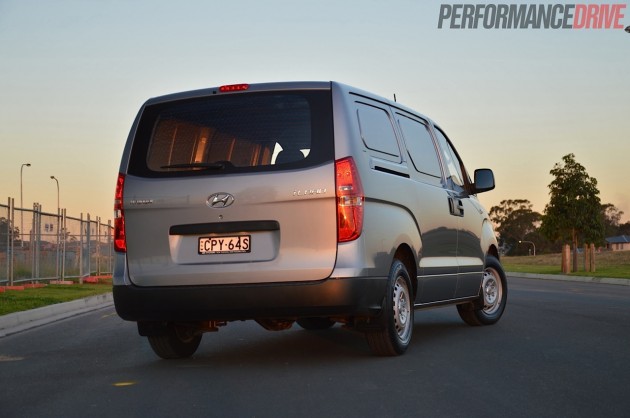 2014 Hyundai iLoad – THE PACKAGE
Despite being around since 2008 in essentially the same form, the 2014 iLoad is reasonably well equipped. There's Bluetooth connectivity which is a must for most tradies who need a vehicle like this, as well as some creature comforts such as a USB/MP3 compatible stereo, power windows (auto down driver only), adjustable-height seatbelts, electric side mirrors, and up to four cup holders in the middle and bottle holders in the doors.
You might not consider the cabin of a van to be a desirable or likeable place, however, in the modern world of today with an overwhelming array of decisions and options, the pure and simple layout of the iLoad is relaxing. You just climb up to the seat, start it up and drive. There are no annoying warning chimes to tell you you've just engaged drive or pushed the brake pedal, and the dash doesn't shove thousands of buttons and options in your face. This is back to basics and all about getting on with the job of driving to where you need to go.
The dash is basic and stylish enough, and all of the buttons and functions are immediately fathomable. It's mostly plastic and seems fairly hard-wearing too, and there are multiple storage pockets and cubby holes for your things.
Most vans feature a tall driving position that kind of feels like you're sitting on a stool. In the iLoad, the driving position is still high but the steering wheel isn't flat, like in a bus. There is some angle and you sit under the wheel as opposed to over the top of it.
Headroom is boundless and legroom isn't restricted for the outer seat passengers. There's decent lateral support in the outer seats, while in the middle, the dash does protrude a little and invades on legroom. With the two cup holders sprung out from the base of the centre fascia, centre passenger legroom is further restricted but still liveable for short journeys.
In the back is where you'll be spending a lot of time in a van. So, the cargo area needs to be big and practical. For the iLoad Hyundai has fitted dual sliding side doors for extra convenience. This will probably be seen as a positive thing to most, but for some workers who rely on having a mini workbench on one side, the step and door could present some issues. The side steps are covered in a rather crude piece of plastic too which is quite slippery.
It's huge in the back, measuring 2375mm in length, 1620mm in width, and 1350mm in height. This is enough room for an average dirt bike (2014 Yamaha YZ450F; 2180mm, 825mm, 1280mm, respectively), with room left over. The total cargo area volume is 4308 litres. Compared with the equivalent best-seller in this segment, the 6000L HiAce, the iLoad's cargo space is 555mm shorter, 75mm wider, and 15mm taller.
2014 Hyundai iLoad – THE DRIVE
We never expected it but we genuinely enjoy driving the iLoad. We aren't exactly well-trained when it comes to van driving, but we have driven the Toyota HiAce and the iLoad is a much more natural drive. It's almost like a car. The platform remains rigid and sturdy when changing directions, and there's very little nervousness or top-heavy body wobble.
It's playful and the steering is surprisingly communicative and direct. You always know what the tyres are doing and, if you're in a rush, you can feel the first moments of understeer. We nervously tried to produce some oversteer but our courage wasn't willing to take us that far. Instead, inside wheelspin is as fun as it gets.
The 215mm industrial-strength tyres aren't suitable for fast cornering, understandably, but you need to be vigilant in wet conditions. Under normal conditions and everyday demands, it behaves much like a regular car; scooting around roundabouts and zipping through sweepers and big bends with confidence and composure. It must be noted that we're driving with an empty cargo area. The handling is likely to change somewhat with a load on board.
Having the front wheel forward with a bit of a bonnet not only has visual appeal, it's also safer. The ride and handling benefits too. In most vans the front seat is right on top of the wheel, which makes your back feel like it is being compressed every time you hit bumps and dips. With the iLoad, there's none of that. You don't need to tense yourself every time you encounter obstacles. Instead, it drives overs bumps much like a regular sedan.
The turbo-diesel engine is energetic and has no trouble galloping up to the speed limit. From a standing start to around 80km/h seems to be its sweet spot. Overtaking power is there but it tends to prefer the low-down torque of the engine as opposed to the power coming in at higher revs. Maximum torque is available from 2000rpm to 2250rpm, which means it performs at its best for only a short time.
The CRDi iLoad is actually one of the torqueist offerings in this segment. For comparison, the equivalent automatic turbo-diesel HiAce offers just 300Nm (100kW), and even the more experienced Volkswagen Transporter TDI twin-turbo develops 400Nm. Hyundai has done very well to cater for its market here. With 441Nm, it is going to take a lot of weight in the back to tarnish performance.
Speaking of which, off the mark that torque comes on strong and easily overpowers the adhesion of the rear tyres. It willingly chirps off the line, sometimes catching you by surprise as the turbo spools up and hits peak torque. We timed 0-100km/h in 9.1 seconds. It's no sports car, but with wheelspin to contend with, it's certainly not a boring vehicle to drive fast.
2014 Hyundai iLoad – THE VIDEO
2014 Hyundai iLoad – THE VERDICT
As we said, we never expected a van to drive so well. With low expectations, the iLoad is surprisingly fun to drive. There is no shortage of torque and getup and go, and the handling is characterful and reasonably capable. With a decent set of wheels and better tyres you could go for a weekend blast through the countryside and thoroughly enjoy it.
About the only negatives we can see are the twin side doors, which aren't going to be great for all buyers, and the small window of maximum torque. It's also quite an old platform now and Hyundai could probably come up with something even better. Other than that, this is a great vehicle that fulfills its intended purpose in every regard.
PROS:
– Car-like driving position and ride; you aren't sitting on top of the front wheels
– Surprisingly energetic and quick off the mark
– Wide cargo area
– Dual side doors
– Huge torque figure

CONS:
– Small torque window and some turbo-lag
– Been around since 2008, virtually unchanged
– Four star ANCAP rating
– Would benefit from better, wider tyres
– Plastic side steps can be quite slippery
2014 Hyundai iLoad – THE COMPETITORS
Ford Transit 280
2.2-litre turbo-diesel four-cylinder – 92kW-330Nm – 7.2L/100km – 1649kg – from $35,990 (manual only)
Mercedes-Benz Vito 113CDI
2.1-litre turbo-diesel four-cylinder – 100kW-310Nm – 8.2L/100km – 1971kg – from $45,480 (auto)
Toyota HiAce
3.0-litre turbo-diesel four-cylinder – 100kW-300Nm – 8.5L/100km – 1835kg – from $39,490 (auto)
Volkswagen Transporter TDI400
2.0-litre twin-turbo diesel four-cylinder – 132kW-400Nm – 8.1L/100km – (n/a)kg – from $44,990 (auto)