For the performance Volvo aficionados, the 2013 Volvo V40 T5 R-Design grasps the complete DNA of what the brand is and what it has become, and rolls it into a hot hatch package that will be an absolute blessing.
However, taking on the hot hatch segment is a tough game. It has to compete with serious players like the cracking new Mercedes-Benz A 250, the new Audi A3, and of course the rear-drive BMW 125i. Is it possible for the V40 T5 to not only win over its current fans but also draw in new ones?
2013 VOLVO V40 T5 – PROS AND CONS
PROS:
Great engine power/torque accompanied by a howling five-cylinder soundtrack
Good handling
Truly class-leading technology
Sexy styling, stands out as something fresh and modern
CONS:
Would be nicer (and quicker?) with a dual-clutch auto, or at least a more sporty torque convertor. Paddles shifters are welcome too
Lack of sports brakes for the T5; we experienced some overheating during our test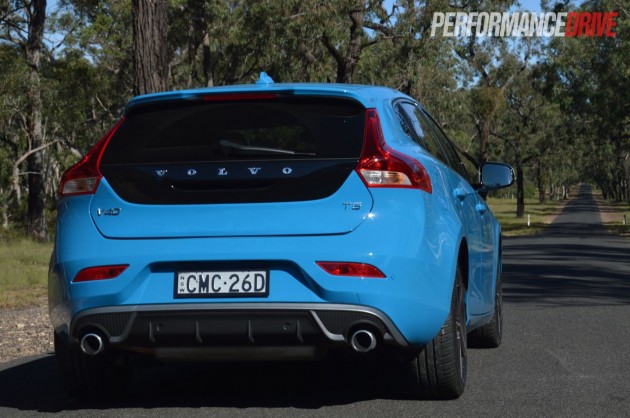 2013 VOLVO V40 T5 – OVERVIEW
After four years of development and engineering, the V40 is Volvo's new halo model. It represents the latest technologies and advances the company has forged in automotive safety – most of which exceed what the competition offers – while the striking design is set to lure not only its existing customers, but also attract the new, younger generation market segment.
As for the V40 T5, specifically, this is not a spiritless attempt at snagging up serious or would-be serious driving enthusiasts. It comes into the game with proper performance aspirations and credentials.
Sitting under the bonnet is a barking 2.5-litre turbocharged five-cylinder engine, as seen in the old C30 T5. It has been revised for the V40 and produces 187kW of power and 360Nm of torque. These are very similar figures as the very last C30 T5 when it could be optioned with the Polestar package (review here). The unit is matched up to a six-speed automatic transmission which sends power to the front wheels. There is no manual option.
Unlike other Volvo models currently in the showroom, the top-of-the-range T5 variant automatically comes with the R-Design sports package. This includes cool sporty highlights that are seen throughout the interior and exterior, as well as a sport chassis/suspension program and a set of 18-inch alloy wheels.
Prices for the T5 start at $49,990, which includes pretty much the full basket of V40 fruit, aside from some safety tech.
2013 VOLVO V40 T5 – ENGINE SOUND AND 0-100KM/H VIDEO

2013 VOLVO V40 T5 – ACCOMMODATION AND EQUIPMENT
Performance Volvos have always presented a welcoming yet sporty cabin atmosphere. In the V40 T5's case, there are soft-fabric sports bucket seats with leather sections, a sports R-Design steering wheel, machined aluminium pedals, and a grey and Polestar-blue racing stripe down the dash for added exclusivity.
It's never overwhelming in here. There isn't a confusing array of dash buttons and menus or even excessive driver setting options sprouting out at you like there are in some vehicles in this segment. The centre fascia rests on Volvo's modern 'floating dash' layout, with all controls skewed slightly towards the driver.
It's pleasant, to say the least, and you can immediately feel at home and at peace with the layout; it only takes one quick going-over of the dash fascia to understand where all of the controls lie.
Speaking of which, aside from the premium eight-speaker stereo system and seven-inch LCD screen with sat-nav, the main settings are also controlled through the LCD interface using a single rotary button in the top right corner.
The rotary button works a little bit like a cursor for the screen, with 'enter' and 'exit' buttons on top. It's simple to use. There are a few quick jump-to buttons lower down on the console that manage features such as the parking assist and lane keeping assist systems.
The seats are some of the best in the business in our opinion. They have a certain softness about them which is also grippy and very supportive. They also seem to breathe easy.
Rear seat accommodation is similarly sporty, however, headroom is slightly tarnished due to the V40's sleek sweeping roofline. It's not intrusive enough to annoy the average height adult passenger, but it may become an issue for taller types.
The boot is capacious enough to swallow two mountain bikes when the rear seats are folded down, and when the bikes' front wheels are taken off. The overall capacity of 335 litres is marginally down on its rivals.
The rear seats operate on a swift one-touch mechanism which can be activated from the boot or from the back seats. Once a tab is pulled, the seats collapse almost completely flat – even the headrests fold forward by themselves to avoid clipping the front seats on the way down. It's all very handy and innovative.
2013 VOLVO V40 T5 – DESIGN AND SAFETY
Cutting-edge automotive safety; a phrase that has been synonymous with the Volvo brand for decades. As you would expect, the company's latest and most advanced model ever is filled to the brim with technologies that are at the forefront of saving lives, or at least strive to do so.
There are many standout safety features that come with the V40, some of which are available in the rivals, others of which are completely new to the industry let alone this segment.
Starting with the radar-guided cruise control. This system, like others, is capable of monitoring forward-moving traffic and adjust cruise control speeds automatically to suit the conditions. Where the Volvo system stands as a cut above the rest is through additional sensors and the option to adjust the distance/gap between you and the car in front.
Normally, between one and three sensors are used on the front end of vehicles to read the conditions. In the V40, there are seven sensors. This gives you an idea of just how in-tune the V40 is in regards to live traffic flow. And you can notice it.
Say, for example, you're cruising along at 100km/h and a vehicle overtakes you and jumps in front, still accelerating. In some vehicles with radar cruise control, a minor alarm will be signalled to the on-board computer telling it a car has just pulled in front. It will then apply the brakes to slow your car to maintain the pre-set distance.
In the V40, it is able to see the car in front is maintaining acceleration and spreading the gap more and more by the second. In this instance, the V40 won't apply the brakes as it is premature.
Early braking in other vehicles might sound like a minor detail in an otherwise flawless slice of automotive intelligence, however, it can become somewhat frustrating if you spend a lot of time on denser highways with frequent lane-changers jumping around the place. You end up pushing the throttle yourself to cancel out the premature braking. In the V40, it's like the car fully understands the road and is seeing everything you are seeing.
It's the finer attention to detail like this that keeps the V40 at a step above the rest. Unfortunately, adaptive cruise control is optional on all V40 models ($6250). It does come with a load of other features though, including collision warning and pedestrian detection.
Another class-leading technology is the CitySafe system, standard on all variants. The technology is now operable at speeds up to 50km/h – instead of 30km/h. It constantly monitors object movements ahead and can apply the brakes in emergency situations, if necessary. Again, it's the additional sensors that allow the computers to make more accurate calculations on what is happening ahead.
These sensors are used to communicate with the pedestrian airbag too. If a child runs in front of the car, and is thus too short to benefit from the bonnet/windscreen airbag, it simply won't go off. The pedestrian airbag is standard on all V40 models.
As for some of the more conventional safety features, the V40 T5 comes with stability and traction control (DSTC), corner brake control and torque vectoring, side impact protection (SIPS), roll over protection, and whiplash protection (WHIPS). Not only has Australia's ANCAP awarded the V40 five stars, it was also given one of the highest scores ever recorded in recent tests; 36.67 out of 37.
2013 VOLVO V40 T5 – ON THE ROAD
Ripping through a series of twists and turns, the T5 responds eagerly. The steering is not the nicest you'll find in this segment, but there is ample feedback and you can feel those front wheels biting hard on the bitumen as it yanks you out of corners.
While there is no limited-slip differential in the traditional mechanical sense, these days more and more companies are going for an advanced electronic-type torque distributor. As is the case with the T5. If you catch it off guard and audaciously dial up full power during the wrong – or right – time, the front tyres will surrender and provide you with a wrenching dose of wheelspin. This is with the DSTC switched off of course.
With the stability system left on, the car is basically as secure as concrete. The electronic interventions reduce any chance of oversteer well before weight even begins to shift around and unsettle any wheels, while understeer is really only experienced as a result of pushing too hard or ineptly trying to turn while under full power.
You can still have a lot of fun with the systems left on, mind you. The chassis, which is very loosely based on the Ford Focus chassis, feels taught and rigid, and the sports suspension keeps the car flat and firm. It's already secure enough, in other words, well before the safety nets need to intervene.
The sports suspension might be a little too jittery for some, especially on country roads, but if you're in the market for a hot hatch, this is going to be a fairly common trait and a compromise you might just have to make.
Does it feel fun though, like it wants to take part in energetic bursts up a mountain? You bet. It feels fast and powerful for this segment. Upon initial take off the throttle does seem a little bit elastic, as in, the acceleration rate doesn't immediately correspond with your throttle input. We put this down to the 'conventional' automatic torque convertor transmission. However, it does have long legs and it just keeps pulling and pulling.
We timed 0-100km/h in 6.7 seconds, which is on par with most rivals – aside from the cracking Ford Focus ST (5.7 seconds), which is more of a super hot hatch. The engine provides a good shove in the back under full power, especially once it's up and going, with virtually zero turbo-lag.
Fans of a turbo five-cylinder engine sound (who isn't a fan?) can indulge in the T5's  soundtrack too, as it howls its way to 6000rpm-plus. It sounds fantastic – see video above.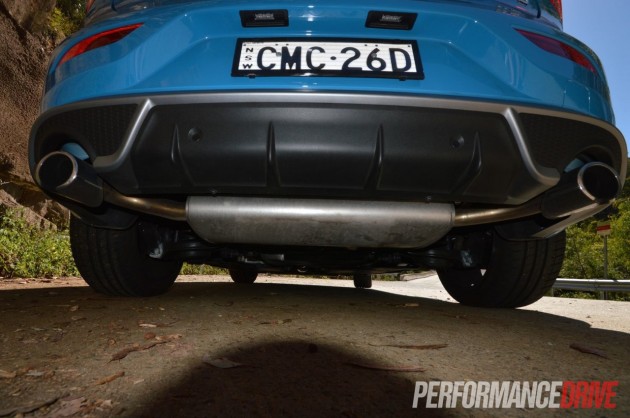 We have no doubt that if a dedicated sports automatic was fitted, or an instant dual-clutch setup, power would be more cohesive. We suspect the 0-100km/h time would also drop.
As for the brakes, we think this is the main Achilles heel on most performance Volvos these days. Volvo doesn't seem interested in providing proper stoppers for its performance range. For everyday conditions, the 320mm ventilated front discs with single piston calipers on the T5 work fine. For more enthusiastic driving, they are likely to overheat, as they did with us.
2013 VOLVO V40 T5 – VERDICT
If you have ever thought about making a switch from another brand and buying a Volvo, here and now with the V40 is a very good time to do that. It sits ahead of the segment in many areas, setting the benchmark with safety, engine power in some respects, and technology.
The interior is innovative yet welcoming, and very user-friendly, and the powertrain is deliciously seductive and aurally awesome. As for the styling, well, what do you think of it? It's crisper than a packet of Doritos, and it's sexy.
Is it commendable enough to take on the German rivals? If you take one for a test drive you'll fall in love with the warm and welcoming interior – such affection won't be experienced in the German rivals. Add the elements above and you have yourself a highly recommendable product.
For us, the main areas that would benefit are the gearbox and brakes. As mentioned, it's not that these are inadequate, we simply feel for a hot hatch like this it would be nicer to see a little bit extra.
(A dual-clutch transmission is in the works and is expected to arrive later this year.)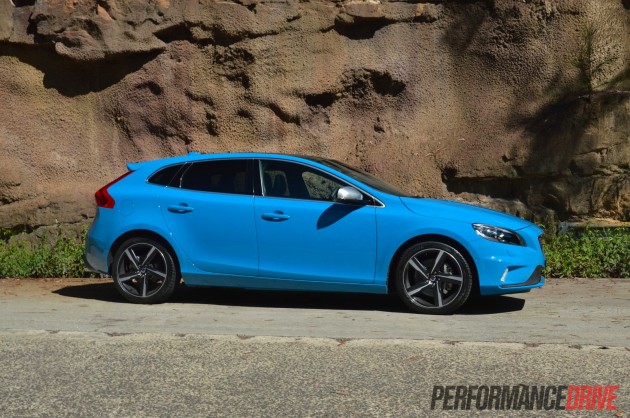 2013 VOLVO V40 T5 – THE COMPETITORS
(Competitors below are included due to their price and sportiness and not necessarily in regards to outright engine power.)
Audi A3 2.0 TFSI quattro – 2.0-litre turbo four-cylinder, 147kW/280Nm – 1455kg – $53,400 (dual-clutch auto only)

BMW 125i – 2.0-litre turbo four-cylinder, 160kW/310Nm – 1365kg – $52,780 (auto, manual available)

Citroen DS4 DSport – 1.6-litre turbo four-cylinder, 147kW/275Nm – 1316kg – $39,990 (manual only)
Ford Focus ST – 2.0-litre turbo four-cylinder, 184kW/360Nm (overboost) – 1435kg – $38,290 (manual only)
Mercedes-Benz A 250 – 2.0-litre turbo four-cylinder, 155kW/350Nm – 1445kg – $49,900 (auto only)

Renault Megane RS265 Cup – 2.0-litre turbocharged petrol four-cylinder, 195kW/360Nm – 1375kg – $42,640
Volkswagen Golf GTI – 2.0-litre turbo four-cylinder, 155kW/280Nm – 1380kg – $42,990 (DSG auto, manual available)
(All prices exclude on-road costs)
2013 VOLVO V40 T5 – SPECIFICATIONS
MODEL
2013 Volvo V40 T5 R-Design
ENGINE
2.5-litre turbocharged petrol five-cylinder
ENGINE SIZE / COMPRESSION RATIO
2497cc / 9.5:1
BORE X STROKE
83mm x 92.3mm
POWER
187kW@5400rpm, 360Nm@1800-4200rpm (400Nm overboost)
POWER TO WEIGHT RATIO
7.85: 1 (kg:kW)
KERB WEIGHT
1468kg
HEIGHT / WIDTH / LENGTH
1439mm / 2041mm / 4369mm
DRIVETRAIN
Six-speed auto, front-wheel drive
BRAKES
F: 320mm ventilated discs
R: Ventilated discs
WHEELS / TYRES
F and R: 18- x 7.5-inch, 225/40 R18
FUEL TANK CAPACITY
62 litres
FUEL TYPE
91 RON
FUEL CONSUMPTION
Tested average: 9.1L/100km
Official average: 8.1L/100km
PERFORMANCE
0-100km/h: 6.7 seconds (as tested)
PRICED FROM
$49,990
WARRANTY
Three-year/Unlimited kilometre