As promised, Toyota has pulled the wraps off the new 2013 Toyota RAV4 EV at the 26th annual Electric Vehicle Symposium in Los Angeles, USA. The completely electric sports utility vehicle features a Normal and Sports driving mode.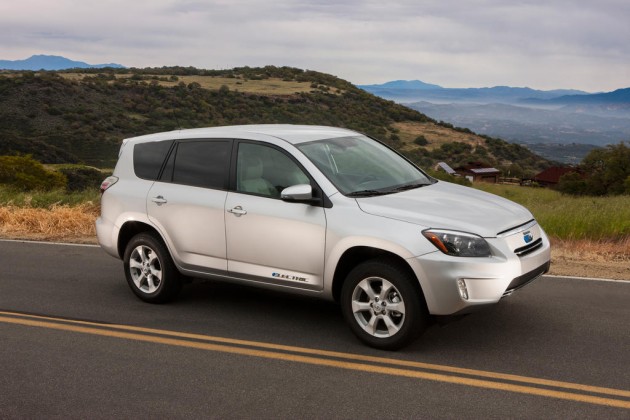 The special model features a distinct aerodynamics kit to improve efficiency. There's a sharper sporty front bumper bar, and a neat lip spoiler at the back, while the grille is mostly filled in to improve flow.
Toyota is planning to release the electric SUV in California later this year, and it will be available in just three colours; silver, blue pearl, and white pearl.
Under the bonnet sits a full electric motor system provided by Tesla. The motors produce a total of 115kW of power, which is enough to see the RAV4 sprint from 0-100km/h in 8.6 seconds. In Sport mode, the sprint can be handled in 7.0 seconds, while top speed around 160km/h.
As for recharging, Toyota says the RAV4 EV can be charged in around six hours using a 240-volt socket. Once fully charged, you can expect a range of around 161km. Bob Carter, vice president and general manager of Toyota, recently said,
"It's all about blending the best of two worlds. The all-new RAV4 EV marries the efficiency of an EV with the versatility of a small SUV – in fact, it is the only all-electric SUV on the market."
Prices will start at US$49,800.