A Chrysler engineer has died after being involved in a serious crash while behind the wheel of a new 2013 SRT Viper. The incident occurred on a highway in Hartland, Michigan, USA.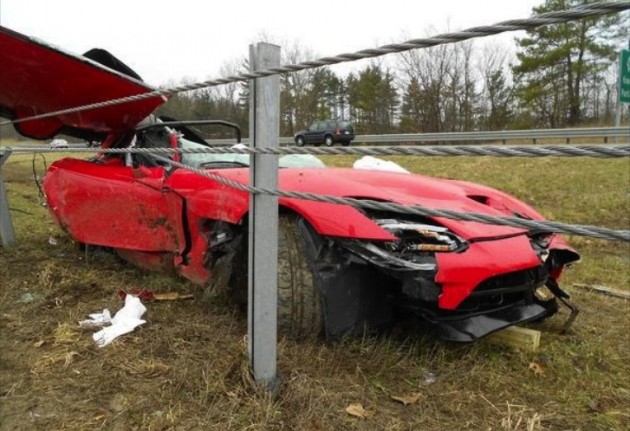 Believed to be one of the first ever 2013 SRT Viper crashes, the Chrysler-registered supercar was being driven by 43-year-old professional Chrysler engineer Martin Morse. The conditions certainly weren't ideal for sports cars, with sub-zero temperatures and light rain.
According to reports, the cause of the crash was down to excessive speed and acceleration.
Witnesses apparently saw the Viper speeding beyond 100km/h prior to the accident and launching fast from slower speeds. It's understood the Viper then swerved off the highway and onto the grass, before slamming into a cable-based barrier.
The cables look like they did a great job of catching the car before it crossed into on-coming traffic, however, they did tear the Viper apart in the process.
Michigan State Police are still investigating the specific cause of the accident, saying that "a medical cause is possible".
It's unknown if traction or stability control was on or off during the incident.
Chrysler released a statement in regards to the tragedy, saying,
"Chrysler Group is deeply saddened by the loss of our colleague in this tragic accident and express our deepest sympathies to the Morse family. We are working with state and local authorities to investigate this incident and are unable to comment on it further at this time."