The new 2013 Skoda Octavia vRS has already be revealed to some degree thanks to a handful of leaked images, however, the company will officially unveil the sports sedan and all of its specifications at this year's Goodwood Festival of Speed in England.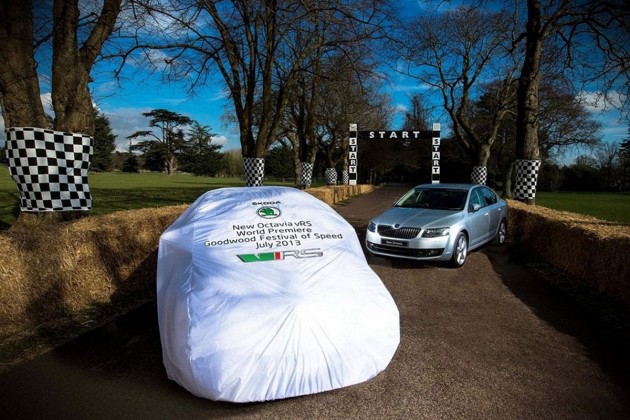 Judging by this sole teaser image, Skoda isn't prepared on revealing much at this stage. The new vRS is likely to come with various sporty highlights though like the outgoing model, including larger alloy wheels and a discreet bodykit compared with the regular sedan.
As seen in the leaked images, the 2013 Octavia vRS looks like it will come with dark alloy wheels with matching dark features such as the front grilles, side mirrors, and headlight lenses. It's also set to come with a slightly revised and more angular front bumper bar.
Performance is expected to come from a 2.0-litre TFSI turbocharged four-cylinder producing around 164kW of power and 350Nm of torque. This should allow for 0-100km/h sprints in around the 6.0-seconds mark.
Inside, the new model is likely to come with sporty bucket seats, various 'RS' logos, a bespoke RS dash and instrument cluster, and a sports steering wheel and pedals.
All will be revealed at the start of the 2013 Goodwood Festival which commences on July 11. Market entry is said to kick off later this year. Stay tuned for plenty of updates.