The 2013 Holden Volt proves it is completely possible to have a car that's environmentally friendly, luxurious, and fun to drive. And all without using a single drop of petrol.
2013 HOLDEN VOLT – PROS AND CONS
PROS:
Loads of torque (370Nm)
Very comfortable driving position
Interior ambiance (especially when operating in battery-only mode)
Makes you feel like you're in the movie Demolition Man
CONS:
Can feel cumbersome in the bends when fully loaded
Maximum range of approximately 87km from a full charge
The white interior highlights aren't to everyone's taste
Centre stack controls are a nightmare to understand
2013 HOLDEN VOLT – OVERVIEW
The Volt is Holden's premiere green thumb vehicle. The car is marketed as an all-electrically driven car, however, in some situations, it can use its petrol range-extending engine to assist in powering the front wheels, namely during heavy load situations. During every other situation it relies purely on its electric propulsion system to make the Volt move.
The beauty of the Volt is that it doesn't need to be recharged at some fancy recharging station; just grab the power pack from the boot and plug it into your home power socket.
With a fully charged battery, achievable only by plugging it in, the Volt can travel a distance of 87kms (official manufacturer's figure), or up to 600kms when used in conjunction with its on-board 63kW 1.4-litre four-cylinder generator. (The generator isn't capable of fully recharging the battery.)
The Volt is available in one trim level only, and comes in five different colours; Nitrate Silver; Crystal Claret (red); White Diamond; Urban Fresh (as tested); and Black. Prices start at $59,990.
Holden claims that every major element of the Holden Volt is designed for efficiency, including its aerodynamic exterior, lightweight forged alloy wheels, low-rolling resistance tyres, and even the stereo system.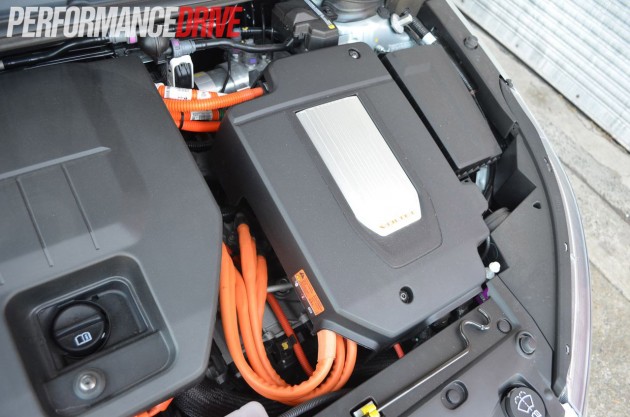 For a medium-sized car, the Volt's kerb weight of 1721kg makes it notably heavy, however, the majority of the weight is kept low in the frame for optimum handling performance.
The 1.67-metre-long 198kg T-shaped lithium-ion battery pack is positioned under the car, with the top of the T sitting under the rear seat, and the bottom of the T pointing towards the front of the car. Ultra high-strength steel is used to protect the battery from surface debris. The battery itself comprises of nine linked battery modules that contain 288 prismatic lithium-ion battery cells, each functioning as a building block.
2013 HOLDEN VOLT – ACCOMMODATION AND EQUIPMENT
Probably the second biggest surprise after the way it drives is how comfortable it is inside. Plant your behind in any of the four seats and you'll be greeted with excellent lumbar and lateral support. Up front there's more than enough head and leg room, however, due to the sleek design of the exterior head room is compromised in the rear.
Boot space is limited to 300 litres, but you won't struggle to throw in a week's worth of shopping, a carry bag, and maybe a jacket. You also have the option of folding down the rear seats for more space if you need to carry a TV or large cargo.
The driving position is right on the money. It's one of those cars you can flop into and instantly feel at home. The steering wheel falls right into your lap (can be adjusted for reach and rake) and both the centre console and door card arm rest are just in the right spot. Forward vision is excellent through the steeply-raked windscreen, however, the A- and C-pillars are a little thick.
One glance at the centre stack controls will leave your mind boggled; in any attempt to change song, climate settings, or drive mode, you're confronted with a bunch of touch-activated buttons that all look the same. The only way we found it possible to makes changes on the go was by constant repetition and studying each control's whereabouts. It's very confusing.
It must be said that the Volt has exceptional air-conditioning. It could be siting in the sun all day, jump in, crank it to maximum cool, and it will make the car cool in no time at all. During long drives home in the cool night air, we also took advantage of the heated driver and passenger front seats.
The seven-inch centre stack touch-screen displays things like battery usage, audio playback, DVD player mode, and sat-nav. It's usability is good, but a little slow and clunky at times.
The driver is also treated with a seven-inch display screen instead of the usual analogue speedo and tacho. This displays battery charge info, current speed (digital), driving efficiency, oil life, real time energy flow (both battery and engine inputs measured in kW delivered), trip information, and drive mode.
Audio from the six-speaker Bose premium sound system is excellent. The sound is crisp, clear, and doesn't go weak at the knees when the bass is turned up. Just about every genre of music is playable with decent volume. You can hook up your audio or phone device via Bluetooth, USB or aux-in, or you can take advantage of the built-in 30GB hard drive and store whatever music takes your fancy.
2013 HOLDEN VOLT – DESIGN AND SAFETY
The Volt's wheels are made from lightweight forged-aluminium, with maximum efficiency in mind, weighing just 8.1kg each. The wheels are wrapped with low rolling-resistance tyres. At any time you can use the in-car tyre pressure monitoring system to make sure all four wheels are filled with the recommended pressures. If you find the pressures are uneven, the Volt has its very own tyre inflation kit located in the boot.
The Volt features a flush front fascia, a specifically-designed rear spoiler, and an aggressively raked front windscreen, all in the name of making the car as slippery as possible. As a result the Volt reaches a drag coefficient of 0.28. It's not uncommon for 'slippery' cars to look a little on the ugly side, however, we think you'll agree that the Volt looks very fresh and very modern.
The Volt features a number of excellent safety features, one of them being Forward Collision Alert. This system uses a windscreen-mounted camera to detect slow or stationary traffic in front of your direct path and will sound a shrieking alarm should it detect any danger. We found this technology very useful for those dreary trips home after work when you're most vulnerable to fatigue. You can adjust the system to read near, medium, or far away vehicles.
Also fitted as standard is Lane Departure Warning; if the Volt travels over lane markings without the indicator turned on, it will sound an alarm and flash up a warning.
For added safety, there's a total of eight airbags in the cabin (dual-stage driver and passenger, driver and passenger knee, side curtain, and thorax side), as well as stability control, ABS, brake assist, electronic brakeforce distribution, rear view camera, front and rear park assist, LED daytime running lamps, and voice control for phone, audio and navigation functions.
2013 HOLDEN VOLT – ON THE ROAD
Be it country roads or city streets, the Volt never feels like a slouch. Floor the throttle from any set of lights and you're greeted with 370Nm pretty much instantly. The initial shove is very impressive. It's easily more than enough to leap in front of some sports cars. Power does start to flatten out at around 60km/h, turning into a smooth and steady pull.
When operating in battery mode, acceleration is quiet and composed. If you listen hard enough, you can vaguely hear a high-pitch noise during acceleration, but that's about it. Even when the battery is relying on the 1.4-litre engine to generate power, you only hear the engine during hard acceleration stints or when the battery charge is extremely depleted.

The drive unit's continuously variable ratio transmission, a one-speed unit, works harmoniously with the electric propulsion system. You can select from three drive modes; Normal, Sport and Hold. The Normal mode is the default setting for optimum battery usage, and maximum range. Sport mode provides quicker torque response and responds more sensitively to the driver's input. And Hold mode engages and utilises the Volt's petrol engine so that you can save your battery power – for example. you might chose to have engine support on the freeway, and save the battery power for city driving where it'll be more beneficial.
Up front the Volt features MacPherson struts and uses a semi-independent suspension system for the rear. The Volt felt sure-footed over the various surfaces we threw at it during our week with the car. While we're aware it's no Lotus Elise, it's definitely a confident handling car that sits very flat around corners, with good feedback through the wheel. We did notice some push understeer if you get a too carried away, but it's not excessive.
The regenerative braking system converts kinetic energy to electrical power in situations up to 0.2g of deceleration, and stores it in the battery. If you exceed 0.2g, the braking system will apply 100 per cent friction braking.
We found it best to prematurely brake, slowly resting on the pedal up to stops so that you can make the most of charging the battery. And given there's no way of using the engine for deceleration, you're best to brake earlier anyway. Brake pedal feel is at best a bit fake, namely because brake inputs are all sent electronically. Its overall braking performance is good.
During our test, we averaged around 80km from a full charge, which is close to the manufacturer's claim of 87km. So if your daily duties are within 87km, it is possible to motor about without spending one cent on fuel.
Once the battery ran out of charge, we used on average 6.8L/100km to continue driving with the engine generator powering up the battery. That result was from a mix of city, highway, and active driving. The Volt is most effective if you don't travel far each day, and can fully charge it before each and every drive; just throw it charge before bed each night and it'll be done when you wake up.
After doing some research, it seems charging the battery from dead empty will add approximately $2-2.50 per full charge to your home power bill, making driving the Volt much more affordable than a regular petrol vehicle – for the first 87kms anyway.
2013 HOLDEN VOLT – VERDICT
While you might think of the Volt as a car you'd only expect to see parked at the Greens political party office, piloting one will change the way you think about 'driving green'.
The Volt is one of those cars that keeps surprising. The level of creature comforts is outstanding, as is the way you can motor about without using one drop of fuel. And all wrapped up in a package that's definitely fun to drive.
2013 HOLDEN VOLT – THE COMPETITORS
(There are no plug-in hybrid vehicles in this specific market segment. The vehicles below are listed for their fuel-saving technologies and luxury equipment)

Nissan LEAF – 24kWh lithium-ion battery, 80kW/280Nm – 1795kg – $51,500
Different to the Volt, the LEAF is a fully electric vehicle (EV) with no petrol range-extender. It needs to be recharged on an ongoing basis, whereas the Volt can rely on the petrol generator and/or can be plugged in to behave like an EV. The LEAF offers a full-charge range of around 170km, and is filled with loads of very advanced features and technology.

Toyota Prius i-Tech – 1.8-litre four-cylinder with hybrid electric motor, 100kW (combined)/142Nm (petrol) 207Nm (electric motor) – 1425kg – $45,990
The Toyota Prius is the choice for Hollywood stars who love to promote their tree-hugging beliefs. Given it's made by Toyota, you know it's sure to be reliable.
Lexus CT200h Sports Luxury – 1.8-litre four-cylinder with hybrid electric motor, 100kW (combined)/142Nm (petrol) 207Nm (electric motor) – 1465kg – $57,990
The CT200h Sport Luxury is built for those with luxury in mind, but need the convenience of a hatch. It's also easy on the eye thanks to its bold appearance. Power comes from the same Atkinson's cycle hybrid system as the Toyota Prius.
2013 HOLDEN VOLT – SPECIFICATIONS
MODEL
2013 Holden Volt
ENGINE/BATTERY
1.4-litre four-cylinder, 16.5kWh lithium-ion
ENGINE SIZE  / COMPRESSION RATIO (for engine generator)
1398cc / 10.5:1
BORE X STROKE
73.4mm x 82.6mm
POWER
111kW (on-board petrol engine produces 63kW@4800rpm), 370Nm@250-2800rpm
POWER TO WEIGHT RATIO
15.5: 1 (kg:kW)
KERB WEIGHT
1721kg
HEIGHT / WIDTH / LENGTH
1439mm / 1788mm / 4498mm
DRIVETRAIN
Continuously variable ratio transmission, front-wheel drive
BRAKES
F: Ventilated discs
R: Ventilated discs
WHEELS / TYRES
F and R: 17×7-inch, 215/55 R17
FUEL TANK CAPACITY
35.2 litres
FUEL TYPE
91 RON
FUEL CONSUMPTION
Tested average: 6.8L/100km (when using petrol engine generator)
0.0L/100km when relying on battery-only propulsion
Official average: 1.2L/100km
PERFORMANCE
0-100km/h: 8.6 seconds (tested)
PRICED FROM
$59,990
WARRANTY
Three-year/100,000km – battery and Voltec components get eight-year/160,000km transferable warranty