Dare we say it, the 2013 Audi TT RS Plus is one of, if not the most exciting Audi currently on sale, in our opinion. It manages to offer super-agile go-kart-like handling, gob-smacking looks, and an engine that you just never want to switch off because it sounds so alive and vivacious.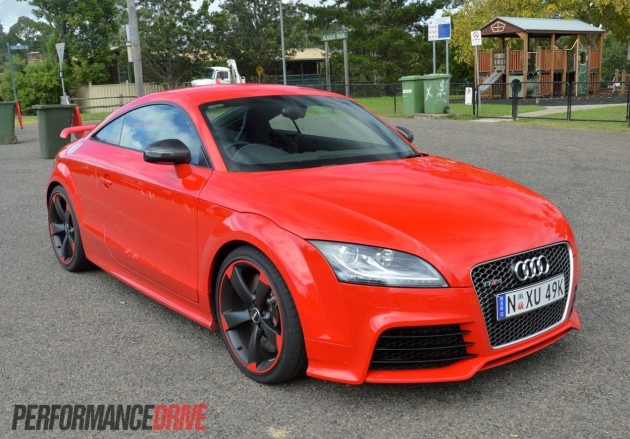 PerformanceDrive was recently invited to sample some of Audi's latest performance cars, which gave us an opportunity to go for a proper test drive in vehicles such as the S7, RS 4, R8, A6 TDI Biturbo, and the TT RS Plus. Stay tuned for 'quick spin' reviews of the other models.
PROS:
Stupendously exciting five-cylinder turbo engine with a sound that melts your ears
Pliable yet pin-sharp handling; can easily adjust between mild understeer and oversteer
Extremely quick; we timed 0-100km/h in 4.0 seconds (the quickest car we've ever tested)
You can pretend you're Stig Blomqvist or Walter Rohrl in the Group B rally days
CONS:
Extremely firm suspension in sport mode
Rear seats are useful for storage only
You're not Stig Blomqvist or Walter Rohrl
What is it?
The Audi TT RS Plus went on sale in Australia in February as the replacement for the regular TT RS (non 'Plus'). Over and above the TT RS, the Plus comes with special 19-inch alloy wheels, a fixed rear spoiler, various carbon fibre trimmings, and a sports exhaust with a valve system for a louder and crisper bark.
Power comes from a boosted 2.5-litre turbocharged five-cylinder engine producing 265kW and 465Nm, which is 15kW/15Nm more than the outgoing regular TT RS. It can be matched up to an S tronic seven-speed dual-clutch auto only, with quattro all-wheel drive.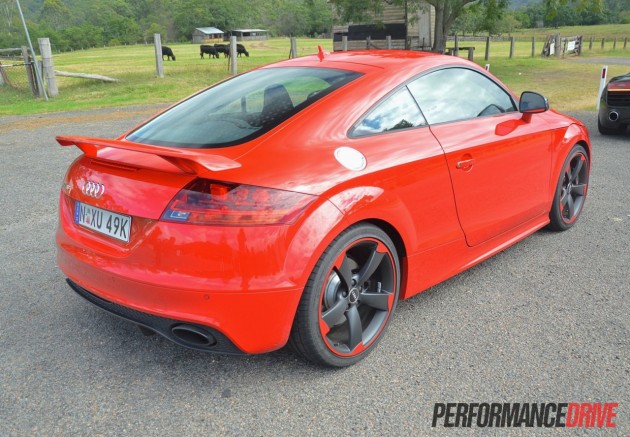 What's it like to drive?
Insane. Give the accelerator pedal a decent prodding and the engine will respond like it has just stood on a nail. It gives off an almighty spine-tiggling scream as it rips your head back and throws you towards the next corner.
It seems like the engine enjoys being really pissed off and angry about something. It also feels like it actually comes alive with every throttle mash, pouncing the TT energetically like a lion that's just spotted its dinner pop out from a burrow.
The turbo five-cylinder is, in our opinion, one of the very best sounding engines currently on the market. You might think we've forgotten about the various V8s, V10s, and even V12s that are on offer at the moment, but until you sit inside one of these little snappy rocket ships during full throttle, you might just have to trust us on this one.
It barks, whales, and howls its way to the 7000rpm redline, sounding almost identical to the famously ferocious Audi S1 Quattro Group B rally car of the 1980's. It's incredible. Shivers and goosebumps will ripple down your spine the first few times you drive it, there's no doubt about it. And with the dual-clutch 'S tronic' transmission letting go all kinds of rallylicious cracks and pops, you often feel like you are driving alongside Walter Rohrl in a rally stage.
The handling is razor sharp. It can be a little too sharp at times, especially if you have the magnetic ride control dampers in sport mode. In the regular setting, the suspension is firm and not exactly forgiving on some of Australia's less-than-ordinary roads. Push the button with the 'S' painted on it and the ride becomes almost intolerable, especially if you're not used to sports cars.
For us, we prefer a harder setup over a softer one, but even still, the ride is very fidgety and bumpy in the sport mode and too firm for most public roads. If your favourite strip of mountain pass is smooth, the TT RS Plus will be your nirvana. It rails around corners like a race car and it's wonderfully predictable.
Audi says the quattro all-wheel drive system is slightly different on the TT RS to the one used on cars such as the RS 4 which are more oriented to rear-wheel drive characteristics. For the TT RS, the differentials are set up for more of a front-wheel drive focus, however, torque distribution is still variable depending on where the traction is.
In the real world, you can adjust the amount of understeer or oversteer by lifting off the throttle. Weight shifting isn't all that responsive as it prefers to remain flat. If you nail it mid-corner, you'd better make sure there are no open drinks in the car otherwise you'll find the contents splashed over one of the side windows, or on your face.
High speed stability is good and you can feel the aerodynamics package stabilising the car to a certain degree, especially with a closed throttle. The brakes are impressive too, and pull up time and time again with no fade and no pedal drop. This is thanks to huge cross-drilled discs and four-piston calipers at the front.
Front seat comfort is confined, like a sports car, with soft yet super-sporty bucket seats bracing you in place. Rear seat accommodation is practically non existent. About the only thing the rear seats are good for is some extra storage space.
One minor drawback we found with the TT RS Plus is the steering, which, in a car as focused as this, could be a bit more precise and a bit quicker in terms of turns lock to lock.
Other than this, the only thing you have to worry about in the TT RS Plus is the fact that, at some point, you're going to have to turn it off and get out… so you can refill it with fuel and do it all again.
Should you want one?
For us, the engine sound and the in-car atmosphere of a car is one of the key ingredients to an exciting drive. In the TT RS Plus, even as we are writing this we are shaking our heads in disbelief that a road car can sound this good. For that reason alone it's a highly recommended product.
Audi TT RS Plus 0-100km/h video:
Quick specs:
MODEL
2013 Audi TT RS Plus
ENGINE
2.5-litre turbocharged five-cylinder with direct injection
POWER
265kW@5500rpm-6700rpm, 465Nm@1650rpm-5400rpm
POWER TO WEIGHT RATIO
5.5: 1 (kg:kW)
KERB WEIGHT
1475kg
DRIVETRAIN
Seven-speed dual-clutch 'S tronic' auto transmission, all-wheel drive
FUEL CONSUMPTION
Official average: 8.5L/100km
PERFORMANCE
0-100km/h: 4.0 seconds (as tested)
PRICED FROM
$139,900