Audi has announced the new 2013 Audi R8 now with an S tronic dual-clutch transmission. Joining the lineup is also a new top-spec model called the Audi R8 V10 Plus. The new variant adds various mechanical and cosmetic enhancements.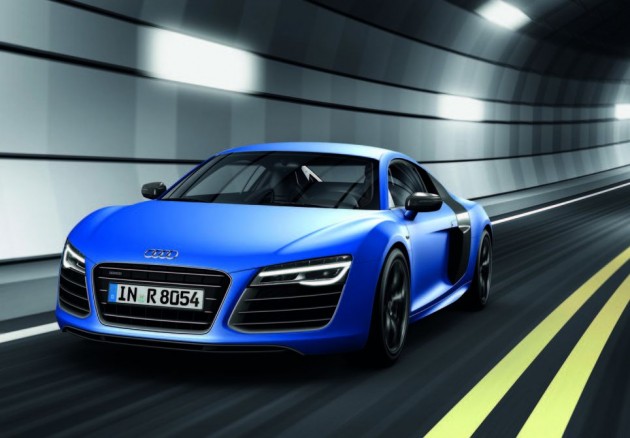 The most notable highlight for the new model is the introduction of a seven-speed dual-clutch S tronic transmission. The R8 has, until now, only come with an R tronic single-clutch automatic. The transmission option improves efficiency, decreases shift times by 0.3 seconds, and increases overall shift performance.
Engine power for the R8 V10 Plus comes from a 5.2-litre V10 engine producing 404kW and 540Nm, up from the standard V10's 386kW. Along with the new transmission, the R8 V10 Plus is quicker, sprinting from 0-100km/h in just 3.5 seconds.
Across the board, the new 2013 Audi R8 range gets a mild facelift. There's a new front bumper bar with three crossbars in the corners, a single-frame grille, and plenty of gloss black highlights. Also joining the front end are a set of LED headlights.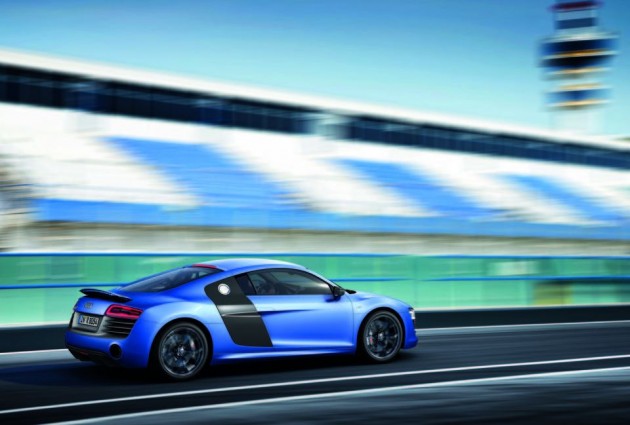 The new R8 V10 Plus gets a carbon fibre front splitter as standard (can be optioned on other variants), while the Plus also gets carbon fibre side plates and air intakes, and carbon side mirrors.
As a result, the V10 Plus is lighter in weight, tipping the scales at 1570kg (down from 1625kg). To further set the Plus apart from the rest, it's available in a unique matt finish colour scheme.
Power for the 4.2 V8 R8 remains unchanged, coming equipped with 316kW of power and 430Nm of torque. It's able to sprint from 0-100km/h in just 4.3 seconds. The non-Plus V10 variant with 386kW manages the sprint in 3.6 seconds.
Deliveries of the new Audi R8 range will kick off in Europe during the end of this year, with an Australian introduction taking place in early 2013.