The wraps have come off the new 2013 Audi A3 Sportback just ahead of its public unveiling at the 2012 Paris Motor Show next week. The new model will go on sale in Australia halfway through next year.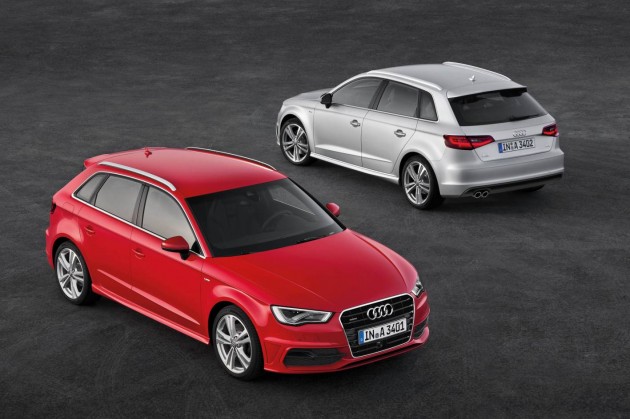 Audi is promising a big step up in technology and design with the new model, with improved fuel economy, performance, and practicality. It's also up to 90kg lighter thanks to the adoption of the new Volkswagen Group MQB platform sitting underneath.
While the 2013 Audi A3 three-door hatch (not coming to Australia) was unveiled at the 2012 Geneva Motor Show in March, this is the first time the larger five-door has been shown.
Power will come from the option of three different TDI turbo-diesel offerings and two turbo-petrol engines, all presenting a very competitive set of figures in regards to the rivals.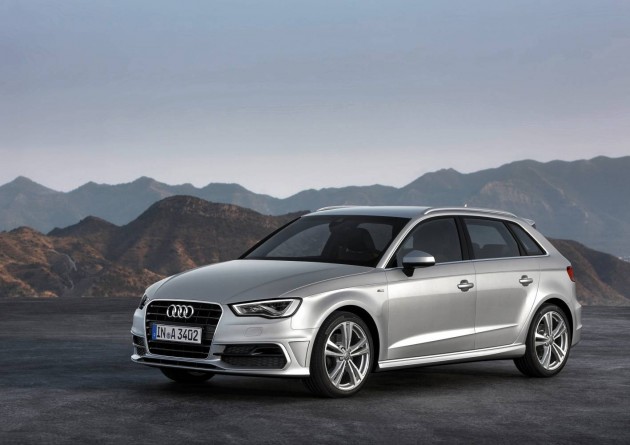 Starting with the entry-level engine, due later down the track, is a 1.6-litre TDI four-cylinder. Power outputs are yet to be mentioned, however, the 1.6 promises an average fuel economy of just 3.8L/100km, with a 0-100km/h sprint time of 10.9 seconds.
Next up is a 2.0-litre TDI turbo-diesel four-cylinder producing 110kW of power and 320Nm of torque. Acceleration from 0-100km/h is possible in 8.4 seconds while fuel economy is rated at a very low 4.2L/100km.
Lastly for the TDI range is a higher output version of the above engine, producing 135kW and 380Nm. It's able to cover 0-100km/h in just 7.4 seconds – a quick time for a sports car, let alone an efficient diesel – while its fuel economy is rated at only 4.3L/100km.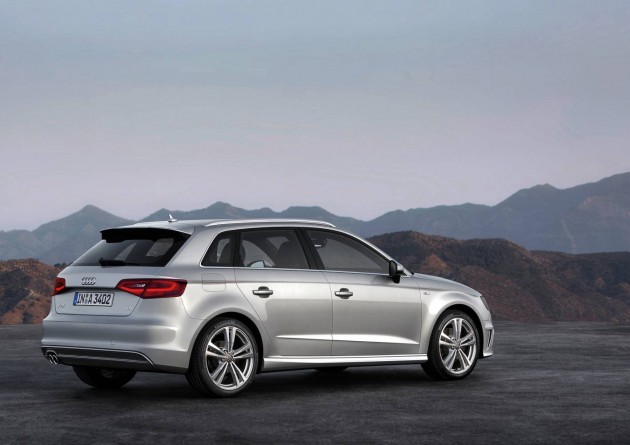 For the petrol fans there's a 1.2-litre TFSI turbo producing 77kW and 175Nm, capable of 0-100km/h in 10.7 seconds, as well as a 1.4-litre TFSI with 90kW and 200Nm, capable of 0-100km/h in 9.3 seconds.
Maxing out the range, at least initially, is a higher output version of the 1.4 TFSI offering 103kW and 250Nm. It's able to cover 0-100km/h in 8.4 seconds, while offering a fuel economy rating of 4.7L/100km. The engine also comes with cylinder-deactivation technology to help it gain that very low consumption figure.
Inside, the 2013 model is larger than the outgoing range, with an increased wheelbase offering more interior room. The Sportback presents up to 1220 litres of cargo space with the rear seats folded down, or 380 litres with them in place. This is 10 litres more space than the current model, and 120 litres more with the seats folded down.
Technology-wise, the 2013 A3 comes with a new modular infotainment platform (MIB). This, as explained by Audi, showcases vast leaps forward in in-car innovation, offering a state-of-the-art audio-visual experience. Audi recently said,
"The central computer of the new MMI includes the MMX board (MMX: Multi-Media eXtension). One of the plug-in module's key components is the fast T-20 graphics process from market leader Nvidia's Tegra 2 series. The chip, which generates complex 3D images, is used in all online, voice control, media, navigation and telephone functions.

"The high-resolution monitor of the MMI operating system measures either 5.8 or seven inches in diagonal and extends automatically from the instrument panel. Just 11 millimetres thick, its lightweight magnesium housing is finished in high-gloss black for an elegant, premium appearance."
In other areas the new model also comes with adaptive cruise control for speeds up to 150km/h, active lane assist capable of slightly edging the electronic power steering in the right direction if the car wonders out of the lane, as well as traffic sign recognition for speed limits and other signs.
The 2013 Audi A3 Sportback will go on sale in Europe in February next year. Australian pricing and definite specification details are yet to be finalised.