It's finally here. After several years of eager anticipation, the 2012 Toyota 86 GT and GTS is available in Australia. Does it live up to the hype? Can it be labelled as a modern-day interpretation of the old Toyota Sprinter AE86? Let's find out.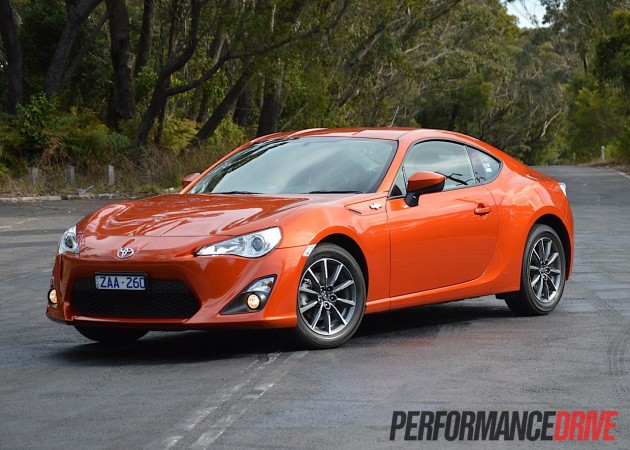 (PerformanceDrive will be posting our usual start up, rev and acceleration video with this GT version soon, while a GTS automatic review will follow in the coming days featuring a track test drive video.)
2012 TOYOTA 86 GT – PROS AND CONS
PROS:
Brilliant handling and steering
Turns heads
Class-leading price
Superb overall balance
Fun
CONS:
Rough engine; doesn't sound appealing for a sports car
Engine has a flat spot during mid-range: could do with more torque (we timed 0-100km/h in 7.59 seconds)
Boot space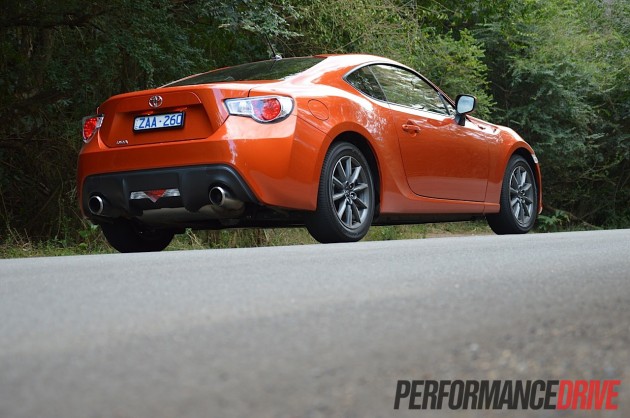 2012 TOYOTA 86 GT – OVERVIEW
Toyota is on a mission. Its president, Akio Toyoda, has previously said he wants to turn the company around somewhat and produce more vehicles that are "fun to drive". The 86 is the first step in that direction.
Toyota hasn't produced a proper driver's car, or even a dedicated 'fun' on-road vehicle for years. Remember the days of the Celica, Supra, MR2, and even the Corolla Seca? The 86 has been produced to make up for the absence in the market, and to rekindle the spirit with its long-lost friends.
Just to recap, in case you've somehow missed out on all the news and anticipation, the Toyota 86 is a joint-development project between Subaru (called the BRZ in its showroom) and Toyota.
Most of the vehicle is made by Subaru, including the fundamentals of the 2.0-litre naturally aspirated boxer engine. The Toyota 86, and Subaru BRZ for that matter, are rear-wheel drive.
The Toyota is available in two variants; the entry-level 86 GT (as tested) and the 86 GTS. All – including the Subaru – produce 147kW of power and 205Nm of torque.
How much, you might be asking. Well, the price is one of its major trump cards. Prices start at just $29,990 for the base model GT, and $34,990 for the top-spec GTS. This makes it one of the best value sports cars currently on sale, and certainly the cheapest rear-wheel drive sports car on the market.
2012 TOYOTA 86 GT – START UP, REV, AND ACCELERATION VIDEO
2012 TOYOTA 86 GT – ACCOMMODATION AND EQUIPMENT
Toyota Australia has previously told us that the GT base model has been put together with tuners and aftermarket enthusiasts in mind. So, inside, there's the bare essentials for modern-day motoring.
You get a fairly basic stereo system that does come with USB and iPod support, however, the sound and quality it produces is nothing flash. You also get air-conditioning – no climate control here – and power conveniences such as windows and mirrors.
On the outside, the GT comes with 16-inch alloy wheels wearing 205/50 tyres, and a rather cool and aggressive rear diffuser section which stares at you through two 'canon'-style mufflers on either side.
When bought with the six-speed manual, there is a Torsen limited-slip differential between those rear wheels. This gives you an indication of the 86's personality; it's a sports car, meant for driving.
The 86 isn't about dillydallying about and looking cool – although it does look very low-slung and attractive – a higher priority is put on the driving character. The GT variant is a car you buy simply to drive.
The seats, for example, are proper hip-hugging sports bucket seats. They feature a very useful seat belt strap to make it easier to grab the belt when you first get in too.
The seating position is bang-on for enthusiastic driving, providing a hunkered down layout where you sit in the car rather than on it. Larger framed drivers will find it slightly tight/cramped though.
In the back there may as well be no seats at all as there is very little legroom. It's a shame though because it's not an ordinary rear bench; there's two fairly deep chairs moulded in back there. It's a great place to rest your helmet anyway.
The interior decor, including the pedals, gear shifter and dash layout, are designed for the driver. It's a style that isn't overly flamboyant or modern, or even especially attractive, but again, that's simply because this car is all about the driving. There's no distractions in other words.
For those wanting more, the top-spec GTS is available. It comes with bigger wheels and tyres, bigger brakes, and, a more detailed interior with more equipment and gadgets such as sat-nav. The GTS also comes a limited-slip differential in both manual and automatic versions.
Boot space is rather limited as you can see due to a steel spare wheel (GTS gets an alloy spare). This Velocity Orange example is an early test vehicle though. Toyota has since announced that production versions delivered from October will come with a tyre repair kit instead of a spare. The company said the move was made to improve space and practicality.
2012 TOYOTA 86 GT – DESIGN AND SAFETY
In the flesh it becomes very apparent that the 86 is a dedicated sports car, it's so low slung. Measuring just 1.28 metres tall, you really have to step down into the cabin like you're entering a supercar, rather than simply sliding across into it like a more conventional car.
We experienced many looks from passersby during our week with the car. This is obviously partly due to all the hype that built up the launch of the 86, but also because it is a rather attractive and elegant coupe.
The nose is low and spade-like, designed to gather air hitting the front end and push it up and over the cabin, while at the back two muscular haunches are perched like a tiger that's ready to pounce.
It's all been designed to not only look good but also to maximise aerodynamic efficiency. The Toyota 86 has a co-efficient drag of just 0.27, which is three better than the eco-focused Honda CR-Z, and not far behind the current Toyota Prius (0.25).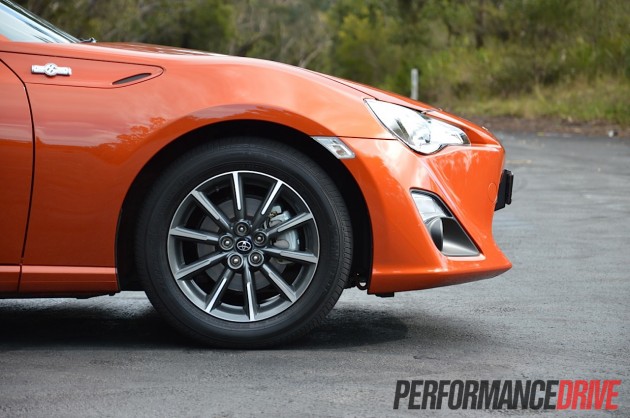 In terms of safety, ANCAP is yet to test the 86. It has, however, tested the 86's twin, the Subaru BRZ, and given it the full five stars. The 86 GT comes with traction and stability control including Toyota's VSC Sport (vehicle stability control) which allows for some play and slip, as well as seven airbags, and electronic brake distribution.
2012 TOYOTA 86 GT – ON THE ROAD
If you've jumped straight to this section of the review, this is a vehicle you will like. A lot. There aren't many cars on the market at the moment that are this rewarding and fun to drive.
The steering: Like most new vehicles these days the Toyota 86 comes with electric power steering. It's very precise and sharp. It's also highly communicative and you can feel what the front tyres are doing, and feel how the rear tyres are reacting.
Through the corners the 86 remains extremely balanced and composed. There is no understeer during intermediate levels of aggression, while oversteer is no-existent too. If you jump on the power early, the 86 will actually corner quicker and pivot around like a kid on a clothesline. This is due to the tight LSD setup in the back.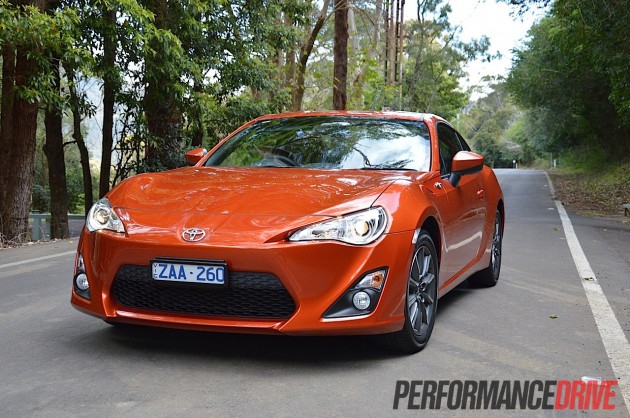 At this stage you might be thinking, isn't this the 'ultimate drift machine'? Especially after seeing the latest Toyota 86 TV commercial featuring none-other-than Keiichi Tsuchiya, the Drift King himself. However, it's not necessarily the case.
The best way to describe the handling and the chassis setup is to say it's genuinely playful. There is a lot of minor weight shifting going on when you really push it, and minor slip and slide, but as far as 'powersliding' goes, it's a setup that would rather stay on track. And that's a good thing.
The 205mm-wide tyres front and back provide just enough slip to play around with, with gentle oversteer and understeer, while the foundations of the car, and the way the chassis and suspension setup has been engineered, the package is never overwhelming. This gives you huge confidence jumping into corners.
Out on the track (full review and track test of the GTS variant coming soon) you can throw the 86 into corners too hot and the tyres will slip a little. A few nanoseconds later though, it's business as usual. You only need to dial in mild degrees of opposite lock in most cases.
Of course, if you want to drift, the 86 will also deliver. It will also perform great donuts simply by building the revs, hooking the steering wheel and releasing the clutch.
Using a dab of the handbrake, or by changing down gears a little early (without heel-and-toe), the rears will lock momentarily before allowing you to slide the tail around the corner. The front tyres remain firmly planted during slides, so you can always stick to the apex and maintain a controlled and smooth exit.
Out on the road, the suspension is firm, but not too firm. Over heavy undulations we found the dampers to cope very well, leaving the handling and direction of the car unphased. The brakes are also excellent and can withstand repeated abuse.
So, all this seems great news. Are there any negatives to this well-mannered, well-priced, highly capable newcomer?
You can tell the drivetrain is borrowed, at least partly, from Subaru. The transmission has a very manly and mechanical feel, while the engine is throbby and even a bit rough.
We're not sure if it was just our test vehicle but there was a noticeable flat spot in power delivery between around 3500rpm and around 5500rpm. Once you're revving it beyond 5500rpm, it behaves like a sports car should.
The stability and traction control: Some vehicles simply have an on/off switch, others it cannot be turned off, while some you have to go through a sequence of pushing buttons like unlocking special features in a video game.
For the Toyota 86, if you press the traction control off button, the system allows for some straight line wheel spin. Tip it into a corner though and the stability control will reign in any 'excessive' fun.
You need to hold down the traction control off button for three seconds until a symbol on the dash illuminates 'TRC OFF' with a set of squiggly lines above another 'OFF' light. After that, you're free to play. Why a simple on-off switch isn't fitted we're not quite sure, especially in a car designed for drivers.
Other than this, the 86 is a pleasure to experience and to drive. It's one of those cars that leaves you eager every night to wake up in the morning to drive again.
2012 TOYOTA 86 GT – VERDICT
The key to the Toyota 86 is its balance. The engine is not too powerful for the chassis, the suspension is well suited to the proportions and weight of the car (53:47 weight distribution), while the brakes can handle plenty of punishment. The best thing about the 86 though is the amount of fun that can be had behind the wheel.
It's not often that a new vehicle comes along that can truly tingle the driver's taste buds. There's a real connection to be had with the 86 when in the driver's seat. It feels organic. It feels natural. And there is good reason for this; again, it was designed from the ground up as a driver's car.
The fact that it's available from just $30k only cements in the 86's greatness. The question isn't should you buy one, it's more what are you going to do with yours when you buy one.
There are so many avenues to go down; turbocharge the engine; strip it and turn it into a track car; turn it into a rally car; fit a custom body kit and 'drop it on 20s'… there's many viable options. We're sure we'll see many of these being explored in the coming years.
2012 TOYOTA 86 GT – THE COMPETITORS
Hyundai Veloster SR Turbo – 1.6-litre turbo petrol four-cylinder, 150kW/265Nm – 1265kg (manual) – $31,990
Plenty of punch from the turbo engine, with torque to back it up. Looks fantastically sporty and muscular.

Honda CR-Z Sport – 1.5-litre petrol with electric motor hybrid system, 91kW/174Nm – 1155kg – $34,990
It's funky, and it's very intelligent/economical, and it's also a great steer. Suffers the same lack of rear-seat room as the 86. Front-wheel drive.

Citroen DS3 DSport – 1.6-litre turbo four-cylinder, 115kW/240Nm – 1165kg – $29,990
Not quite as powerful as the 86. Very nice design and an easy way (price-wise) to get yourself into a modern European car. Great ride and handling.

2012 TOYOTA 86 GT – SPECIFICATIONS
MODEL
2012 Toyota 86 GT
ENGINE
2.0-litre naturally aspirated four-cylinder boxer engine with direct injection
ENGINE SIZE  / COMPRESSION RATIO
1998cc / 12.5:1
BORE X STROKE
86mm x 86mm (no kidding)
POWER
147kW@7000rpm (7400rpm redline), 205Nm@6400rpm-6600rpm
POWER TO WEIGHT RATIO
8.55: 1 (kg:kW)
KERB WEIGHT
1257kg
HEIGHT / WIDTH / LENGTH
1285mm / 1775mm / 4240mm
DRIVETRAIN
Six-speed manual, rear-wheel drive with Torsen limited-slip differential (LSD on manual GT only – GTS auto and manual)
BRAKES
F: 277mm x 24mm ventilated discs
R: 286mm x 10mm solid discs
WHEELS / TYRES
F and R: 16 x 6.5-inch, 205/55 R16
FUEL TANK CAPACITY
50 litres
FUEL TYPE
98 RON
FUEL CONSUMPTION
Tested average: 8.7L/100km
Official average: 7.8L/100km
PERFORMANCE
0-100km/h: 7.59 seconds (tested)
PRICED FROM
$29,990 (manual), $32,490 (auto)
WARRANTY
Three-year/100,000km