Looking a little bit like it was sneezed into life, the 2012 Skoda Fabia RS Wagon is probably not going to win any awards from a design perspective.
However – and it's a full-bodied, bold, and potentially cheque-signing however – in essence what you're getting is a wagon version of the cracking Volkswagen Polo GTI. This means it comes with all the competence and performance of perhaps the best mini hot hatch on the market.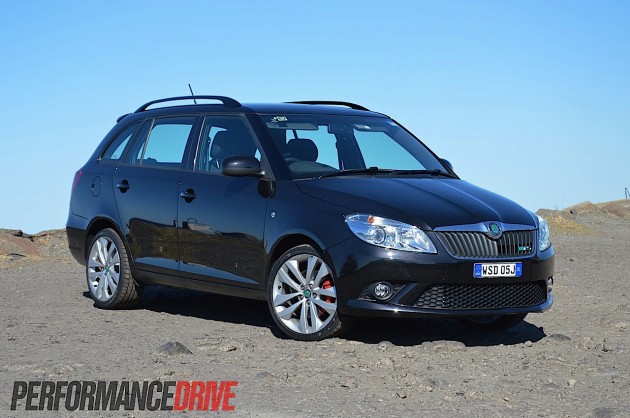 2012 SKODA FABIA RS WAGON – PROS AND CONS
PROS:
Polo GTI performance in a wagon format; practical and exclusive in this segment
Punchy engine with plenty of torque
DSG transmission excellent during enthusiastic, fast tempo driving; paddle shifters work a treat
Proper hip-hugging sports seats
CONS:
Suspension could do with some fine-tuning; minor body roll
Design isn't going to appeal to everyone
DSG transmission can be cumbersome around town
2012 SKODA FABIA RS WAGON – OVERVIEW
Let us explain what we mean by that opening line. Skoda is owned by Volkswagen Group, and the Fabia RS is built on the same platform – chassis and suspension fundamentals – as the one used on the Volkswagen Polo GTI.
It's also powered by the same 132kW/250Nm 1.4-litre 'twincharger' four-cylinder petrol engine (turbocharged and supercharged), and it comes with a Volkswagen seven-speed DSG dual-clutch sports automatic transmission. Power is sent to the front wheels via an Extended Electronic Differential Lock (XDL) front-wheel drive system.
These facts alone are enough to confirm its credibility as a seriously engineered sports wagon.
The main differences between the Skoda and the Volkswagen are the panels and body shape, auxiliary suspension components, wheels and brakes, the interior and some equipment, and, the price tags.
Prices for the Fabia RS start at $27,990 for the five-door hatch, and $29,990 for the RS Wagon. In comparison to the Polo GTI – $28,990 (DSG five-door hatch) – you're saving $1000 with the Skoda.
The Volkswagen is lighter in weight, interestingly, with the five-door DSG tipping the scales at 1189kg compared with the five-door Fabia RS's 1253kg. (The RS Wagon weighs 1248kg.) This means the Skoda is slightly slower to accelerate, with a factory 0-100km time of 7.3 seconds compared with 6.9 of the VW.
The key difference for consumers to note is the fact that the Polo isn't available in a practical wagon layout. We think this is a shame for VW but also a great edge for Skoda as performance wagons are some of the coolest cars on the market.
2012 SKODA FABIA RS WAGON – START UP, REV, AND 0-100KM/H ACCELERATION VIDEO
2012 SKODA FABIA RS WAGON – ACCOMMODATION AND EQUIPMENT
Despite being based on a small hatch you might think it's going to be squashy inside, especially for four or five people. During our test we took the car down the coast and filled it up with four people and loads of luggage.
The highly bolstered sports seats front and back are well cushioned and very supportive, so there's no complaints there. The legroom in the back is also more than satisfactory for this vehicle segment. The only issue that may arise for some is rear middle seat space, and rear shoulder space. For four people, accommodation is completely liveable.
In the very back there's 480 litres of cargo space on offer, so there's plenty of room for a family getaway. It can be extended to 1460 litres too if you fold down the rear seats.
As you can see below, it's enough room for loads of weekend material, including, in our case, a huge 105-litre fishing charter ice box.
In terms of equipment and features, the Fabia RS is the top-of-the-range model so it comes with all the necessary fruit. It gets halogen headlights with adaptive curve beams, climate control air-conditioning, a decent eight-speaker stereo system, cruise control, and a full trip computer with fuel economy and service interval details.
For the sports car enthusiasts the Fabia RS comes with a neat bodykit, 17-inch alloy wheels wrapped in 205mm sport tyres, dual chrome-tipped exhaust pipes, and sports suspension. It also gets paddle shifters behind the steering wheel and a tyre pressure monitor.
2012 SKODA FABIA RS WAGON – DESIGN AND SAFETY
There's no nice or easy way to say it, it looks a little bit like a cartoon caricature, or even a drawing that has warped or melted. The Fabia goes for more of a cute and quirky design rather than a graceful and strapping approach like the Polo.
Looks are always going to be a subjective thing though, maybe we are wrong here? Maybe it's an acquired taste?
Once you accept the design you do begin to appreciate the attention to detail and the sporty highlights Skoda has implemented. At the back, for instance, there's an aggressive diffuser which comes alive with racy fins.
There's also a sharp front lip spoiler, some mesh treatment in the lower grilles, and a distinctively Skoda centre grille with slightly diagonal vertical slats.
Overall, you have to admire Skoda's courage for keeping a firm grip on its heritage; the Fabia falls precisely within the company's latest design language. For family values alone, it deserves respect.
As for safety, the Fabia RS comes with all the usual technologies such as ABS brakes, electronic stability and traction control, hill start assist, and six airbags. It also comes with reverse parking sensors with a convenient display on the audio system screen.
Australia's ANCAP is yet to test the latest Fabia.
2012 SKODA FABIA RS WAGON – ON THE ROAD
Like the Polo GTI the Fabia RS is not mucking about. It's a serious performance hatch that has been developed under Volkswagen's stringent testing conditions. In other words, it's at the epitome of compact hot hatches.
From point to point along a mountain road the RS is dashingly quick. It can escape corners with haste and balance, while the 132kW engine loves to yell and hiss providing you with exhilarating sensations. The engine also gives you a decent shove in the back under hard acceleration.
We timed 0-100km/h in 6.4 seconds, achieved by simply flooring the throttle and letting the DSG do its thing in 'S' mode. The time is almost a second quicker than what the factory achieved (7.3 seconds), and it puts it in front of the Polo GTI's factory figures of 6.9 seconds.
Where you can feel some of the Skoda cost-cutting is in the suspension. It's not that it's bad, it's actually a very good setup in comparison to what the competition offers, it does feel a bit like the centre-of-gravity is a touch too high though. There is some minor body roll and wobble under swift directional changes.
Other than that you can easily tell the chassis and foundations of the platform are well-engineered. There's plenty of grip around corners and the whole outfit is capable of hanging on long before the front tyres start to beg for mercy. At the same time the ride and comfort remains at a high standard. It's a good compromise.
Nail the throttle off the mark and you will experience some gentle torque steer and tug at the wheel. It's not necessarily a flaw though. If anything it heightens the driving experience by giving it a bit of character.
It's the same sort of thing in terms of front wheel traction. It does like to spin the wheels a bit but it's never excessive and any wheelspin you do get simply heightens the experience.
Turning the traction control off doesn't make matters worse (or better if you enjoy wheelspin) as it will step back in. Even if you really provoke it the computers will engage. This could be annoying for some planning on taking it to a track day.
Like with many cars on the market, the question has to be asked, why have an on-off button in the first place?
The DSG transmission is very good. It changes up instantly and changes down on demand. It's like a sprinter in the crouching position waiting for the start gun to fire; it's that ready for your commands.
There are some minor issues that we could seem. In manual mode it will change up gears itself before the redline. This can become annoying on roads with switch-backs. Just as you're ready to move onto the brakes and hit the down-change paddle, the DSG has changed up into the next gear. You then have to double flick the down paddle.
If you push the lever over into 'S' automatic mode it will allow the revs to build right up just before the redline. In this mode it offers a well-balanced sporty driving nature.
In normal auto mode, like other DSG gearboxes, there is a bit of roll back on hills and going from reverse to drive is a bit cumbersome.
The front and rear discs brakes are good, providing plenty of bite and a firm pedal feel. Even though the calipers are painted red, under enthusiastic driving demands they do fade a touch and the pedal does drop. This could be an easy-fix with a simple swap of pads in exchange for some performance items.
As a driver's car it all comes down to this; if you're an enthusiastic driver and one who might hit the track every now and then, the Fabia RS could benefit from minor upgrades such as thicker stabiliser bars and some beefier brake pads. It might sound like a criticism but this is a good thing as most new cars out there would require a lot more than this for semi-regular track use.
If all you want is a practical, comfortable, and fuel-efficient compact wagon, the Fabia RS is hands down the best you can buy at the moment. It's still confident and capable for a morning blast up the mountain, and it can provide true thrills doing so as a result of its Polo GTI underpinnings. Best yet, it returns good fuel economy. We averaged 7.3L/100km during our test.
2012 SKODA FABIA RS WAGON – VERDICT
Should you buy one? Basically, if you need a small wagon be it for family, fun, or work, the Fabia RS Wagon is the only way to go; there is no other car like it currently on sale in Australia. But above that, you simply can't ignore the fact that, underneath, it's a high performance super mini.
If you're simply after a compact sports hatch and don't require a wagon, you should check out Volkswagen's Polo GTI offering. It is a bit quicker at the very least, and it looks much better.
On the other hand, if you do go down the Vee-Dub route you are likely to be still waiting in line in the time it would take for a Skoda to be delivered.
2012 SKODA FABIA RS WAGON – THE COMPETITORS
There are currently no other cars on the market that fit this segment; performance compact wagon
2012 SKODA FABIA RS WAGON – SPECIFICATIONS
MODEL
2012 Skoda Fabia RS Wagon
ENGINE
1.4-litre turbocharged and supercharged petrol four-cylinder with direction injection
ENGINE SIZE  / COMPRESSION RATIO
1390cc / 10:1
BORE X STROKE
76.5mm x 75.6mm
POWER
132kW@6200rpm, 250Nm@2000rpm-4500rpm
POWER TO WEIGHT RATIO
9.45: 1 (kg:kW)
KERB WEIGHT
1248kg
HEIGHT / WIDTH / LENGTH
1530mm / 1642mm / 4276mm
DRIVETRAIN
Seven-speed dual-clutch 'DSG' auto, front-wheel drive with Extended Electronic Differential Lock (XDL)
BRAKES
F: Ventilated discs
R: Soild discs
WHEELS / TYRES
F and R: 17 x 7-inch, 205/45 R17
FUEL TANK CAPACITY
45 litres
FUEL TYPE
95 RON
FUEL CONSUMPTION
Tested average: 7.3L/100km
Official average: 6.2L/100km
PERFORMANCE
0-100km/h: 6.4 seconds (tested)
PRICED FROM
$29,990
WARRANTY
Three-year/Unlimited kilometre