Among the popular mid-sized premium sedans, the 2012 Peugeot 508 GT is a hidden gem. It may not be the first in the segment that you think of, but if you're after something fresh, fuel-efficient, and packed with features, the 508 GT is a car that you should look into. It's also very well priced.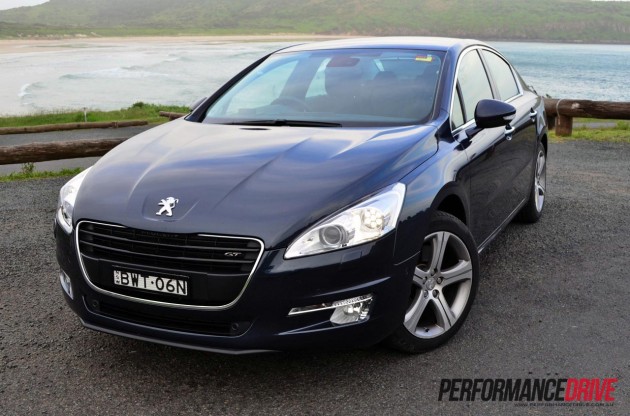 2012 PEUGEOT 508 GT OVERVIEW
French cars are renowned for being cool, like they're wearing a beret and smoking a cigar. The problem is, there is almost always a Japanese- or German-designed rival with a more conservative, higher quality cachet. When you're paying your hard-earned cash, it can seem a risk to take the more interesting option.
Peugeot has come a long way in terms of quality and refinement though. With new technologies being developed widespread across the auto industry, it's easier nowadays for lots of manufacturers to implement all kinds of advanced features, such as clean-burning diesel engines with increased combustion efficiency and added particulate filters, as well as various in-car tech.
The 508 GT comes in at $52,990. This makes it the cheapest top-spec European contender in the segment, even undercutting the top-spec Subaru Liberty. To get into even a base-model Beemer, you need around $60k, including on-roads. And it's the same with the Mercedes-Benz C-Class.
The Peugeot 508 GT spells proper value-for-money on paper. So what's it like to drive and live with?
2012 PEUGEOT 508 GT TEST DRIVE VIDEO
2012 PEUGEOT 508 GT PERFORMANCE AND DRIVETRAIN
The GT version gets a 2.2-litre turbo-diesel engine, not available in any other 508 variant. It produces 150kW and 450Nm. Around 15 to 20 years ago, those figures would have been respectable for a V8 petrol engine, let alone a diesel.
From a standstill, the GT brings all of its available torque into play quite early in the rev range, with the maximum developed from just 2000rpm. This allows the mid-sized sedan to get up to speed with great haste. And smoothly, too.
With all that torque going through the front wheels, you'd expect torque steer. We didn't encounter such characteristics during our drive at all. No doubt a big positive tick in the engineer's books.
At idle, the engine is quiet for a diesel; you can hardly tell it is a diesel. Hit the go pedal and the engine builds its momentum with a deep roar, backed by the sound of the turbo spooling up.
The engine is matched up to a six-speed automatic. It isn't a dual-clutch job, though, if someone were to tell you it was, you'd almost believe them. It does a very good job of sifting through gears. It's also intelligent and finds the right gear for the right amount of torque to either maintain speed, or accelerate, when in normal automatic mode.
It does tend to want to get into higher gears fairly quickly though, helping the 508 GT to conserve fuel. Because of the big torque on offer, there's no dip in acceleration, it simply steams through the next gear. It's a win-win situation; plenty of acceleration available, while the fuel gauge barely moves.
For those who love to get involved, there's shift paddles mounted on the steering wheel, or you can use '+ /-' function on the gear lever. In this method you can select gears to suit your needs.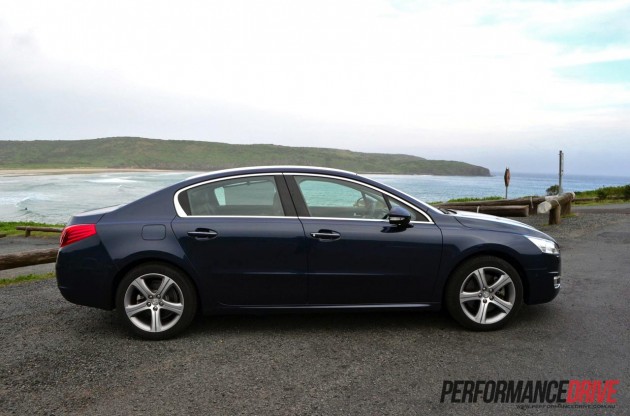 2012 PEUGEOT 508 GT STEERING, SUSPENSION AND BRAKING
During our test we put the 508 GT through its paces under a range of driving conditions, including freeways, back roads, long arduous hills, and slow city driving. While the GT is a happy crawling around town, it really feels at home when travelling along relatively high-speed curvy roads.
The Peugeot 508 GT lives up to its 'Grand Touring' badge. There were plenty of instances we thought we were pushing the chassis all it could go, and then it'd surprise with a little more, confidently swallowing up the high-speed stuff. It's not a car you have to choke to get the most out of either. It all comes effortlessly.
That said, the Pug 508 isn't quite up there with some of the German rivals in terms of agility through tight twisty sections. There's a very slight moment of hesitation when rapidly switching from corner to corner, but only during vigorous work on the steering wheel.
This minor lack of directness could be down to the electro-hydraulic speed-sensitive rack and pinion steering. The system continuously adjusts the effort needed to move the steering wheel, helping to make parking in town a breeze, while giving the 508 a solid and safe feel out in the open stuff. We found it to be a little too light in low-speed driving, but well-weighted everywhere else.
The Peugeot 508 GT comes with a unique front suspension setup that the other 508 variants don't receive. Whereas the entry-level variants have a new McPherson strut front axle, the GT variant receives an aluminium drop-link double wishbone front axle. Peugeot has obviously taken the GT badge with a degree of seriousness, as double wishbone setups are usually reserved sports and high performance applications and serious track weapons.
Pulling up the GT is 340mm front rotors, up 36mm compared with base 508 variants. While we've not driven the base model 508, we can say the brakes on the GT model are well mannered during cornering, with no sign of brake fade down steep descents and light performance driving.
Also standard on the GT is 'cornering brake control'; a sophisticated system which distributes braking between left and right wheels to ensure the car maintains a steady line around the bends.
The handbrake is electronic, engaged by pulling the lever on the right-hand side of the steering wheel. It's a bit weird to get used to at first, but very cool and effortless once you master it. You needn't worry about disengaging it when you take off, it automatically does it for you. It also engages as soon as the engine is turned off. It's coupled with the hill assist system, engaging only when a gradient is greater than three per cent.
Ensuring maximum safety by today's standards, the Peugeot 508 GT is equipped with stability control, traction control, ABS, emergency brake assist, and ESP, with an ANCAP five-star rating. Given the car is well balanced, during normal, and even performance driving, none of the systems interfere, or nastily intrude to ruin your fun. Only when really necessary do they provide a safety net.
Peugeot stated in the 508 press kit that 'in the not too distant future' a drive system called HYbrid4 technology will be introduced to the 508 range. The name of the technology gives the game away; it'll be a hybrid version, with four-wheel drive capabilities. Driving the front wheels will be a HDi turbo-diesel engine, with an electric motor driving the rear. The idea is to drastically improve fuel efficiency, and reduce emissions – Peugeot is aiming to achieve just 99g of CO2/km.
2012 PEUGEOT 508 GT ACCOMMODATION AND EQUIPMENT
The cabin has deep aroma of class about it. The leather grain is smooth, and touch surfaces are soft. The dashboard and centre console are handsomely arranged, and options like rear and side blinds give the 508 a unique touch. It's also very quiet inside, almost like the outside world is non-existent. This is thanks to some serious noise, vibration, and harshness engineering. There's something Peugeot calls an acoustic front windscreen to filter noise, hydro-elastic suspension mounts for minimal vibrations, and an active damper specifically for the engine to further minimise noise and vibration.
The front horizontally-ribbed seats are comfortable and supportive. The integrated driver's seat massage system is also a nice bonus, helping you to wind down after a hard day's work. Only problem is, your passengers want to be massaged as well – best not to tell them about it…
There's loads of knee room, and headroom up front, as there is in the back too. The new longer wheelbase of the 508 over the outgoing 407 gives rear passengers increased legroom (5.3cm), and headroom. With the blinds pulled up, rear passengers can enjoy the ride, and feel like a bit of a VIP. There's also quad-zone climate control air-conditioning for extra comfort in the back.
The 508 is equipped with three child seat top tether anchorage points, while the headrests are shaped in a way that amends whiplash in the event of an accident. They are adjustable to the exact height required, making the ride just that touch more comfortable.
You can forget about accidentally high-beaming oncoming traffic, as the 508 GT's bi-Xenon headlamps are semi-automatic, via a camera located in the rear view mirror to interpret when it's safe to engage the high beams.
All 508 variants come with Bluetooth, MP3 and USB compatibility, with all infotainment functions displayed on a central screen in the dash. As an option on the 508, you can get satellite navigation paired with a seven-inch WVGA high-resolution display.
Other technical highlights include a head-up display readout for speed, cruise control and satellite navigation information.
2012 PEUGEOT 508 GT VERDICT
The new Peugeot 508 GT has a timeless vibe about it. It spells proper luxury at all corners, and delves into the premium car segment at well below the price of its rivals.
To make things even more appealing, the 508 is Peugeot's first car with capped servicing. It's included in Peugeot's innovative new Assured Service Plan, which gives customers a set price for services for the first three years – a maximum cost of $330 per service (every 12 months or 20,000kms whichever comes first).
If premium, interesting, grand touring mid-sized sedans are your thing, the 508 should be on your short list. It has loads of room for five, and good luggage space. The special suspension and engine tweaks give it a distinct level of refinement and class.
As we always say, look at your options when considering any car, but you will be pleasantly surprised with the 508 GT when compared to its rivals. It presents a refreshingly different theme to the segment.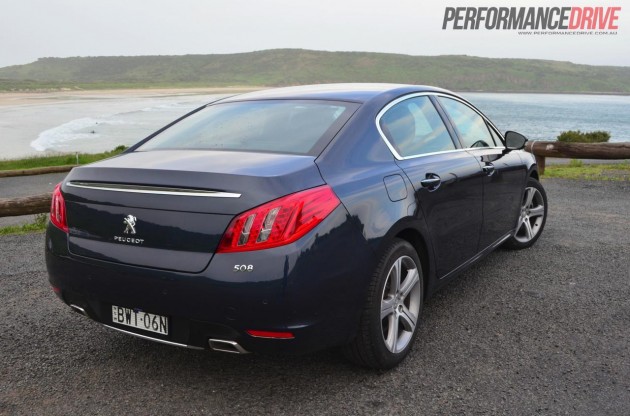 2012 PEUGEOT 508 GT SPECIFICATIONS
MODEL
2012 PEUGEOT 508 GT
ENGINE
PSA 2.2-litre DOHC with VVT four-cylinder turbo diesel
ENGINE SIZE (cc) / COMPRESSION RATIO
2179cc / 16.0
BORE X STROKE (mm)
85mm x 96mm
POWER
150kW@3500rpm, 450Nm@2000rpm
POWER TO WEIGHT RATIO
10.27 : 1 (kg:kw)
WEIGHT
1540kg
HEIGHT / WIDTH / LENGTH
1456mm / 1853mm / 4792mm
DRIVETRAIN
Six-speed automatic, front-wheel drive
BRAKES
F: ventilated discs, twin-piston calipers
R: solid discs, single-piston calipers
WHEELS / TYRES
F and R: 18 x 7.5 inch, 235/45 R18
FUEL TANK CAPACITY
72 litres
FUEL CONSUMPTION
Tested average: 6.6L/100km
Official combined average: 5.7L/100km
PERFORMANCE
0-100km/h: 8.1 (tested)
PRICED FROM
$52,990
WARRANTY
Three-year 100,000km roadside assistance
PROS
Luxury Euro motoring at a bargain price, cabin is plush, a quality GT car
CONS
Front seats a touch too firm, trim squeaks over rough roads (could just be isolated to our car), depreciation?
THE COMPETITION
Volkswagen Passat, Subaru Liberty, Skoda Superb, Volvo S60