For the upcoming 2012 Moab Easter Jeep Safari, Jeep is planning to debut a range of concepts showcasing serious off-road performance enhancements. All six concepts feature Jeep Authentic Parts and Accessories.
Kicking off with the 2012 Jeep Wrangler Apache from Mopar. It's based on the Wrangler and features a range of tough components designed for serious off-roading, such as Mopar Pro 60 5.13 front and rear axles, a 4.5-inch Stage 3 long-arm lift kit and special off-road bead-lock wheels.
Under the bonnet is where things get even more serious. Mopar and Jeep have come up with a V8 conversion kit, featuring the Mopar 6.4-liter HEMI V8. It produces 350kW of power and 637Nm of torque – sure to pull you through the boggiest of terrains.
The complete 2012 Jeep Wrangler Apache model as such won't be heading for the showrooms any time soon, however, the V8 engine conversion kit will be available during the middle of this year for US customers.
Next up is the Jeep Grand Cherokee Trailhawk Concept. It's based on the new Grand Cherokee and features a range of more mild enhancements compared with the Apache Wrangler.
Highlights include special rock rails, Jeep's Quadra-Drive II system with an Electronic Limited-slip Differential (ELSD), front and rear tow hooks, tinted headlights, and 18-inch five-spoke Mineral Gray alloy wheels with Goodyear Wrangler SilentArmor tyres.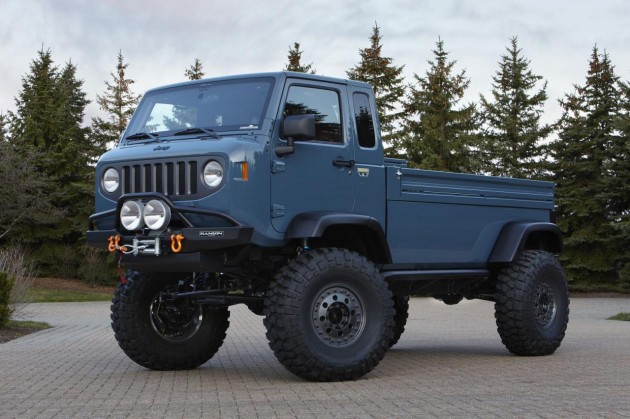 Next we have the Jeep Mighty FC Concept. Inspired by the Jeep Forward Control, built from 1956 to 1965, the Mighty FC Concept is actually based on the Wrangler Rubicon. Jeep modified the Wrangler body and moved it forward along a stretched chassis. In the back is a 2.44-metre long tray. The mega ute rides on 17-inch bead-lock wheels wrapped in 40-inch off-road tyres.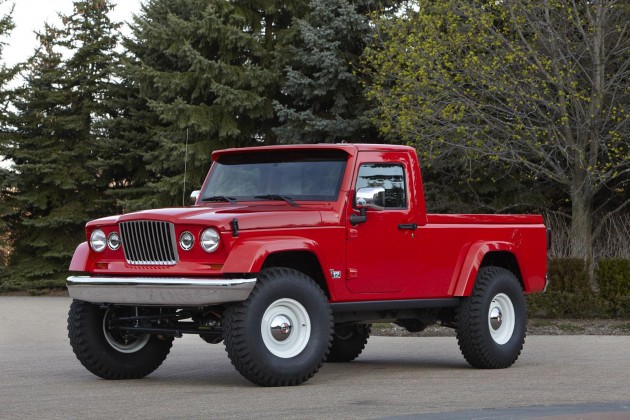 The Jeep J-12 Concept is based on the Jeep JK-8 ute conversion kit for the Wrangler, only it's been revised. It features an extended platform to provide an extra 30cm of tray space. It also showcases a Mopar three-inch lift kit, Teraflex sway bars with ARB air-locker-equipped Dynatrac D-44 and D-60 axles. The J-12 rides on 16-inch steel wheels wrapped in 36-inch tyres.
Next up is the 2012 Jeep Wrangler Traildozer Concept. It's based on a 2012 Jeep Wrangler Rubicon in Dozer Yellow. It features an extreme off-road performance makeover, including the 6.4-litre HEMI V8 conversion with 350kW, matched up to a Getrag 238 six-speed manual transmission.
Underneath, the Traildozer Concept features Rubicon Dana 44 axles with 4:10 gears and electronic locking differentials. The Traildozer Concept rides on Mopar Classic five-spoke wheels wrapped in 37-inch Mickey Thompson Baja Claw tyres, and a AEV Dualsport RS 3.5-inch suspension lift kit. Mopar also fitted premium front and rear bumper bars and rear corner guards for protection while tackling serious sections of off-road terrain.
Lastly, Jeep will also show a Mopar Accessorised 2012 Jeep Wrangler. The Wrangler is based on the Rubicon and showcases loads of accessories that are available for the Wrangler. Jeep says that up to 250 enhancement options can be made, with this show model previewing many of them.
Highlights include Classic five-hole wheels, Mopar rock rails, a Warn 9.5ti XP winch, a Kicker dash with 6.5-inch two-way speakers, Mopar all-weather mats, windscreen-mounted LED lights, and a new hard-top headliner.
Underneath, the vehicle features the standard Rubicon Dana 44 front and rear axles with electronic-locking differentials, as well as a Mopar two-inch performance lift kit, and 35-inch Goodyear Wrangler tyres.
The 2012 46th anniversary Moab Easter Jeep Safari kicks off on March 31 and runs through until April 8. It takes place in Moab, Utah, USA.