Here at PerformanceDrive, we like to pride ourselves on giving honest, straightforward reviews. So to kick off this quick spin of the 2012 Kia Optima, let's get one thing straight: we all know Kia hasn't always been known for making exciting, cool cars. Well, times have certainly changed. The latest Kia Optima is as good as any of its main rivals.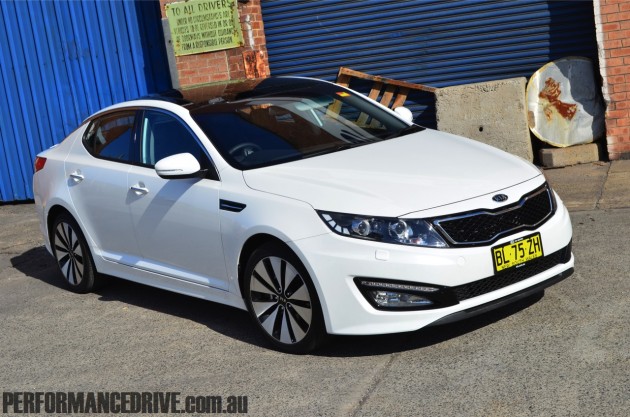 2012 KIA OPTIMA – PROS AND CONS:
PROS:
Definitely the styling – has any car ever looked so classy/imposing for $36,990?
The Optima only comes in one trim level – Platinum – so no need to feel outdone by other Optimas on the road
You feel like a (Korean) diplomat as you drive around
CONS:
Aggressive looks command an aggressive engine – it could really do with some V6 or turbo four-cylinder grunt, although the 2.4-litre four is okay
Stylish alloy wheels (now) may not age very well
It's hard to think of decent 'cons' when you consider the price tag… seriously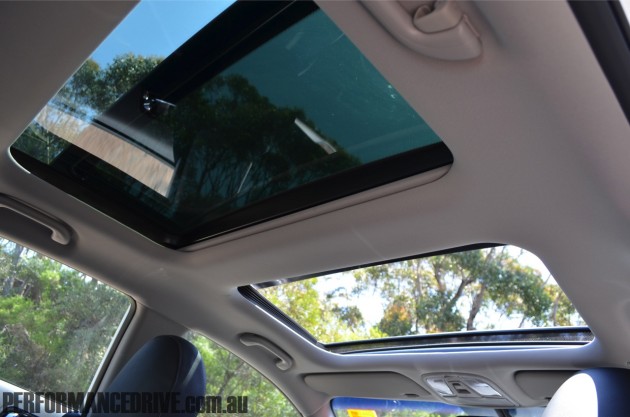 2012 KIA OPTIMA – WHAT'S IT LIKE TO DRIVE:
From the moment we were thrown the keys to the 2012 Kia Optima (an under-the-skin-twin to the Hyundai i45), we were very eager to get behind the wheel. The $36,990 asking price is mind-blowing for how much car you get.
While it might not posses the most exciting powertrain, its 2.4-litre four cylinder engine producing 148kW and 250Nm loves to rev, even just to bring the 2012 Kia Optima up to speed.
Same eagerness goes for the six-speed automatic transmission, while it might not be a fancy dual-clutch job, it's pretty slick at shifting on demand, and smooth, too.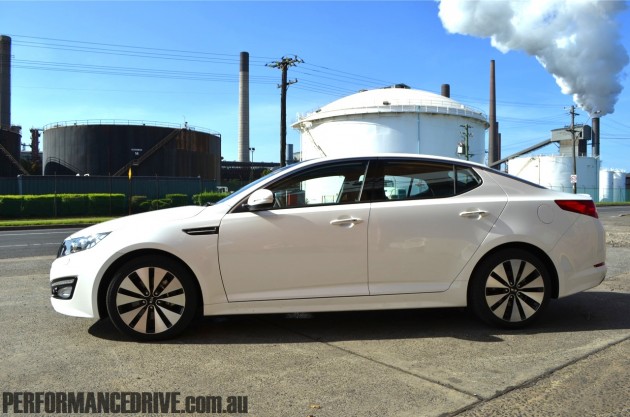 Steering and braking do feel a tad anesthetised; it doesn't feel as 'alive' and interactive as one might have hoped. Especially for such a visually attractive and sporty package. It never puts you into a moment of nervousness or hesitation though, and the suspension and ride is compliant and solid in most conditions. Ride comfort is luxury-car lazy, but sprightful enough through corners.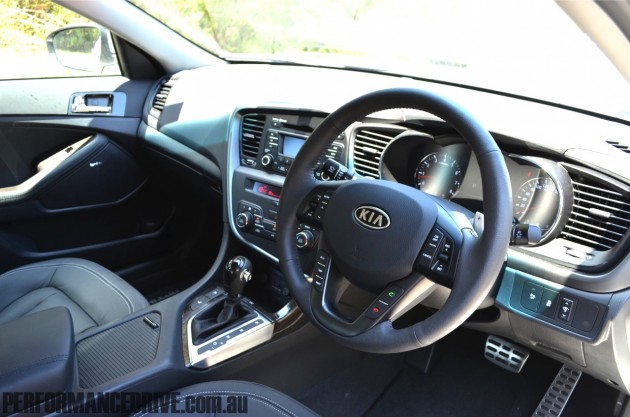 2012 KIA OPTIMA – INSIDE SPACE AND COMFORT:
Think Honda Accord Euro meets Mercedes-Benz C-Class; comfy, classy and contoured. Inside the Optima's cabin is a very pleasant place to be, and it's kind on the cheeks, too… if you know what we mean.
All the gadgetry you could imagine is only your left arm away; climate control; MP3 and USB; dual sunroof; heated seat controls (the driver's seat even has a cooling option); and the all-important 'engine start/stop' button.
The steering wheel holds buttons to control stereo volume, audio source, buttons for the cruise control, Bluetooth connection, and an 'ECO' button – a mode which helps the Optima conserve as much fuel as possible through various means, including changing up gears sooner.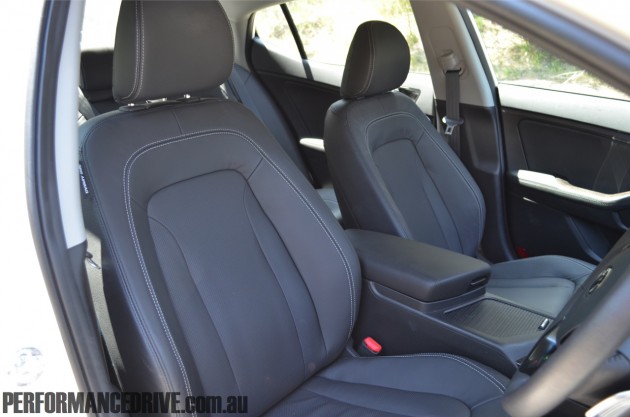 While you know the wood grain trimmings on the dash are fake, you must remember you don't need to sell four yachts to pay for an Optima. It all fits in and suits the cabin personality well, and it looks real enough anyway.
Stylish touches like the retracting centre console lid for the cup holders, and the rather-large leather arm rest makes the 2012 Kia Optima feel more Stuttgart than Seoul.
The seven-speaker stereo is thanks to Infinity Systems. While all Hyundai-Kia Automotive Group vehicles have Infinity-designed stereos, the Optima's is extra exciting in this instance. Harmon Kardon is the parent company of Infinity, so it's no wonder it sounds great.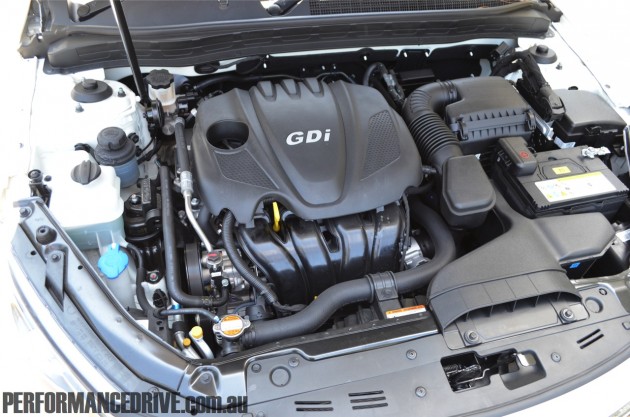 2012 KIA OPTIMA – IS IT A WINNER:
The 2012 Kia Optima reminds you of a 48-month interest free deal at your local retail outlet; you have to wonder if there are any hidden catches. How can a car offer so much luxury, yet be so affordable? It does this simply by being part of a rapidly growing brand that has plenty of money to invest and build upon its huge customer base.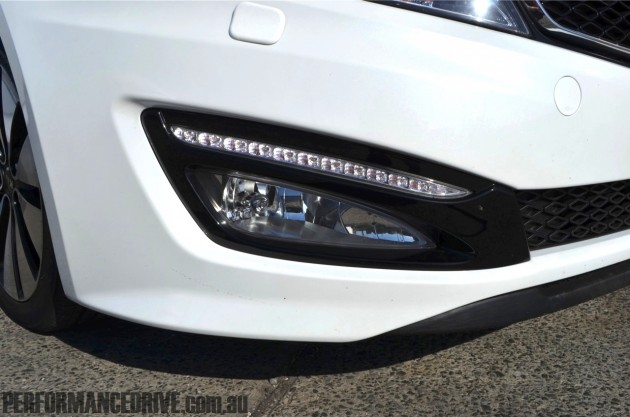 Inside, there's no scratchy plastics, the leather feels soft, there's loads of room to settle into a very comfortable driving position, and you're treated to not one but two sunroofs, and everything is electric.
If you're after a car with a touch of pizazz, technology-packed, a capable chassis, and room for a few adults in the back, glance past that $30-40,000 mid to top-spec hatch you were contemplating and give the 2012 Kia Optima a chance to prove its worth. It is a very noble option.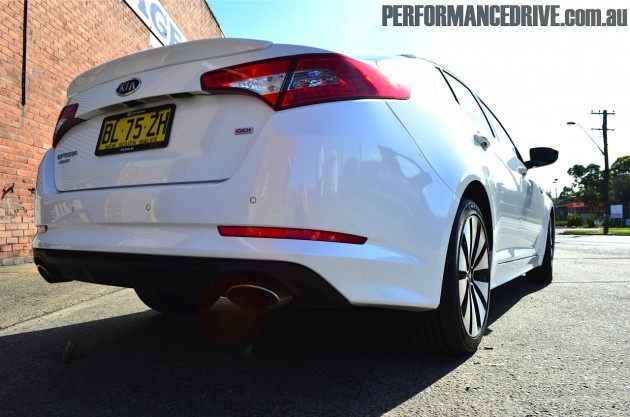 2012 KIA OPTIMA SPECIFICATIONS
MODEL
2012 Kia Optima Platinum
ENGINE
2.4-litre four-cylinder
DRIVETRAIN
Six-speed automatic, front-wheel drive
POWER
148kW@6300rpm, 250Nm@4250rpm
WEIGHT
1551kg
HEIGHT / WIDTH / LENGTH
1455mm / 1830mm / 4845mm
WHEELS
F: 18 x 7.5 inch 225/45 R18
R: 18 x 7.5 inch 225/45 R18
FUEL TANK CAPACITY
70 litres
FUEL CONSUMPTION
Tested average: 9.2L/100km
Official average: 7.9L/100km
PERFORMANCE
0-100km/h: Not tested
PRICED FROM
$36,990 + ORC