It's here. The 2012 Hyundai Veloster SR Turbo has landed in Australia. And for just $31,990, it presents a real bargain in the sports/performance car market.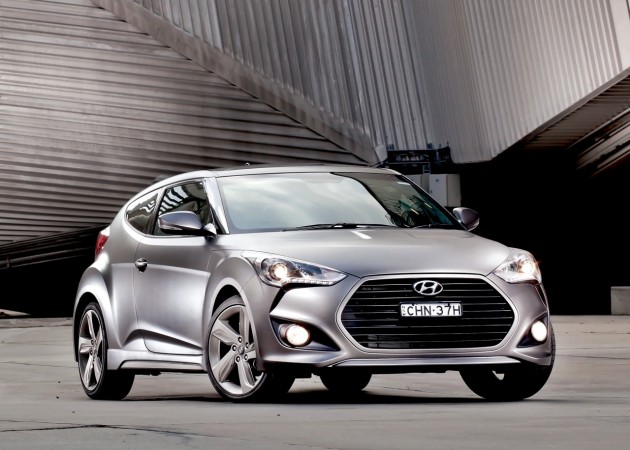 It stares down the barrel of quite a few epic hot hatches and sports coupes in the segment, such as the new Toyota 86 and Subaru BRZ, Citroen DS3, Mini Cooper S, and the new Opel Astra GTC.
Much like the base model Veloster and Veloster Plus, the new SR Turbo variant is laced with features – gen Y peeps will highly approve. But if we may get on with what we all want to know, is it a cracking performance car? Read on…
2012 HYUNDAI VELOSTER SR TURBO – PROS AND CONS
PROS:
Looks fatter than Elvis
Mid-range acceleration
Where the base model Veloster feels sluggish, the SR Turbo performs well
Capped price servicing
Matte and cameleon paint options
CONS:
Has the same size wheels and exactly the same tyres as the Veloster Plus, despite having more power
No limited-slip diff
Six-speed auto variant isn't double-clutch like Veloster and Veloster Plus

2012 HYUNDAI VELOSTER SR TURBO – OVERVIEW
Hyundai has nothing to lose with the Veloster SR Turbo… but everything at the same time. It's the first time the company has presented Australia with a genuine performance car.
Since the Veloster's launch in February, Hyundai has sold 2219 examples. This makes it by far the best-selling vehicle in the Sports car under $80,000 segment, according to official VFACTS figures. (The next closest vehicle in terms of sales in the VFACTS segment is the Mercedes-Benz C-Class Coupe: 1308 so far in 2012). With the hot new SR Turbo now part of the family, it really heats things up. Hyundai expects to sell 150 examples of the SR Turbo per month.
So here's the numbers we know you've all been waiting for: the Gamma 1.6-litre four-cylinder twin-scroll turbo engine with GDi direct injection produces 150kW and 265Nm. That's a 46 per cent jump in power and a 60 per cent leap in torque over the naturally aspirated Velosters.
If we may get nerdy for a second, Hyundai has introduced a patent design to the Veloster SR Turbo. It's team has formed both the exhaust manifold and the twin-scroll turbocharger into one unit, with the wastegate being controlled by a motor-driven electrical controller rather than mechanical.
The use of a twin-scroll turbo has certain benefits: getting maximum boost into the engine as fast as possible and keeping intake temps down. There is a front-mounted intercooler hiding behind the front bar too to further reduce intake temperatures.
The SR Turbo is available with a six-speed manual, or a six-speed automatic transmission for $2000 more. The double-clutch automatic that's found in naturally-aspirated Velosters hasn't been carried over to the SR Turbo. Instead, it's been replaced with a conventional 'slush box' auto to ensure the extra torque doesn't turn the double-clutch into mush.
The SR Turbo is classy bit of kit, with features such as keyless entry, rear park assist, a rear-view camera, a seven-inch LCD display, day/night rear-view mirror, push button start, satellite navigation, a tyre pressure monitoring system, heated external mirrors, and a very sleek panoramic glass roof with a motorised sunblind to slide back when the sun is beaming.
Priced at just $3000 more than the non-turbo Veloster Plus – $31,990 – the Turbo model is certainly looking very enticing.
2012 HYUNDAI VELOSTER SR TURBO – ACCOMMODATION AND EQUIPMENT
Step inside the Veloster SR Turbo, and it's a funky place to be. Gone is the light silver trimmings we saw in the Veloster and Veloster Plus, and in is a more-appealing soft dark grey, giving the cabin a more upmarket feel. The centre of the dash has been designed to resemble a road bike, and houses all the controls and functions in a manner that looks vibrant, but is easy to use.
The front seats feature 'Turbo' insignia stitched into the backrests. They're quite comfortable and supportive, even for people with large body frames. The same can't be said for the rear seats; anyone over six-foot will struggle to keep their head held up because the roof is so low. The driver's seat is fitted with electric lumbar adjust, and electric slide and tilt, while the passenger seat gets electric tilt only.
The focal-point of the interior is the easy-to-use seven-inch LCD touchscreen, letting you control and monitor everything from audio, to the well-designed satellite navigation system which features lane guidance, junction views, speed limits, speed warnings, and live traffic updates so you can avoid road chaos to make it home on time.
Audiophiles will love the four-speaker sound system, including two tweeters, centre speaker, and a subwoofer, all powered by an external amplifier. It hits all the right notes extremely well. Configuring your iPod and iPhone is easy, via Bluetooth (audio streaming), USB or aux-in. You can also keep your hands on the wheel with hands-free phone operation and steering wheel mounted audio and phone controls.
2012 HYUNDAI VELOSTER SR TURBO – DESIGN AND SAFETY
As far as looks go, the Hyundai Veloster SR Turbo looks much meaner than the naturally-aspirated versions, but in a way that doesn't make it look over-the-top. Rather than go for fake flutes and scoops, Hyundai has, in our opinion, concentrated on its 'phatness', giving the SR Turbo aggressive front and rear bumpers, a rear diffuser, a hexagonal front grille that says 'feed me air' (or fish food), bespoke 18-inch blade wheels, projector beam headlamps with daytime running lights, side skirts, and two rather large centre-mounted exhaust tips. The overall style is very sinister, especially in the matte colours.
If you've seen a Veloster out on the road you would have noticed it features two doors on the passenger side, and one on the driver's side. Hyundai calls the design 'cool coupe meets smart hatch'. The kerb-side door allows passengers to enter the 'cool coupe' with ease. Good luck finding a handle for the rear door though, it's hidden to create 'visual flow'.
The SR Turbo is the first car in Hyundai's lineup to have matte and cameleon paint options ($1000). Unfortunately, there is only limited colours available in each of these special treatments (for now); Marmalade for cameleon paint – a kind of orange-ish bronze colour that looks pretty funky in the sun – as well as Young Gun and Petrol Grey in the matte (Petrol Grey won't be available for few months). Young Gun is a dark gunmetal colour that suits the body lines of the SR Turbo down to a tee. Other colours include Veloster Red (the only metallic colour in the lineup), Phantom Black, Storm Trooper (white pearl), and Battle Ship (a light grey pearl).
The SR Turbo features no less than six airbags, including driver and passenger, thorax and full-length curtain airbags. The rear door also features a child safety lock, while in the back gets two child restraint anchor points.
Another safety feature is Hyundai's HALO (Hyundai Active Locking Operation). This locks and unlocks the doors depending on speed in the aid of keeping people who might like your SR Turbo a little more than you, out. Damn thieves…
2012 HYUNDAI VELOSTER SR TURBO – ON THE ROAD
Our drive route ventured into the hills that overlook the Gold Coast in Queensland, and consisted of ups, downs, hairpins, roadworks, potholes, and long winding roads. The SR Turbo was at home. The damper rates have been tuned specifically for Australian conditions – Hyundai wrote in its press release that it clocked up thousands of kilometres checking low, medium, and high speed dampening data to make sure the SR Turbo is a beaut to drive.
The Veloster Turbo features McPherson struts with a 24mm front stabiliser up front, and a lightweight V-torsion beam non-independent suspension (a Hyundai first) at the rear. The setup allows SR Turbo to change direction with great confidence, making the driver feel involved. We found the suspension setup to be a good balance of comfortable in the city, and keen in the bends. The comfortable driving position allows you to get nestled-in and concentrate on pushing tarmac boundaries.
The engine is a rejigged version of the GDi 1.6-litre engine found in the naturally-aspirated Veloster. The turbo finds its feet very low in the rev range, bringing up peak torque at a low 1750rpm. On our test drive, we found 3000-4800rpm to be a real sweet spot. In the manual version, we didn't have to change gears much between bends thanks to the gutsy mid-range. The power just rolls on and keeps pulling to around 5200rpm, but begins to die off not long after that.
Any power-down issues the SR Turbo might have faced due to the increase in power was bettered by the fine tuning of the suspension. There's no limited slip diff up front, so keeping things under wraps is up to the SR's specifically-tuned stability control. If you come to a complete stop, it's not uncommon for the inside wheel to spin if you attempt to take off aggressively as you accelerate off in a straight line or around bend.
Driving on full song presents little if any torque steer. It's an easy car to drive at speed, making it appeal to those who like something that looks cool, but isn't overly powerful or scary. It's a tame beast, but still a beast nonetheless.
The electric rack and pinion steering in the SR Turbo is quicker than Veloster and Veloster Plus at 2.8 turns lock to lock compared with 2.9. Hyundai stated at the presentation the steering has been tuned to Australian conditions. The end result is a well-weighted, sporty feel. Unless there's a reasonably sharp bend coming up, you never really need to move your hands from the nine o'clock and three o'clock position.
The manual gearbox is very smooth in its shift action, but does tend to feel a bit 'arcade game'. While this doesn't hurt its overall operation, it'd be nice if it felt a touch more mechanical.
The auto is very 'smooth operator', selecting gears quite promptly in either full automatic mode, or via the wheel-mounted paddle shifts. We'll go into more detail about both transmissions in our upcoming more in-depth review of each car.
We didn't get time to clock a 0-100km/h sprint, but Hyundai said at its presentation that local testing has seen the SR Turbo in around the low seven-second mark.
Pulling up the SR Turbo is 300m discs at the front. After jumping on them time and time again, they didn't ever let on that things were heating up. We'll put them through more rigorous testing in our upcoming more in-depth review.
2012 HYUNDAI VELOSTER SR TURBO – VERDICT
Hyundai stated back in January (when the Veloster was launched) that it aimed to sell 200 units per month. If we take a look at VFACTS over the past six months, the company has gone on to sell almost double that initial expectation. There isn't a doubt in our minds that the Veloster SR Turbo is about to call many-a-driveway home. After all, it is the spiciest variant.
Sure, people are going to get all puffed up about the new Toybaru 86 (you knew were were going to mention it again, didn't you) being the performance car bargain of the century, but don't forget not everyone is keen on rear-wheel drive coupes, and/or wants to 'follow the leader'. With the vast amount of standard features, and everyday practicality, the SR Turbo is a choice to be reckoned with.
Hyundai has itself a genuine, punchy, unique-looking super hatch on its hands. And don't take 'super' out of context as if we mean 'the best', we simply mean it's super value.
Our pick would be the manual with matte paint. Like we always say, do yourself a favour and test drive one. And tell the dealer we sent you.
2012 HYUNDAI VELOSTER SR TURBO – THE COMPETITORS
Volkswagen Golf GTI MK6 – 2.0-litre turbo four-cylinder, 155kW/280Nm – 1360kg (three-door) – $38,990
Ask anyone what the ultimate hot hatch is, and we reckon four out of five will say the VW Golf GTI. It's entertaining to drive, it's modern and fuel-efficient, and bleeds quality. One of the all-time greats. It is well over $5,000 more than the Veloster SR Turbo.
Mini Cooper S – 1.6-litre turbo four-cylinder, 135kW/240Nm – 1150kg (three-door) – $40,700
Ever since BMW brought it back in 2002, the Mini has given driving fans something to talk about. The Cooper S is priced at the higher end of the three-door hot hatch market, and can easily blow out even further if you get excited with the options list.
Citroen DS3 – 1.6-litre turbo four-cylinder, 115kW/240Nm – 1165kg (three-door) – $29,990
The French know a thing or too about building a hot hatch. While the DS3 might be down on power compared to some of its rivals, motoring writers from around the globe have praised the quirky-looking three-door as a cracking drive.
Toyota 86 / Subaru BRZ – 2.0-litre boxer four-cylinder, 147kW/205Nm – 1257kg (86), 1256kg (BRZ) – $29,990 (86), $37,150 (BRZ)
Some consider the 86 and BRZ to be the most affordable sports car of the modern generation. With a low centre of gravity, thanks to its boxer engine and hours upon hours of engineering, the 86/BRZ certainly screams 'take me to the hills'.
2012 HYUNDAI VELOSTER SR TURBO – SPECIFICATIONS
MODEL
2012 Hyundai Veloster SR Turbo
ENGINE
1.6-litre four-cylinder turbo
ENGINE SIZE / COMPRESSION RATIO
1591cc / 9.5:1
BORE X STROKE
77mm x 85.44mm
POWER
150kW@6000rpm, 265Nm@1750-4500rpm
POWER TO WEIGHT RATIO
8.4: 1 (manual), 8.7:1 (auto) (kg:kW)
KERB WEIGHT
1265kg (manual), 1305kg (auto)
HEIGHT / WIDTH / LENGTH
1409mm / 1805mm / 4250mm
DRIVETRAIN
Six-speed manual/six-speed automatic
BRAKES
F: 300mm ventilated discs
R: 262mm solid discs
WHEELS / TYRES
F and R: 18×7.5-inch, 215/40 R18
FUEL TANK CAPACITY
50 litres
FUEL TYPE
91 RON
FUEL CONSUMPTION
Official average: 6.8L/100km (manual), 7.6L/100km (auto)
PERFORMANCE
0-100km/h: not yet tested
PRICED FROM
$31,990
WARRANTY
5-year/unlimited km