In a throwback to the 1980's police BT1 'interceptors', HDT has come up with its own take on the highway pursuit vehicles; the 2012 HDT Interceptor. It joins a long list of VE Retro cars produced by HDT.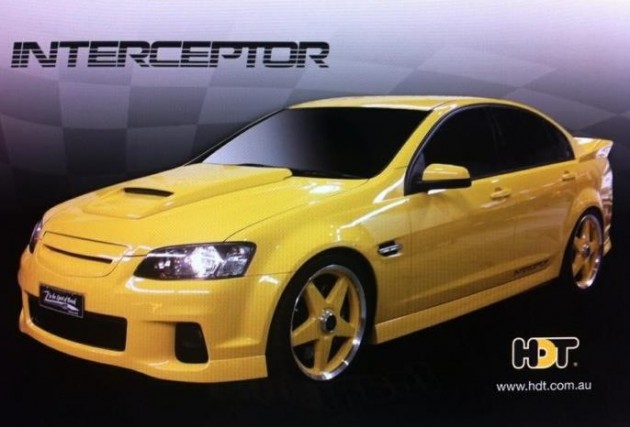 The new HDT Interceptor has been built to celebrate the 50th anniversary of the annual Bathurst race at Mount Panorama. The car was teased on HDT's Facebook page yesterday, and going by the response since its unveiling, it's a definite hit with Holden/HDT fans.
Just ten of these Interceptors will be built, with prices starting at of $39,900 (inclusive of GST and delivery), plus a donor VE SS or SSV.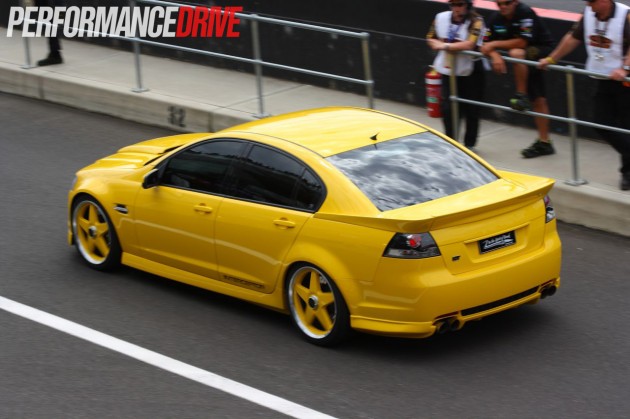 Engine-wise, HDT Interceptors are modified by HDT to produce 350kW, however, you can also option up to a 450kW supercharger package for an extra $15,000.
Inside, the Interceptor says goodbye to five seats in favour of a sportier four-seat arrangement, with the seats covered in black leather with yellow stitching and 'Interceptor' livery on the backrests.
Other Interceptor highlights included in the package are:
350kW performance engine
HDT performance cam pack including 1 7/8-inch headers and hi-flow cats
HDT twin three-inch exhaust system including ceramic coating
HDT OTR including infill panel and fascias
HDT ECU recalibration
HDT coil over suspension
Interceptor signature paintwork
HDT bodykit
HDT unique Interceptor bonnet scoop
HDT grille
HDT rear bumper spats
HDT boot spoiler
HDT Interceptor engine cover
HDT engine billet caps (set of eight)
HDT 20-inch five-spoke Momo-style rims with Kuhmo tyres
HDT four-seat leather/suede interior including Interceptor floor mats
HDT carbon fibre interior trim package including dash badge
HDT Interceptor decal package
Individual HDT build number – tag and owners compendium (one of 10 only)
Over the past few years HDT has been wowing us with its modern take on various HDT classic cars, such as the HDT VL/VE Group A package.
It's not really a case of whether they're as good as the originals, it's more about having the opportunity to drive something a little more unique. The Interceptor gets a thumbs up from us. What do you think of it?