The 2012 FPV Pursuit Ute is the baddest and most exclusive ute currently on sale. It comes with the company's brutal supercharged V8 engine, and it can only be had in this sinister Silhouette Black and red colour scheme.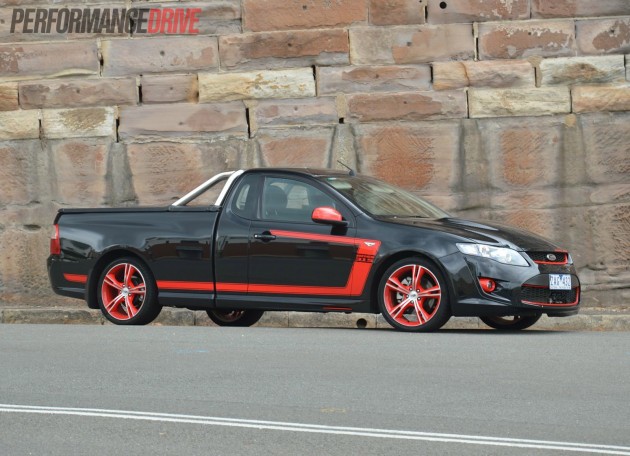 2012 FPV PURSUIT UTE – PROS AND CONS
PROS:
Monster V8 torque with instant throttle response
Quite well planted when pushed, especially considering its leaf-sprung live-axle rear end
Looks like it's poisonous and needs to come with its own anti-venom
Decent list of standard features
CONS:
Heavy front end, front suspension feels soft and spongy
Poor fuel economy – we achieved 540km from a tank, driving steadily
Rear wheels too narrow for the power, they also leave big gaps in the wheel arches
2012 FPV PURSUIT UTE – OVERVIEW
The history of the Pursuit ute started in 2003, with the BA FPV Pursuit. It was a ute version of the flagship GT sedan. The company then introduced the Super Pursuit, which included more kit, as seen in the GT-P sedan. Both of these variants were available throughout the BA and BF Falcon range.
When the FG series was launched the Pursuit and Super Pursuit names were carried across, however, these were discontunued when FPV announced the new 5.0-litre supercharged V8 that replaced the ageing 5.4-litre naturally aspirated unit. From that point on, FPV V8 utes were given the 'GS' nameplate.
For the latest model, FPV has revived the Pursuit name and given it some special touches over and above the GS.
Still based on the current FPV GS, the FG MkII Pursuit is a very special edition – just 75 are being made – conjured up by Ford to coincide with the GT RSPEC sedan (review of that coming soon), which is also a limited edition.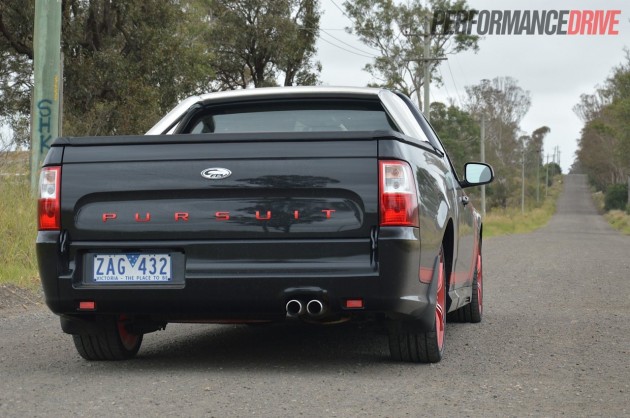 The new Pursuit feautres red C-stripe decals and 19-inch red alloy wheels, both shared on the GT RSPEC. Unfortunately, the Pursuit misses out on the wider 275mm/9.0-inch rear rims featured on the RSPEC, making do with 245mm-equipped 8.0-inch items. So, as you can imagine, traction off the mark can become an issue. More on that further down.
Under the bulging bonnet sits a 5.0-litre supercharged V8 'Coyote' engine developing 315kW of power and 545Nm of torque. It can be matched up to either a six-speed manual or six-speed automatic transmission (as tested).
If there are any left by the time you read this, prices start at $57,990 for either the manual or automatic (excluding on-road costs).
2012 FPV PURSUIT UTE – ENGINE SOUND AND 0-100KM/H ACCELERATION VIDEO
2012 FPV PURSUIT UTE – ACCOMMODATION AND EQUIPMENT
It's based on a Falcon, so as you would expect, there's heaps of space inside. There's a huge centre console box, and even more storage space behind the seats for jackets, tools, and some luggage bags.
Both front seats are reasonably bolstered with hip support and some thigh support. Chances are, they are more comfortable than your lounge room chairs. With soft leather wrapping as standard too, there isn't going to be any major issues if you're the type of driver who likes to eat meat pies with sauce in the car, or if you often find yourself covered in mud everyday after work, you can simply wipe them down with some leather-friendly spray.
Sitting atop the dash is Ford's latest eight-inch (Interior Command Centre) multimedia interface which is compatible with a range of media devices, including Bluetooth and USB. The screen is large and provides decent graphics, and it's half touch-screen with some quick-jump menu buttons lower down on the dash. The screen is a bit of a stretch for shorter drivers.
Disappointingly, satellite navigation is an optional extra ($990). We think this is being a bit tight on Ford's part, especially when the screen and everything is already there whether you opt for it or not. It's also the top-line flagship ute, you'd expect all of the boxes to be ticked already.
The sat-nav system is quite intuitive and easy to use, it even provides images of highway turnoffs and complex intersections to give you a clearer understanding of directions. During our use with the system, we did experience some fairly annoying loading delays with the maps.
Some welcome features, including a sports bar, limited-slip differential, soft tonneau cover, sports suspension and a dual stainless steel exhaust, do come as standard.
Distinguishing the Pursuit from the normal GS Ute is Piano black trimming on the dash for that svelte and luxurious look, premium speakers, and dual-zone climate control air-conditioning.
In the very back, the huge tray can swallow up to 540kg worth of… whatever you like actually. It comes with a 'Ford' embossed plastic bedliner, surfacing a 1843mm by 1356mm tray. The heavy duty capacity is thanks to the leaf-sprung live-axle rear end. HSV's Maloo ute, which comes with a more complex and perhaps better handling independent rear suspension setup, can carry 500kg.
2012 FPV PURSUIT UTE – DESIGN AND SAFETY
The body itself is unchanged on the Pursuit compared with the GS, however, it looks convincingly more aggressive and unique with C-stripe decals inspired by early model Ford Mustang muscle cars.
Matching the C-stripes are red side mirrors, red details in the front end, and those machined-face red 19-inch alloy wheels. Overall, you'd have to admit, it looks pretty darn hot. We can confirm, it sure stands out in a crowd too.
Safety-wise, the FPV Pursuit comes with stability and traction control, dual front and side airbags, fog lights, electronic brake force distribution and brake assist for emergency stops. As a result, ANCAP has given it the full five stars, as with all styleside box Falcon utes.
2012 FPV PURSUIT UTE – ON THE ROAD
Plant the throttle and you'll be greeted with a gear's worth of wheelspin, with the traction control off anyway. The 245mm-wide tyres on the back have little chance in containing and transferring 545Nm and 315kW.
Surprisingly, the low traction isn't really an issue once you're up and running and beyond first gear. Even around corners. We put the 1787kg black beast to the test around our usual mountain road driving route and we were blown away by how composed and planted it was, again, taking into account the live-axle rear end.
The nose seems very direct and happy to point in at speed while the rear end trails around following it like a remora on a shark. Squeeze in some of that brute force and it'll confidently slingshot around the corner, thanks to the tight limited-slip differential.
Push it even harder of course and you'll be faced with grinning amounts of oversteer and opposite lock. It's easy to slide the tail around and literally play with the throttle to keep a slide happening. The combination of a longish wheelbase, 245mm tread, and just 35 profile tyres means drifts are easy to get going, while the length reduces its tendency to chase its own tail.
On a grippy surface, we timed 0-100km/h in 5.0 seconds flat, which is a crackingly quick time usually only achieved in much more expensive sports cars.
The six-speed auto transmission in Performance mode is highly enjoyable. Gears are held right up until the 6200rpm redline before the next cog is engaged. In manual mode, you can direct shifts on demand. It'll even hold onto and bounce off the rev limiter until you pull the shifter back for the next gear. We found no issue with the transmission; in a world of double-clutches and CVTs, sometimes the old-fashioned stuff is a refreshing delight.
Riding along in a ute is almost always going to be jiggly, however, the sports suspension in the FPV Pursuit is soft and comfortable. Sometimes it's a little too soft if anything. The front end seems undersprung to us, rebound is slow and dive is slow. Fitting firmer dampers doesn't seem like it would do the trick, instead, we think it needs beefier springs. The rear end actually feels nicer, well, until you go over a speed bump.
After you're done experiencing all that supercharger whine and V8 g-force, there comes a time when you need to hit the brakes. Thankfully, the FPV Pursuit can take repeated abuse in this department. The pedal did drop a little during our test, but from that point on the stoppers just kept pulling her up. It's funny that there's no fancy cross-drilled red-calipered multi-piston brakes glaring out from behind the wheels either, instead, they look fairly modest.
2012 FPV PURSUIT UTE – VERDICT
If you're after blisteringly fast ute and one that stands out in a crowd, the 2012 FPV Pursuit is perfect. The fact that only 75 are being made makes it even more desirable and special, and it'll probably go up in value in time.
Before you hand over $57,990-worth of bills though, one thing to keep in mind; be sure to obtain a fuel card from somewhere or someone, because this beast loves a drink. We achieved around 540km to the 81-litre tank, which means it averaged 15.1L/100km. And we actually tried (a little) for that day's tank-full. If your shoes are made from concrete though, expect a range of around 350-400km.
2012 FPV PURSUIT UTE – THE COMPETITORS
(MY12.5) HSV Maloo E3 – 6.2-litre V8, 317kW/550Nm – 1915kg – $67,380 (auto)
If you love your Holdens, the HSV Maloo is the only high performance ute available. It's perhaps the muscliest ute on sale, with pumped wheel arches, a big bonnet bulge and flaring side skirts, it looks like it's on steroids. Around $10,000 more expensive than the FPV.
FPV F6 FG MKII – 4.0-litre turbo six-cylinder, 310kW/565Nm – 1825kg – $55,990 (auto)
A whistling beast with awesome performance. For some, there's nothing better than the sheer relentless rush of the F6 turbo six. Slightly less expensive than the Pursuit. Official fuel economy figures are better; 14.2L/100km vs 13.0L/100km in the F6.
2012 FPV PURSUIT UTE – SPECIFICATIONS
MODEL
2012 FPV Pursuit Ute
ENGINE
5.0-litre supercharged V8
ENGINE SIZE  / COMPRESSION RATIO
4951cc / 9.25:1
BORE X STROKE
92.2mm x 92.7mm
POWER
315kW@5750rpm, 545Nm@2000rpm-5500rpm
POWER TO WEIGHT RATIO
5.67: 1 (kg:kW)
KERB WEIGHT
1787kg
HEIGHT / WIDTH / LENGTH
1481mm / 1935mm / 5096mm
DRIVETRAIN
Six-speed auto transmission, rear-wheel drive
BRAKES
F: 322mm ventilated discs
R: 303mm ventilated discs
WHEELS / TYRES
F and R: 19- x 8-inch, 245/35 R18
FUEL TANK CAPACITY
81 litres
FUEL TYPE
95 RON
FUEL CONSUMPTION
Tested average: 15.1L/100km
Official average: 14.2L/100km
PERFORMANCE
0-100km/h: 5.0 seconds (tested)
PRICED FROM
$57,990
WARRANTY
Three-year/100,000km