Whether you like Holden or Ford, there is no denying the Aussie-built 2012 FPV F6 FG MKII is a very, very fast and intimidating piece of work. Once you get it going (and get traction), it's fair to say that it is one of the fastest accelerating production sedans in the world right now.
In terms of value-for-money horsepower, it is a inexpensive proposition too, working out at $209 per kW, compared to, say, BMW's latest M5 (412kW) which works out at $558 per kW.
2012 FPV F6 FG MKII – PROS AND CONS
PROS:
The rush of turbo boost really sinks you into the seat leaving you with an ear-to-ear grin
Family car space and comfort
Smooth-as-silk six-cylinder performance
CONS:
The pokey mid-range can catch you out (spinning the wheels) if you're not ready for it
Interior fit and finish not up to 'flagship' standards
Heavy fuel consumption can get annoying, especially if you love pressing the throttle (we averaged 15.1L/100km)
Though it could be isolated to our test model, the front windscreen had a hard time demisting fog during rainy weather
2012 FPV F6 FG MKII – OVERVIEW
The FG F6 MKII uses the same 310kW 4.0-litre DOHC turbocharged engine as the previous model F6, and it comes in both six-speed manual or six-speed auto form, both priced at $64,890.
Updates for the FG F6 MKII include a new eight-inch Interior Command Centre (ICC) LCD touch-screen multimedia interface with integrated reverse-parking camera (replacing the old Human Machine Interface (HMI) screen), new Graphite 19-inch five-spoke alloy wheels, a revised front grille and fascia with mesh inserts, new FPV floor mats, and projector headlights.
Eight years of development has made its latest version razor sharp. The only real cars under $100k that pose a threat are its more-powerful 335kW supercharged V8 GT brother ($71,290), and the HSV Clubsport R8 E Series 3 ($69,990). Out of all them, the F6 is the cheapest, but certainly not the least impressive.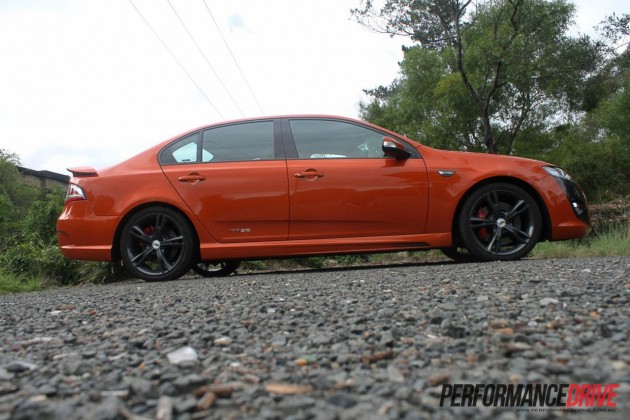 2012 FPV F6 FG MKII – TEST DRIVE VIDEO
2012 FPV F6 FG MKII – ON THE ROAD
Turbocharged engines are known for their ability to produce buckets of torque, but often getting all that torque to the ground can be a problem. The 310kW, 565Nm turbocharged straight-six found in the F6 has exactly that problem. To most of us, this means fun.
Let's say you're mid-corner and dial in a little too much throttle; the end result sees a rush (and we mean RUSH) of boost come on, with the tail end edging to swap ends. Even with the traction control turned on, you can still feel the rear get light, and skid and skip under full acceleration in the low gears (forget it in the wet), with the 565Nm almost being too much to restrain.
Off the line, the F6 is mind blowing. While it does have to a some noticeable turbo lag, once on boost (turbo: Garrett GT3540 turbocharger blowing 13.3psi) it'll shoot from 0-100 km/h in just over five seconds. With wider rubber, we'd bet every last dollar it would crack the mid to high four-second mark.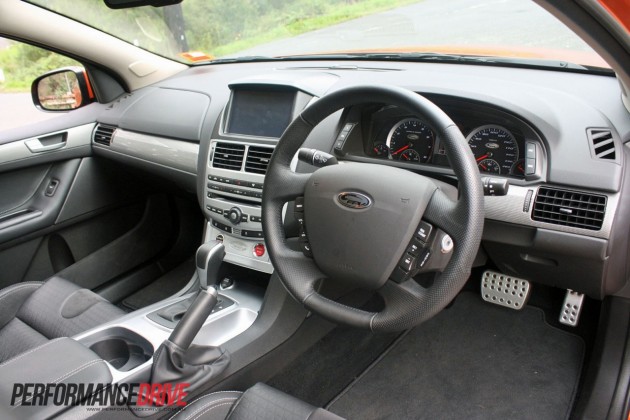 Our test model was fitted with the ZF six-speed high-torque automatic transmission. You can chose to leave gearshifts in normal mode, or flick across to performance mode, with the option of using Ford's Sequential Sports Shift for manual changes. When in full auto mode, the adaptive shift system does a commendable job of adjusting to your driving style. At anytime, if you mash the go-pedal, it'll find the right gear, and send the speedo needle into orbit; its overtaking muscle is breathtaking.
The ZF six-speed 'box is a proven bit of kit, and works well with the 2012 FPV F6 to provide smooth, unyielding changes. The only qualm we had was if you use the +/- to change manually, you can find yourself in nowhere-gear-land if you let the revs creep close to redline and try to change up at the last second, resulting in a loud and prolonged exhaust burble, and delayed gear change. For fast acceleration, you're better off letting the automatic performance mode do the work for you.
For a large car, the F6 finds its feet well in the bends. It's happy to soak up corner after corner, with the large 355mm Brembo front brakes capable of peeling off speed very well. There's no hiding its weight on corner entry though, and it is still a bit wobbly 'Falcon-like' in its handling characteristics, but throw it in and it settles and grips like a true performance car should; nicely controlled tail sliding on exit can be achieved with very little throttle.
Part of the F6's appeal isn't just its feisty appearance, or exciting performance, it's all the different sounds it emits. The engine puts out a distinctive, almost aftermarket waste-gate noise when you ease off the throttle, while the whistle of turbo spools up like a truck. The DSG-like burble and pop between shifts also has you smiling like a very cheeky kid.
The downside to so much turbocharged performance is if you lean on the go pedal quite regularly, you can almost watch the fuel gauge move. With petrol prices soaring above the $1.50 mark, fuel consumption is something we all have to think about. Ford has the technology to run six-cylinder engines using its EcoLPi (LPG) technology. And it's proven you can make significant power gains in turbocharged engines by using this fuel system due to the colder intake temperatures. There would be nothing more satisfying than having 310kW on tap, yet as economical to run as a regular four-cylinder hatchback. Maybe when the EcoBoost Falcon arrives in April, FPV might work some magic on that.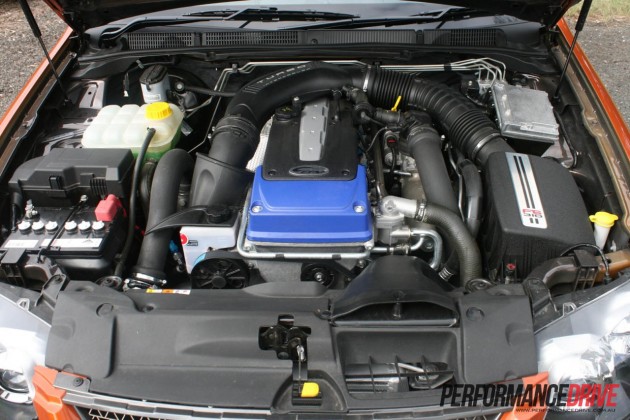 2012 FPV F6 FG MKII – ACCOMMODATION AND EQUIPMENT
Inside it's FPV business as usual; classy yet sporty. The front sports seats (stitched with F6 livery), are supportive around the waist, and sit nicely on the shoulder line, supporting your upper body. They do feel a little soft in some places, but it's not an issue. The rear seats are just as comfortable as the front, with a pull-down central armrest, and good head and back support.
The FG's dashboard is quite handsome, and combined with other items such as alloy pedals, red starter button (just insert the key first – no proximity here), 260km/h speedo, leather steering wheel, F6 make number plaque, FPV scuff plates, and some quality stitching work, it feels like an important place to be.
As with every modern Falcon we've driven, the driving position in the 2012 FPV F6 FG feels close to the B-pillar, and perhaps a touch too high. You can adjust the seat height electronically, but we found some of our tall staffers couldn't get as comfortable as they would have liked.
Space-wise, the FG Falcon is loaded with storage compartments, and overall cabin space is large. The F6 can comfortably seat five adults, with loads of head and leg room in the front and back, and boot space aplenty. Being a Falcon, it also benefits from 60/40 split fold rear seats for extra room, should you grab that new pair of skis and head for the snow.
Creature comforts such as dual zone climate control, Bluetooth mobile phone and iPod integration, help make life more cosy in the F6. All the controls and dials are relatively easy to read and use, with climate control and stereo settings displayed on the new eight-inch touch screen. Reverse camera and sensors also show up on the Interior Command Centre display – the camera now being a standard feature for the MKII FG range.
What bugs us is the eight-inch screen is there ready to go, though GPS navigation is a $1200 option. For the premium price you pay, having it fitted standard would be a nice little bit of extra incentive for buyers. We assumed it would be, only to find out after spending 20 minutes searching through the screen's options that it is actually an option.
2012 FPV F6 FG MKII – DESIGN AND SAFETY
The BF F6 Typhoon MKII was quite a stunner… and then the FG F6 came out and gave new meaning to the word sinister. The rather large intercooler hiding in the front air-dam, mesh grille with F6 badging, dark inserts under both headlights, contoured side skirts, neatly flush rear spoiler, all blend together to look tough.
The 'F6 310' badge written on the rear doors and bootlid reminds those who're game enough to go up against it how many kilowasps are lurking under the hood, and perhaps that they should think twice.
The colour of our test model F6 is called 'Sunburst'. We thought the colour suited the car, and helped it to stand out amongst all the taxis. All up there are nine colours to chose from.
The F6 comes with the same five-star safety rating as all FG Falcon sedans. It's equipped with driver and passenger airbags, curtain airbags, and front side airbags, ABS, ESC, EBD, traction control, and brake assist. The traction control is switchable.
2012 FPV F6 FG MKII – VERDICT
Since the demise of the Typhoon nameplate, the FG series breathed new life into the F6 model, giving it a tough new look, redesigned front suspension, and another 40kW and 15Nm thanks to redesigned pistons, intake, and higher boost pressure. It's the most aggressive Falcon FPV that's ever been made in our opinion.
For the price of the F6, the only real rival it has is the HSV Clubsport E Series 3. In a dog fight, FPV's blue oval bruiser will no doubt get some lion's blood on its hands, but to pick a winner would be a bookie's dream. They're both fast in their own right.
In a nut shell, the F6 offers smooth, relentless motoring when driven as an everyday family sedan, but it can flip with the press of the throttle and turn brutal. It's a phenomenal performance car that should be shipped around the world for all to enjoy.
Because we like thinking outside the square, imagine this: if Ford had made a wagon for the FG line up, and FPV made an F6 version (like HSV does with the Tourer), it'd be pretty much the most affordable/fastest family station wagon in the world.
2012 FPV F6 FG MKII – THE COMPETITORS
2012 HSV Clubsport R8 E Series 3 – 317kW / 550Nm – 1782kg – $69,990 (auto)
The HSV looks very mean indeed, comes in either sedan or Tourer (wagon), and makes all of its power from an aspirated 6.2-litre V8. It is $5100 more than the F6.
2012 FPV GS MKII – 315kW / 545Nm – 1781kg – $57,990 (auto)
From the same factory, nonetheless its Coyote supercharged V8 engine is a real goer, and builds its power from pretty much idle. Though, it doesn't share the same aggressive looks as the FG F6.
2012 FPV F6 FG MKII – SPECIFICATIONS
MODEL
2012 FPV FG F6 MKII
ENGINE
4.0-litre turbocharged (Garrett GT3540) DOHC 24-valve straight six
ENGINE SIZE (cc) / COMPRESSION RATIO
3984cc / 8.47:1
BORE X STROKE
92.26mm x 99.31mm
POWER
310kW@5500rpm, 565Nm@1950-5200rpm
POWER TO WEIGHT RATIO
5.74 : 1 (kg:kW)
KERB WEIGHT
1778kg
HEIGHT / WIDTH / LENGTH
1466mm / 1868mm / 4956mm
DRIVETRAIN
Six-speed automatic, rear-wheel drive
BRAKES
F: 355mm discs, twin-piston calipers (Brembo)
R: 328mm discs, single calipers (Brembo)
WHEELS / TYRES
F and R: 19 x 8 inch, 245/35 ZR19
FUEL TANK CAPACITY
68 litres
FUEL CONSUMPTION
Tested average: 15.1L/100km
Official average: 13.3L/100km
PERFORMANCE
0-100km/h: 5.2 seconds (tested)
PRICED FROM
$64,890
WARRANTY
Three-year warranty / 100,000km