The 2012 Ford Focus Sport TDCi diesel is, well, sporty. Forget diesel clatter and black smoke, think roaring 2.0-litre turbocharged engine, and very keen handling. The diesel variant sifts through gears faster than most performance turbo petrol engines, and can hold a tight line through a bend. The Sport blends fun, with practicality and economy.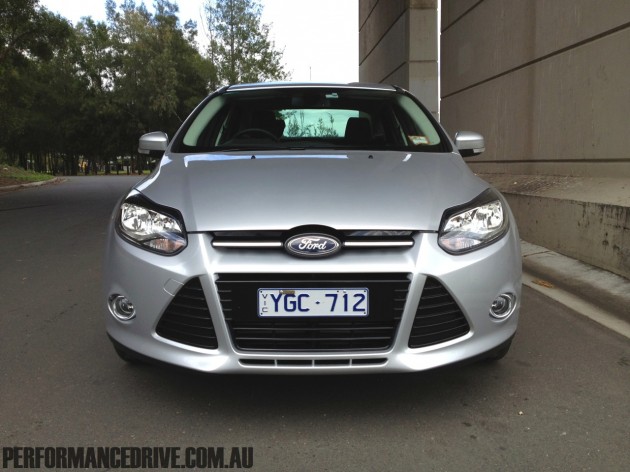 The new generation Ford Kinetic Design language seems to do the trick in the looks department, with its funky Darth-Vader-style front, sharp lines, sophisticated rear end, and on the Sport variant, topped off with a nifty set of 17-inch alloy wheels.
Around the middle of this year, Ford is moving Focus production from Ford's plant in Saarlouis, Germany, to Thailand. For now, we have the German-built maestro, and it's a quality bit of kit.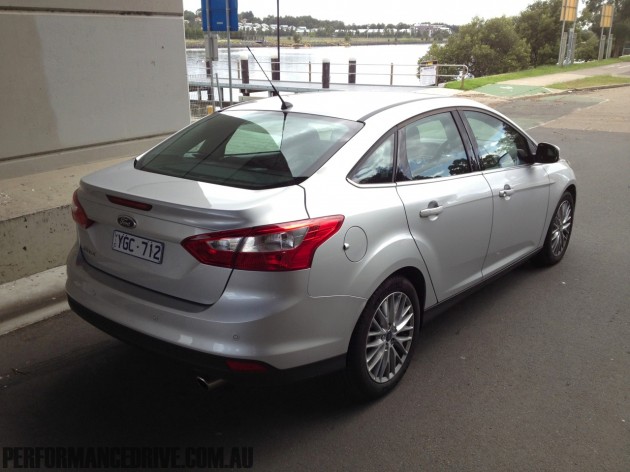 2012 FORD FOCUS SPORT TDCI – PROS AND CONS:
PROS:
German build quality – excellent
Punchy, powerful and enjoyable diesel engine, with good mid-range
Sophisticated looks keep it classy, yet youthful
The PowerShift twin-clutch automatic transmission uses its six cogs ever so sweetly
CONS:
There isn't any rear air vents for passengers traveling in the back
Centre dash fascia is a bit confusing
The button gear shift on the lever is cool, but flappy paddles would have been better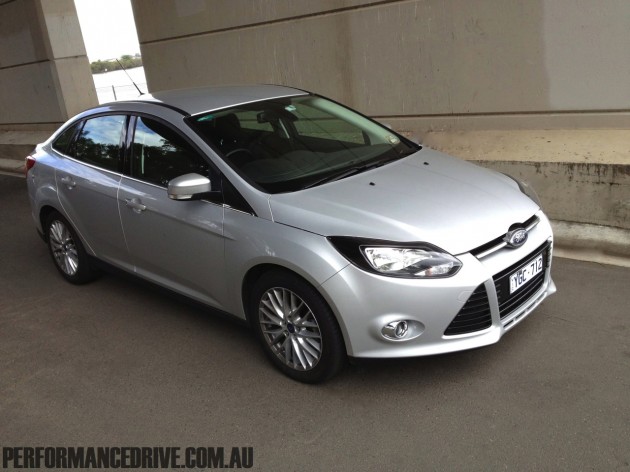 2012 FORD FOCUS SPORT TDCI – WHAT'S IT LIKE TO DRIVE:
From the moment you close the door (Ford apparently slammed doors open and shut 300,000 times during testing), a sound of solidity lets you know this is a properly well-made vehicle. Strike up the 120kW 2.0-litre Duratorq TDCi oiler via the Ford Power start button and the engine idles very smooth, and quiet.
All 2012 Ford Focus TDCi diesel variants come with a six-speed PowerShift twin-clutch automatic transmission, with no manual option. Changes are pretty much seamless, with the electronic gizmos doing a super job of matching the correct gear to the acceleration you require.
Don't look for the paddle shifters though, all you get is a tiny left thumb button on the gear lever with plus and minus on it. You can, however, just put the shifter into S-mode (sport) if you feel like driving enthusiastically, and let the 'box sort it out for you. This mode works quite well at anticipating energetic driving.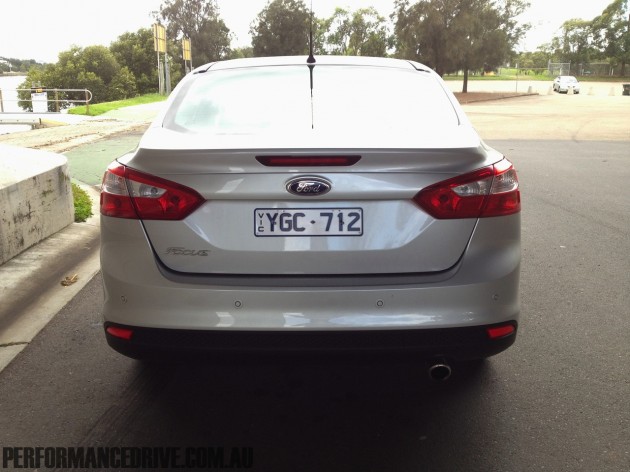 Peak torque, which is a whopping 340Nm, is delivered between 2000-3250rpm, providing the Focus with plenty of low-down pick up. The response, and sound, of the Duratorq engine puts a dinner plate-sized grin on your noggin.
The 2012 Ford Focus Sport TDCi is equipped with sports-tuned suspension, though, it doesn't mean you'll be subject to back pain after the drive. Like a lot of 'sports' models on sale today, the Focus does a great job of sorting bumps and bends, and at the same time.
Its cornering ability feels very accomplished and well tuned to Australian roads. Turn in is neutral, and sharp. Steering feedback is good through the wheel too, keeping you informed with what the front is up to.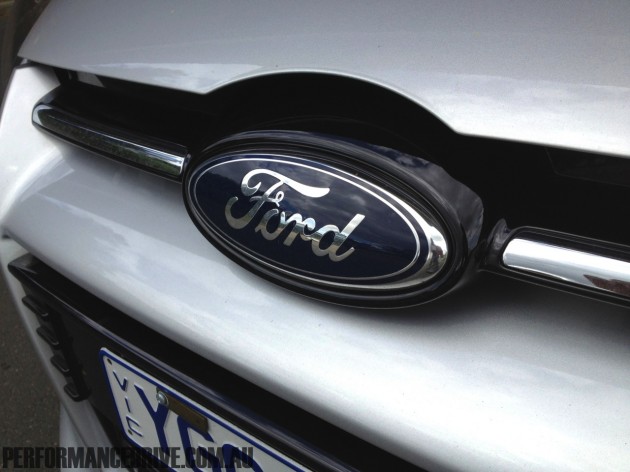 Part of the 2012 Ford Focus's sporty driving brashness could be thanks to its Ford-specific Torque Vectoring Control technology. What this does is control the engine torque distributed between the front wheels and adjusts power to suit the amount of grip each wheel has available, thus improving traction, steering response, and stability.
The backside of the car also stays very surefooted when thrown about. The independent rear suspension layout doesn't bounce or bob around, it just stays planted, providing the driver with plenty of confidence.
2012 FORD FOCUS SPORT TDCI – INSIDE SPACE, SAFETY AND COMFORT:
Welcome to voice control technology. While it's nothing revolutionary, it's standard kit in the 2012 Ford Focus Sport. You can change the radio station or make a call without taking your hands off the wheel. It can be confusing, and you do have to know the key words to operate it, but it does work.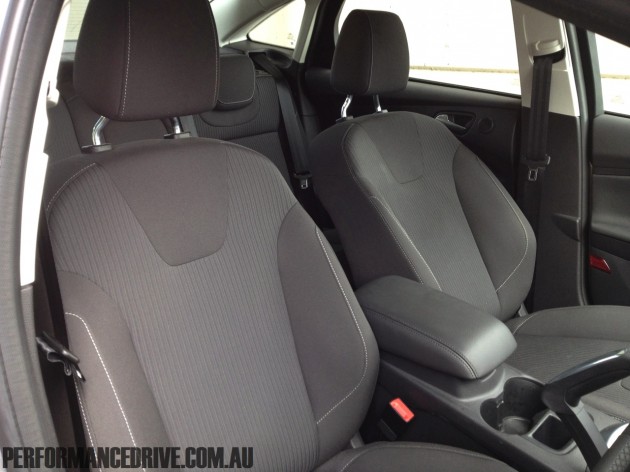 Up front in the Focus Sport cabin is what Ford calls V-shaped seats. While we're still trying to figure out the V-shaped element, we'll just advise you that they are super comfy, and quite supportive. You sit very low in them, making you feel nice and snug like a hand in a glove. There was no leather in sight, just soft, nice-feeling cloth material – which seems hard wearing, too.
The dash can be somewhat of an eyeful to look at. Forget taking your eyes off the road to fiddle with the stereo, it'll take you 20 minutes to find the right button. While we're obviously exaggerating, there is copious amounts of buttons on there. You may even mistake it for the Starship Enterprise control panel… beam me up, Henry.
Night-time dash illumination is marvellous to look at. It is made up of blue and white for the centre console area, and a dominating red for the speedo and tacho. So dominating you can become transfixed, though, you can turn the brightness down.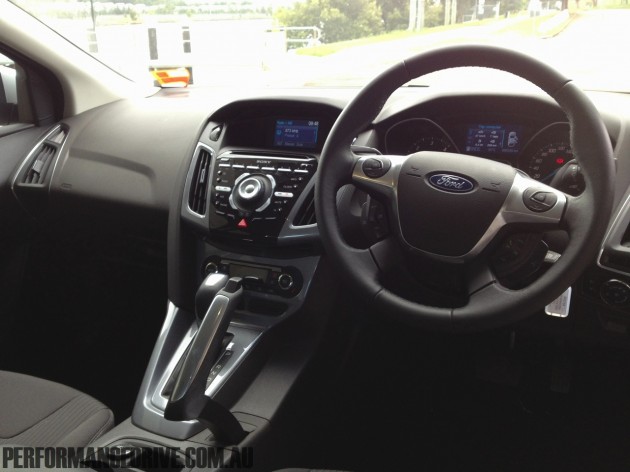 Like a best friend, the new Ford Focus has your back. Say you try and accidentally fill the Focus up with the wrong go-juice, the 'capless refueling' feature allows only fuel nozzles that relate with propelling your vehicle to enter the filler. Genius.
Also standard is a handy licence-keeping feature called Adjustable Speed Limiting Device (ASLD). When activated, it will keep you under the speed limit by limiting it to whatever speed you desire.
Up front on the dash is a 4.2-inch colour TFT multi-functional display, letting you know everything your premium, nine-speaker Sony audio system is up to. It punches out quite a sound. Below this you can find the dual climate-control unit. It's a tad tucked away for our liking, but that said, it's rather easy to use.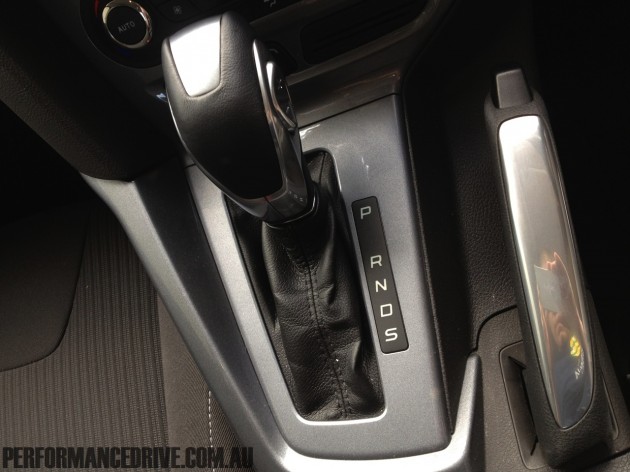 All Focus variants come with MP3 compatibility, a USB port, auxiliary connection for external audio devices, voice control, remote audio and MFD controls, audio streaming (with compatible mobile phones) and a digital signal processor (DSP).
Boot space in the sedan we tested was very generous at 372 litres, offering more than enough room for a pram, or set of golf clubs. However, being a sedan, it doesn't have the freedom of space its hatch brother does.
As for safety, the 2012 Ford Focus Sport has something called Intelligent Protection System (IPS). This basically means it gets all the safety appointments required for an easy five-star ANCAP rating – it has scored 34.17 out of 37 overall, and 15.04 out of 16 for the standard offset frontal test.
2012 FORD FOCUS SPORT TDCI – IS IT A WINNER:
The 2012 Ford Focus TDCi is a credit to the engineers over at blue oval HQ. It's astonishing how as humans we find ways to perfect something that is already very good. The previous model Focus was a very decent car, but this new LW 2011-2012 model is even better.
Gone with the previous model are the weird creaks and noises in the cabin, and loud road noise that echoed in your ears, and in is refined, smooth, quiet motoring. The Duratorq diesel engine is the duck's guts, too. It's powerful, fuel efficient, and it even sounds good, and it's not often you can say that about a diesel.
You get the feeling the Focus Sport TDCi is more than just up to the task of putting around doing the daily duties. So what you're getting is a brilliant A to B car that also offers good levels of sporty performance to liven your day. And for that reason, it is a winner in our books.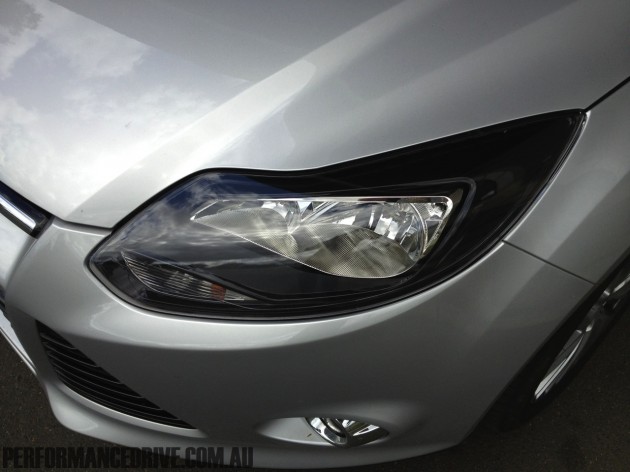 2012 FORD FOCUS SPORT TDCI SPECIFICATIONS
MODEL
2012 Ford Focus Sport TDCi
ENGINE
2.0-litre Duratorq four-cylinder turbo-diesel
ENGINE SIZE (cc) / COMPRESSION RATIO
1997cc / 16.0
BORE X STROKE (mm)
85mm x 88mm
POWER
120kW@3750rpm, 340Nm@2000-3250rpm
POWER TO WEIGHT RATIO
12.67: 1 (kg:kW)
KERB WEIGHT
1520kg
HEIGHT / WIDTH / LENGTH
1484mm / 1823mm / 4534mm
DRIVETRAIN
Six-speed PowerShift twin-clutch automatic transmission, front wheel-drive
BRAKES
F: ventilated discs, single-piston calipers
R: discs, single-piston calipers
WHEELS
F: 17 x 7 inch 215/50 R17
R: 17 x 7 inch 215/50 R17
FUEL TANK CAPACITY
60 litres
FUEL CONSUMPTION
Tested combined average: 6.4L/100km
Official combined average: 5.5L/100km
PERFORMANCE
0-100km/h: 8.7 seconds
PRICED FROM
$33,690 (Sport), $21,990 base model
WARRANTY
three-year/100,000km
THE COMPETITION
Volkswagen Golf GTD – $39,290, 2.0TD, 125kW/350Nm
Holden Cruze – $30,740, 2.0TD, 120kW/360Nm
Peugeot 308 Active HDi – $34,990, 2.0TD, 120kW/340Nm