Citroen Australia has announced the new 2012 Citroen DS3 hot hatch. It's now $6000 cheaper than the 2011 model, and comes with a new engine and more features.
Like the 2011 model, the new Citroen DS3 is available in two variants; the Dstyle and the DSport. The entry-level DStyle is now available at prices starting at $26,990 (compared with $32,990 for 2011), while the sporty new 2012 DS3 DSport is available from $29,990 (compared with $35,990 of 2011).
The 2012 Citroen DS3 DStyle comes with a new 1.4-litre four-cylinder engine producing 70kW of power and 136Nm of torque. It also comes with a new EGS five-speed semi-automatic transmission. The DStyle is the more laid back, and more fuel efficient option of the two variants, coming with an average fuel consumption rating of 5.5L/100km – down from 7.0L/100km from the old 88kW 1.6 four pot.
Highlights for the DStyle include 16-inch alloy wheels, LED daytime running lights encrusted into the funky front end, sports seats, fog lights, cruise control and electronic stability control. The DStyle also gets dark tinted rear windows, climate control air-conditioning, and Bluetooth/USB connectivity.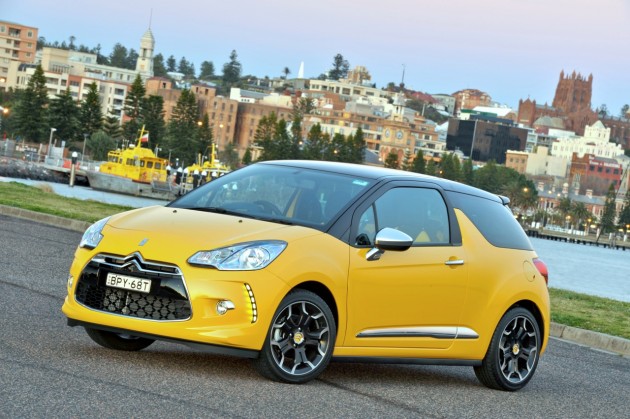 The DSport comes with a 1.6-litre turbocharged four-cylinder engine, partly developed by BMW, producing 115kW and 240Nm of torque. It's capable of 0-100km/h in 7.3 seconds, while average fuel consumption is rated 6.7L/100km.
Standard features for the DSport include 17-inch alloy wheels, drilled aluminium pedals, chrome trimming for the front grille, side mirrors, and sections of the rear hatch. It also features a rear spoiler and digital automatic climate control.
Both DS3 variants are available in customisable two-tone colour schemes, with contrasting roof colours and matching key fobs, while parts of the DSport interior can also be tailored in various colours. Both variants showcase class-leading boot space, capable of swallowing 285 litres, or 980 litres with the rear seats folded down – compared with 160 litres in the MINI Cooper, and 270 litres for the Alfa Romeo MiTo.
The 2012 Citroen DS3 comes into the market priced beneath its main competitors; the MINI Cooper Ray ($28,555, auto) and Cooper S ($40,500), and the Alfa Romeo MiTo ($29,990) and MiTo QV ($34,990), respective to the entry-level DStyle and DSport.