Even though the new 2012 991 Porsche 911 has only just been unveiled, companies are already thinking of upgrades. Meet the 2012 991 Porsche 911 SpeedART SP91-R. German tuning company SpeedART has just released a design sketch outlining its proposed tuning theme, as seen below.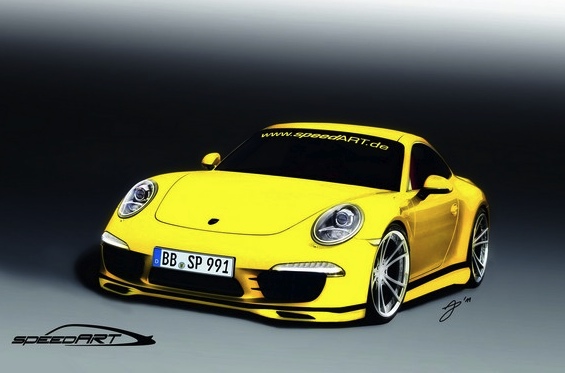 What do you think of it? It already looks nice because it's a 991 Porsche 911. But SpeedART will add a few cosmetic revisions in the form of a newly designed front bumper bar chin spoiler, some matching side skirts and more aggressive rear end package consisting of a rear diffuser and spoiler.
Sitting in the wheels arches, attached to an upgraded adjustable suspension system, will be a set of LSC-Forged lightweight alloy wheels measuring 21 inch in diameter. These give the 911 Porsche 911 a higher performance look and reduce unsprung mass to improve handling response.
In the engine department, the SpeedART SP91-R 991 Porsche 911 will come with a tuned exhaust system which features a butterfly valve so it's relatively quiet when you're cruising, but opens up when you really want to shift. SpeedART says the SP91-R exhaust system should increase power on the 2012 991 Porsche 911 Carrera S from 294kW, to 325kW.
The SpeedART 2012 Porsche 911 SP91-R will also feature an Alcantara-inspired interior décor with new trimmings and details throughout. The full version of the SP91-R is expected to be unveiled at the Essen Motor Show. We can't wait to see it. Stay tuned.