2015 Kia Rio S Premium five-door auto
RRP: $19,690.
Price as tested: $20,210 (Metallic paint $520 extra)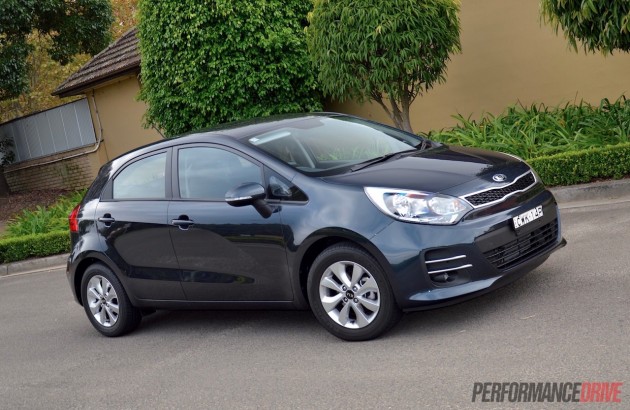 2015 Kia Rio S Premium – Love
Practicality
Despite its compact dimensions, the Rio S does swallow up a lot more than you might expect. The boot space is slightly larger than its key competitor, the Toyota Yaris, at 288 litres versus 286 litres in the Yaris, and also has rear seats that fold down in 60:40 fashion for bulkier items. With two of the rear seats folded down it ate up three surfboards, two bodyboards and a few wetsuits and towels for us, and still offered up some more room. Around the cabin there are cubby-holes and storage compartments for all your essentials. Overall, the Rio's practicality is a big surprise.
Size
The Kia Rio S Premium is everything you'd expect in a compact city hatchback. Legroom in the back is slightly larger again in the Kia as opposed to its key rival, the Toyota Yaris, while the front passenger and driver both have adequate space to feel comfortable. The compact proportions make zipping around the city a breeze, and it opens up a new world of possible spots to park. What do we mean by that? You know those spots that are just too small for a regular-sized sedan? The Rio is all over them.
Economy
Kia's official consumption figures for the Rio S Premium auto are 6.3L/100km on the combined cycle, and 8.2L/100km on the city cycle. After our time in mixed conditions we averaged 6.2L/100km, which is a feat in itself considering the old four-speed automatic has a mind of its own sometimes. While this is not the best in its class, (Mazda2; 4.9L/100km), it is a very respectable real-world figure, and it helps to keep all-important running costs down.
Interior
Stepping inside the Rio S Premium for the first time is a very pleasant surprise. Obviously, being a sub-$20,000 car from Korea, you expect some use of cheap-feeling plastics around the cabin, but Kia has done well in the packaging. The PU leather-wrapped steering wheel is a very welcomed addition for the MY2015 version, and the buttons covering the wheel don't look or feel like cheap add-ons. The controls for the audio system and air-conditioning have a solid look and feel about them too, combining for a very respectable interior for a car of this price.
Equipment
While the Premium model is tipping the upper-echelon of the segment when it comes to price, Kia has been very generous with the packaging of the Rio. For the extra $1500 over the base model, the Rio S Premium receives luxuries like 15-inch alloys, fog lamps, cruise control, a six-speaker audio system, leather on the steering wheel and gear knob, and electric wing mirrors. Overall there is not much more you need in a cheap runaround, apart from two major absences which we will cover later on…
Warranty and running costs
This is really where you start to hear the fat-lady singing in the background. Kia offers the Rio S and indeed all its models with – at the risk of sounding like a Danoz Direct ad – an unbeatable seven-year/unlimited-kilometre warranty. This is fully transferable, and includes things like roadside assist and capped-price servicing. All this may make some of us yawn, it will also give some serious food for thought for someone considering a compact hatch in the future.
Honorable mention: Suspension
As you will discover in the latter part of this review (yes, we know, it's not our usual review layout but we thought we'd try something a little different), the Rio S Premium is far from a driver's car, thanks to an underwhelming engine and being slightly overweight. However, Kia in recent years has invested some serious time and money into the calibration of the Rio for Australian roads, and this has paid off in dividends. The ride around the city is firm, and you do feel irregularities in the road's surface, but overall it's a very tight and taut package for this market segment.
2015 Kia Rio S Premium – Hate
Infotainment System
The system that Kia has installed in the Rio S is definitely going to leave some potential buyers disappointed. It's a very small and basic unit, and looks like a budget attempt at mirroring Volkswagen's design. While the system does have easy-to-use Bluetooth/auxiliary connectivity, the screen doesn't look like it belongs on this side of the century. Toyota, for example, offers up a much more appealing touch-screen package in even the base Yaris. As superficial as it is to say, with a model whose success relies so profoundly on appealing to younger buyers, this may be a key factor in turning away some of the younger customers.
Performance and Dynamics
The Rio S Premium receives Kia's 1.4-litre engine producing an unexciting 79kW at 6300rpm and 135Nm at 4200rpm. Combined with a kerb weight of 1239kg, you won't be beating anything off the line in a Kia Rio 1.4 any time soon. We timed 0-100km/h in 11.3 seconds. If you mash your right foot to the floor, the little 1.4-litre makes a lot of noise and not much in acceleration, especially if you're lugging around extra passengers. But that's not really the point of cars like this. The steering is uber-lightweight at all speeds, which makes for an easy driving experience around the city and in traffic, but it leaves you craving more steering feel if you decide to pick up the pace. There is a fair amount of grip from the front axle for a car of this caliber (or lack thereof), but if you really start to push it the front begins to understeer wide. The transmission is another contribution to the Rio S's lackluster performance. The four-speed automatic feels extremely outdated, offering up some very clunky and unintuitive shifts. The fact that you pay nearly $2000 extra for this automatic option over the manual version is almost a crime. To get around this you can go for the flagship Rio Si, which comes with a 1.6 engine and a six-speed auto as standard (from $21,490).
Visibility and Parking
Entry into the city-car club is very easy, you just need to be compact, have a small engine and be easy to park. The Rio is compact and therefore easy to park, but you might as well be wearing a blindfold thanks to the obtrusive rear pillars and total lack of rear visibility. The same applies in the driver's seat, with the windshield not offering as much visibility as you might expect in a hatchback of this sort. The high-rising dash doesn't help with this either, and some smaller drivers may not know exactly where the front of the car is in a tight environment and when parking. At times we had some complaints from rear passengers that it felt a little claustrophobic, having small windows.
Lack of 21st century 'must-haves'
What we mean by this is the clear absence of some features that have become pretty much an industry standard nowadays. As aforementioned, the Rio has some seriously bulky pillars that make rear visibility a bit of a guessing game at times, so a rear-view camera would be a welcomed edition. As too would a more modern touch-screen infotainment system. They don't detract from the overall driving experience, but this is not a car that prides itself on dynamic driving abilities. Instead, it's opting to please the masses as a city car. For a car that is especially directed toward an urban-dwelling younger demographic, the notable absence of conveniences like these may well sway some buyers.